Goldman Sachs coined "BRIC" for Brazil, Russia, India and China. Some commentators have recently suggested that Russia's stocks are too volatile, economy too fragile and politics too hostile to capital, and that maybe "BIC" is more attractive. Based on the recently released forecast for GDP growth by the World Bank and the OECD, maybe "BICI" will become popular (Brazil, India, China and Indonesia) someday.
Actually, we don't expect that to happen as a product phenomenon (although it may become a theme), but we do take note of the GDP growth ranking of Indonesia higher than Brazil and just behind China and India. Indonesia is a very small market and its country funds have quite limited trading liquidity. They have a long way to go to be in the same class as the BRICs for "investability".
Country GDP Growth Outlooks:
The following table presents historical, estimated and forecasted GDP growth rates for selected countries reported by the World Bank and by the OECD in their June outlook reports. (Click to enlarge.)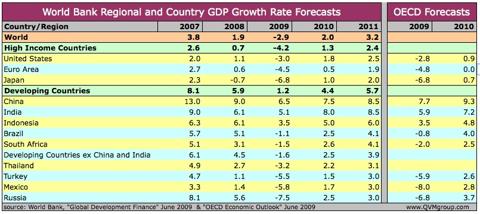 Note that the developed economies are shrinking and not projected to approximate 2007 levels of growth until 2011.
The combined developing economies, excluding China and India, are shrinking and not expected to achieve 2007 levels of growth by 2011.
Among the BRICs, China and India are still growing, although at half the rate of 2007, and not expected to achieve 2007 GDP growth rates by 2011. Yet at half speed they will be growing more than 3 times as fast as the US in 2011.
Russia is shrinking more than Japan, the second worst in the batch reported by the World Bank in its "Global Development Finance" report in June 2009. Growing its GDP at -7.5% now and expected only to achieve 3.0% growth by 2011, it is pulling up the rear — not much better than the developed economies in 2011. Oil prices are a wild-card there, we would think.
The OECD in its June "OECD Economic Outlook" report has a less optimistic view of the 2010 US, European, Japanese and Indian economies, and a more optimistic view of GDP growth for China, Brazil, Turkey, Mexico and Russia.
Some relevant country and region funds are: SPY, VTI, IWV, BIK, EEM, VWO, IEV, VGK, EWJ, FXI, IFN, IF, EWZ, EZA, THD, TUR, EWW, and RSX.
Disclosure: we own some of the named funds from time-to-time.
[post-script: just noticed Trader Mark at Seeking Alpha reported last week that Morgan Stanley suggests adding Indonesia to BRIC to get BRICI. Oh well, we tried to be original with our BICI comment, but are apparently late to the party]