8x8, Inc. (NASDAQ:EGHT) is a promising technology stock that is currently priced under $10. 8x8 is a California-based small-cap technology company and it has approximately 30,000 business clients as of 2012. The company develops and distributes telecommunications services for Internet protocol, telephony and video applications. As such, it offers Web-based conferencing, unified communication services, and cloud-based computing services. The 8x8 Virtual Office hosts private branch communication services for small and medium enterprises; the 8x8 Virtual Contact Center is a small call center solution that works with broadband Internet connection; and lastly, the Virtual Office Pro is a business communications solution that functions on an integrated Web-based portal through PC, laptop, tablet, or smartphone.
On May 1, 2013, Virtual Office Desktop 8x8 was recognized by TMC, a global media company, as the winner of the 2013 Unified Communications TMC Labs Innovation Award. Recently, on April 16, 2013, the U.S. Patent and Trademark Office issued United States Patent number 8,422,986 to 8x8 entitled "Systems, Methods, Devices and Arrangements for Emergency Call Services Using Non-traditional Endpoint Devices." The company was awarded 87 patents in the United States in communications, signaling, processing, and storage technologies up to date.
8x8 was founded in 1987 and it is currently in the process of transitioning into a Web-based and modern technologies to position itself as one of the key companies in cloud computing and Internet communications. According to Gartner Research, the cloud computing market will boost by 18.5% to $131 billion in 2013 from about $111 billion last year. In the global market, North America covers 59% of cloud computing spending until 2016. That said, 8x8 is emerging as one of the key players in this exciting growth in the sector. Northland Capital recently upgraded 8x8 to Outperform at $8.
Balance Sheet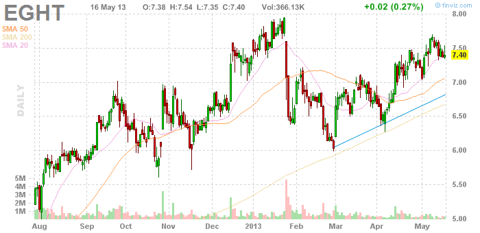 Last year, 8x8 shares climbed by 137% after they bottomed out in the second quarter of 2012. While the forward P/E of 8x8 is 27.29, this is an attractive ratio given the steady revenue growth and the exceptional profitability margins and operating ratios. The balance sheet is in very good condition with current ratio and quick ratio of 3.97 and 3.92 respectively.
Concurrently, the debt-to-equity ratio is zero. This means that the company is operating on no debt and liquid assets can cover expenses that may arise during operations and pay off future debt. Cash has been increasing from $14.57 million in 2007 to $40.12 million in the previous quarter. The cash held by the company increased by 64.63% in five years.
Sales & Earnings

The diluted EPS of 8x8 in the past 12 months is 1.03. The EPS increased by a remarkable 901.09% compared to EPS of 25.67% in the past five years. EPS is expected to increase by an additional 40% next year. The increase in EPS might be associated with the increasing number of business customers and valuable patents awarded to the company. 8x8 is scheduled to report its fiscal Q4 and full year earnings on May 22, 2013.
The company reports ROA, ROE and ROI of 70.65%, 81.07%, and 80.09% in the trailing twelve months, respectively. These are impressive returns given the price of the stock. Additionally, the gross margin is 67.79%, operating margin is 21.39%, and profit margin is 73.81%. This means that the company operates on controlled but efficient levels of production and operating expenses in order to arrive at a decent level of profit.
Moreover, the sales quarter over quarter is 17.45% compared to sales of 10.06% in the past five years. The company currently has $533.85 million in capitalization. The company reported $103.16 million revenues and $76.14 million in income in the past 12 months. The company's income is composed mostly of repeat service to clients followed by product sales. This ability to retain customers will be a huge catalyst for growth in the next few years.
Competition
Competitors for 8X8 include public companies such as Vonage (NYSE:VG) and Verizon (NYSE:VZ), and private companies such as Voip.com, RingCentral and Nextiva. 8x8 is focused on sales to small and medium businesses but it is eying federal and corporate clients in the future. Monthly rates in the market do not vary as much. 8X8 charges one dollar less than Vonage for its monthly subscriptions which is an edge since Vonage is one of its toughest competitors. However, cancellation fees can be an important factor while comparing these two companies. 8X8 charges almost double than the industry average, which can be unattractive to customers. However, clients are retained better at 8x8 than other companies in the sector.
Bottom Line

The company delivered a solid earnings report in the past quarter and if the momentum will continue in the coming earnings report, the stock can beat $8 per share expectations. The stock is currently trading at less than $10 and this can quickly appreciate if the growth estimates are exceeded.
If 8X8 continues to acquire and retain new customers, the shares will continue to appreciate. The company also has room to charge more for services going forward as long as management acts quickly and acquires the ability to serve the market with advanced technologies. With 87 patents under its belt and counting, 8x8 is poised for bigger and better services ahead.
Revenue and net income are increasing at an impressive pace, while cash and capital expenditures are in solid position. The company is operating with no debt, which is astounding. It might be a target for possible acquisitions in the future but if the company continues its growth, 8x8 is a great stock to hold for the next couple of years.
Disclosure: I am long EGHT. I wrote this article myself, and it expresses my own opinions. I am not receiving compensation for it (other than from Seeking Alpha). I have no business relationship with any company whose stock is mentioned in this article.