In Part I of "Johnson & Johnson: At The Crossroads", it was determined that a dividend growth rate of 8.2% was sustainable for at least the next 15 years even if net income growth rate remained around the projected 6%.
In Part II, it was determined that Johnson & Johnson (NYSE:JNJ) had sufficient investable funds available (~$21 billion in cash plus ~$18 billion in treasury stock) at the end of 2012 to increase its existing investment in business assets by up to 50%. Management and shareholders would likely wish to see these funds utilized to increase net income growth rates to 9.1% of the last 15 years, or to at least match the dividend growth rate of 8.2%.
In Part III, the previous analysis of total company results was further analyzed at the divisional level to assess the potential of each division to contribute to an increase in the rate of growth of net income in the future. It was also recognized that as JNJ grows in size it needs to increase the size of internally grown businesses and/or target more or larger businesses for acquisition.
In this Part IV, the potential effect of a sizable acquisition on the projected net income growth rate will be analyzed and commented on.
There has been speculation that JNJ might make a takeover bid for Boston Scientific Corporation (see here and here).
In a seeking Alpha article, Stephen Simpson referred to the speculation of a JNJ takeover bid for Boston and mused whether JNJ Management might have contemplated a takeover bid for St Jude.
Now this series of articles is about analyzing and portraying the issues that JNJ faces in maintaining and improving earnings growth rates and consequentially supporting continued growth in dividends. There is no suggestion that at this point in time JNJ has any plans for a takeover of either of these companies, although there has been speculation in the past.
Heart Health has been identified as a large and growing market. Heart failure is stated to be responsible for more hospitalizations than all forms of cancer combined.
So the inclusion of Boston Scientific and St Jude as potential acquisitions is appropriate for illustrative purposes in an article about "one road" or path JNJ might take to grow profits. This "one road" is not meant to be exclusive and no doubt readers could identify potential targets in other growth areas in health care.
Boston Scientific (NYSE:BSX) or St Jude (NYSE:STJ) would be suitable acquisition targets for JNJ to enter the heart failure market with a view to gaining a position of leadership. The market caps of these 2 companies is in the region of $13 to $14 billion so even with a sizeable takeover premium either would be easily able to be acquired out of JNJ's cash reserves (treasury stock might be used with a subsequent buyback of shares with cash as for the Synthes acquisition).
Potential effects of an acquisition of St Jude or Boston Scientific on JNJ future profit growth rates -
Projections per Table 1 below show that an acquisition of St Jude or Boston Scientific would increase the profit growth rate for the 2013 to 2015 period over the 2010 to 2012 period compared to a scenario of no acquisition.
This is really a "no brainer". Using idle cash to purchase an income producing asset will result in an immediate initial boost to profits and thus an increase in the profit growth rate.
Per Table 1, the profit growth rate for 2013 to 2015 without an acquisition is 7.0%. With an acquisition the profit growth rate for the 2013 to 2015 period increases by 2.5 percentage points to 9.5%. That is higher than the 9.1% target discussed in previous parts of this series.
But, in the example in Table 1, this increase in growth rate is not sustainable beyond that first 3 year period.
The example in Table 1 has the acquired business growing profits at 5% per year which is a slower rate than the ~6% for the existing JNJ combined group of businesses. The acquisition also increases the base level of profits (the denominator in the growth rate calculation) for periods beyond the initial 2013 to 2015 period.
So beyond 2015, the acquisition is dilutive to the profit growth rate on a period by period basis.
By 2027 the profit growth rate for the previous 15 years has only grown by ~0.4 percentage points, from 6.2% to 6.6%, as compared to the initial 2.5 percentage points gain. So the acquisition, in this example, will not achieve a targeted 15 year growth rate of 9.1%.
Table 1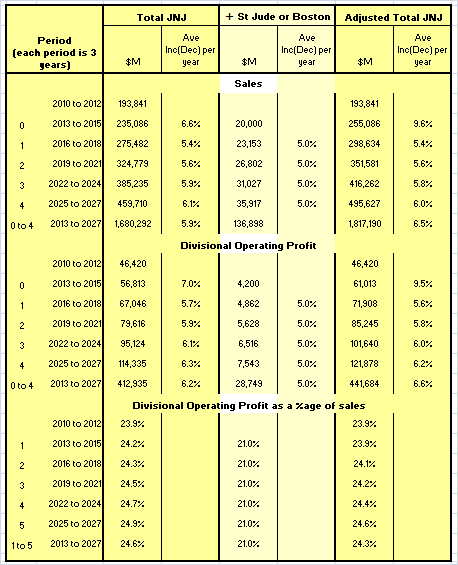 Now all of the above holds true, unless of course the acquired entity is in fact capable of growing profits faster than the above projections.
Both of the identified targets, Boston and St Jude, might well grow profits at a faster rate than those projected in Table 1. But they have not done so in the past several years.
That does not mean they should not be considered for acquisition.
Heart health has already been identified as a potentially very large market with large unmet needs.
An acquisition by JNJ of a sizable income producing entity can provide an immediate solution to a need to boost profit growth rates substantially over the next few years.
If that entity is in the heart health space then that acquisition is of strategic value to JNJ towards acquiring a leadership position in that area of health care.
JNJ would then need to ensure that any acquisition does in fact grow to a position of clear leadership in the heart health space with high rates of profit growth.
"Johnson & Johnson: At the Crossroads - Part V"
In Part V, the fifth and final part in this series, it is proposed to analyze how, following an acquisition of Boston Scientific or St Jude, an acquisition of Sunshine Heart (SSH) as it nears regulatory approval could further boost JNJ's long term net income growth rate (for more information on Sunshine heart see here, here, here and here.
As previously mentioned, Sunshine Heart will provide an excellent example to illustrate how JNJ, through its leveraging capabilities, can obtain superior returns while paying a fair price in such a scenario.
Caution: As always, please do your own research before any buy or sell decisions. Use of information and research in the article above is at your own risk.
Additional caution: Investing in micro cap companies is not suitable for all investors and can be risky. It's important that investors thoroughly perform their own due diligence and analyze the potential risks. Due to illiquidity, share prices can fall despite strong fundamentals and possible inability to raise sufficient additional cash to continue to fund ongoing operations is always a serious concern. Fuller details of risks associated with Sunshine Heart as identified by the company may be found with their form 10-12B/A registration filing with the SEC and their other SEC filings.
Disclosure: I am long SSH. I wrote this article myself, and it expresses my own opinions. I am not receiving compensation for it. I have no business relationship with any company whose stock is mentioned in this article.