Polar Petroleum (OTC:POLR) is an exploration stage oil and natural gas company. Polar Petroleum is up nearly 223% in the last three months.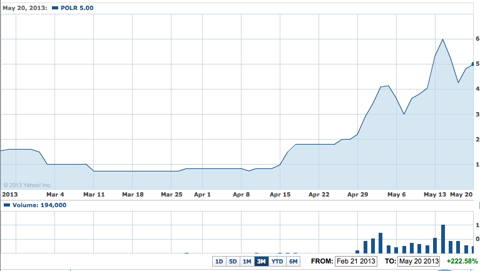 My suspicion is that this is a pump and dump due to the recent run up in price, but there are some potential fundamental reasons for the recent share price appreciation. Another reason I believe this could be a pump and dump is the recent jump in volume and several emails I have received make this company seem suspicious. For the sake of this article, however, I will show you some tactics that are common to pump and dumps and then analyze the fundamentals of this company. Here is Polar Petroleum's description from the 10-Q.
We are an exploration stage company focused on exploration, production and development of oil and natural gas in the United States. We currently own interests in certain oil and gas drilling areas and land leases located in the North Slope region of the State of Alaska.
As with many pump and dumps, they offer a potentially compelling investment thesis. In this case it is an oil discovery company in Alaska, which Polar calls "America's last energy frontier" in a promotional brochure.

One of the favorite tactics of companies like these is to report on major industry activity near the sites that the companies main projects are located. In this case Polar Petroleum, whose two projects are located on Alaska's North Slope, is showcasing how Russian oil giant Rosneft has made moves near the area. Here are Polar Petroleum's two locations on Alaska's North Slope.
Another classic pump and dump strategy is paying people who write financial newsletters to pump the stock. Sadly, there are people who can make a living from pumping stocks on unsuspecting investors. This practice is legal, but of you read the fine print you will see that these people are compensated for the pump. While legal, do you see quality companies paying people to cover the stock? They don't. And seeing it happen is a huge red flag. As you can see here Polar Petroleum recently upped their payments to this particular entity from $250,000 to $700,000. For a company that only has $125,000 in cash when they last reported. You can read the original report here. If you would like to read the original report where there was $250,000 compensation for the report, you can read it here.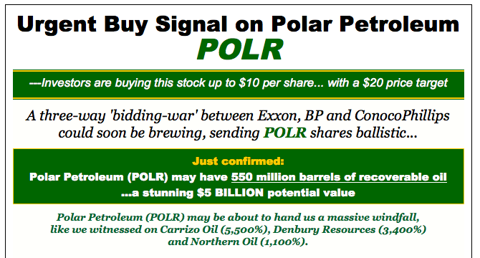 This is what Polar Petroleum's "pump" looks like. On the surface it seems good. I mean who doesn't want to buy a stock that has seemingly explosive growth potential. But, like I said, if you read the fine print, you will see something like this:
IMPORTANT NOTICE AND DISCLAIMER: This stock profile should be viewed as a paid advertisement. In order to enhance public awareness of Polar Petroleum and its securities through the distribution of this report, Commodity United Ltd. paid the publisher, Pond Research LLC, the sum of $700,000. This total production budget was applied towards costs associated with creating, printing and distributing this report. Excess funds remaining after production, if any, will be retained by the publisher as profit. This publication is not, and should not be construed to be, an offer to sell or a solicitation of an offer to buy any security. This publication, its publisher, and its editor do not purport to provide a complete analysis of any company's financial position.
Emphasis mine. This is clearly a sign that something is amiss, if not a downright fraud.
Fundamentals
I truly can find only one fundamental reason for the recent share price appreciation. That is the moves into the area by Rosneft. Don't get me wrong this is important. It shows that a major oil player sees something in the location. The main reason I am so bearish on Polar Petroleum is how phenomenally bad the fundamentals behind the company are. It is important to note that these are un-audited numbers from the companies 10-K and 10-Q. There are many red flags on this balance sheet.
Assets
Polar Petroleum has $147,384 dollars in total current assets, $125,000 of which is in cash. Polar Petroleum also has $1,267,500 in unproved oil and natural gas properties. The key word here is unproved, meaning they could end up being totally worthless. The unproved assets combined with total current assets give you a total assets number to $1,416,462 dollars. I think it is important to note than in the March 31, 2012 filing there are no assets listed and the current numbers are unaudited.

Liabilities
Total liabilities are currently $1,182,584 dollars. On the surface this doesn't look terrible. It has more assets than liabilities, which is a positive, but there are many negatives if you look a little more. One disturbing thing is that total liabilities have increased by 33,814% since the last time they reported. Again, all of these numbers are unaudited.

These numbers are from the 10-Q, which has the most up to date data. I believe that all 10-Qs are unaudited, while 10-Ks have to be. The most recent data is unfortunately unaudited. The most recent audited data is nearly one year old.
Negative Cash Flow
Even if this company is not a pump and dump, it is going to need some cashflow to become operational and move out of the exploration phase. Polar Petroleum had a net loss of $227,000 in its most recent filing. A negative cash flow is pretty normal at the stage that Polar Petroleum is in, especially in the oil and natural gas fields.
The fundamental picture certainly isn't good, but there is one very strange thing in the company history that makes me think it is not legitimate. From the management:
Polar Petroleum Corp. ( the "Company," the "Registrant," "Post Data," or "we,") was incorporated in the State of Nevada on March 22, 2011 as Post Data, Inc. We were previously a development stage company formed for purposes of decommissioning electronic data storage devices for permanent (sic) inoperability and (sic) unrecoverability of electronic data contained therein. On July 30, 2012, our management changed and we entered into the oil and gas business to engage in the exploration, development and production of oil and gas properties primarily in the State of Alaska.
(Note the grammar errors)
Seems like a very odd change to go from data wiping to natural gas and oil discovery. Obviously it could happen and be legitimate, but this, and how poor the fundamentals are, make me think otherwise. Unfortunately, profiting from a short on this company would be very difficult since it is almost impossible to short these type of stocks (Pink Sheets, OTC) and its large advertising budget could cause you to get stopped out even if you found shares to short. The only thing I can recommend to is stay as far, far away as possible from this company which I believe is a fraud.
Disclosure: I have no positions in any stocks mentioned, and no plans to initiate any positions within the next 72 hours. I wrote this article myself, and it expresses my own opinions. I am not receiving compensation for it (other than from Seeking Alpha). I have no business relationship with any company whose stock is mentioned in this article.