Microsoft Corporation (NASDAQ:MSFT) recently announced the long-awaited successor to its current industry-leading Xbox 360 video game console, the 'Xbox One.' The system unveil comes about three months after the company's main console competitor Sony Corporation (NYSE:SNE) announced its next generation console, the 'Playstation 4.' The two media presentations reflect both companies' willingness to adapt to new technology and social/media integration but also serve to point out the different paths the two companies are taking to acquire the dominant position in the video game industry. As with all video game generations, there can be only one leader and I believe Sony is currently better positioned to win the impending console war.
My theory is simple and is based largely from a consumer point of view, that Microsoft is marketing the Xbox One in the wrong way and it is playing directly into Sony's hands. The company's new console has impressive technical specifications that align well with Sony's upcoming Playstation 4 and groundbreaking social/media integration and connectivity. However, these aspects alone will not sell a $400-$500 console. The primary reason that consumers purchase video game systems are for the first and third-party video games themselves and it is in this regard that Sony, through a steadfast focus on traditional gaming, has recently made great strides in overtaking Microsoft's momentum.
Xbox Unveil:
The system unveil on May 21 lasted about an hour and revealed several interesting facts about the launch version of Microsoft's next console. Here are the highlights:
System will release 'later this year' at an yet undisclosed price.
System includes/will ship with 8GB of RAM, 8-Core CPU, 500 GB hard drive, Blu-ray drive, HDMI in and out ports, USB 3.0, next generation Kinect device.
Console referred to as 'all-in-one system' for video games, music, television and movies.
System does not require always-online connection to play games.
8 games have been confirmed, including major releases from Electronic Arts Inc. (NASDAQ:EA) and Activision Blizzard, Inc. (NASDAQ:ATVI).
Microsoft confirms 15 exclusive Xbox One games in the system's first year.
Live-action Halo television series announced, executive produced by Steven Spielberg.
Call of Duty: Ghosts DLC will launch first on Xbox One.
Partnership with NFL will allow fans to interact with stats/fantasy football features while watching live games.
Microsoft's live event successfully shed light on many of the next generation Xbox's features that gamers were curious about. Perhaps most importantly, management finally ended the rumor of the always-online connection, which had many potential consumers worrying about their ability to play video games without an Internet connection. It was a smart decision on Microsoft's part to not include this aspect in the Xbox One as it has been attempted before and met with great disappointment. Electronic Arts' recent release of Sim City 5 was a public relations disaster as a majority of gamers were unable to log-in to their accounts and access the actual game, due to the company's insistence on forcing consumers to be constantly connected to the Internet in order to play. More recently, Microsoft faced increased scrutiny over the always-online rumor when Xbox game developer Adam Orth went on a Twitter tirade claiming the benefits of the unpopular idea and had to be fired soon after. Wisely, whether it was seriously considered by the company behind the scenes or not, Microsoft largely debunked any rumors of always-online with regard to Xbox One.
Similar to Sony, Microsoft also dropped a lifesaver to video game retailers like GameStop Corp. (NYSE:GME) when it confirmed that the new console would support used-games. A Microsoft spokesman told CNET, "We are designing Xbox One to enable customers to trade in and resell games. We'll have more details to share later." However, similar to Sony once again, Microsoft remained vague about the exact process but it is known that users have to initially install all games onto the Xbox One's hard drive in order to play them. Additionally, there is a limit to how often the installation process can be repeated along with possible fines to reinstall numerous times. While not a necessarily crippling blow to the used-game market, there will definitely be an adverse effect on it and it will most likely be felt the hardest by retailers like GameStop that remain overly dependent on the second hand video game market. For more information on how the process could possibly affect used-game retailers, refer to my previous article 'GameStop: Time To Trade-In Shares?'
Microsoft also played to the strengths of its unmatched Xbox Live service, touting unprecedented interaction through a multitude of new features: including a built-in game DVR that allows users to record their in-game footage and share it with the world, a new and improved competitive matchmaking system, deeper achievement interaction, Skype connectivity and massively increased server capacity.
However, the direction Microsoft is headed in with Xbox One is clear and is perhaps best displayed by the actual look of the console itself, it's very utilitarian in presentation and resembles a cable/satellite set-top-box. It is obvious the company wants to position the system no longer as a video game device but as a universal home entertainment platform. The idea of an 'all-in-one system' that offers games, music, television and movies at the touch of a button, or a swipe of the hand via Kinect, seems well enough on paper. However, in positioning the system as a universal entertainment device first and foremost and not as a video game console, Microsoft risks losing the Xbox's core audience to the hungry competitor waiting in the background, Sony.
Below is a graphic representation of a poll conducted by popular video game website IGN displaying what gamers wanted to see most heading into Microsoft's next generation Xbox unveil: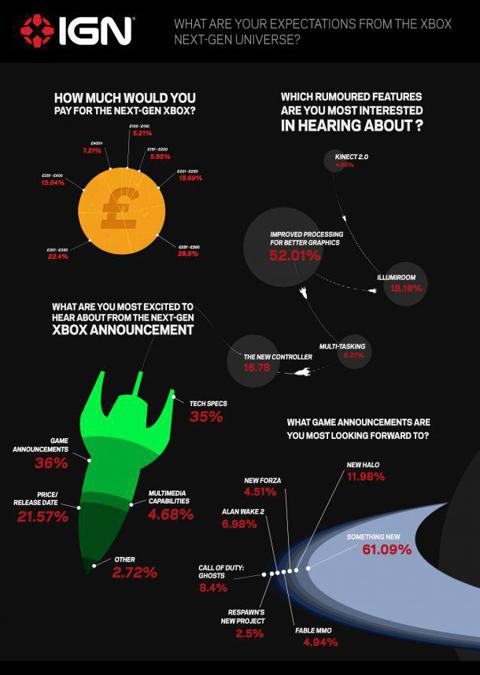 (image , numbers courtesy of IGN.com, link to original article here)
Here are the results broken down:
Game Announcements: 36.03%
Technical Specifications: 35%
Price/Release Date: 21.57%
Multimedia Capabilities: 4.68%
Other: 2.72%
The results should be not at all surprising: consumers wanted to see and hear about the video games that Microsoft has planned for its new system. Together with 'technical specifications,' 'game announcements' made up well over two-thirds of viewer interest in the next generation Xbox system. While Microsoft adequately explained the power and architecture of Xbox One, they offered consumers little with regard to actual game releases. Even though the company promised 15 exclusive titles for the system in its first year, information on said titles was very scarce. Besides Call of Duty Ghosts and a plethora of EA sports titles, all of which are assumed to be available on Playstation 4 as well, and Xbox exclusives Forza Motorsport 5 and Quantum Break, very little time was actually given to game releases.
Comparing the game titles that viewers wanted to see most, as judged by IGN's poll numbers, to the ones Microsoft actually showed off, only 12.91% of the titles were addressed. It was almost a half hour into the conference that management even seriously discussed any major video game releases. This plays right into the hands of Sony, whose stock subsequently rose 9% during the Xbox One unveil, as it has smartly positioned itself as the company dedicated to catering to the actual gamers of the next generation.
Playstation 4 Unveil:
The system unveil on February 20, along with subsequent interviews and promotional campaigns over the last three months, has revealed Sony's strong focus on enhancing the gaming experience first and foremost. Here are the highlights:
System will release 'Holiday 2013' at a yet undisclosed price.
System includes/will ship with 8GB of GDDR5 memory, 8-core AMD 'Jaguar' x86-64, 1.84 TFLOPS AMD Radeon processor, Blu-ray drive, built-in 80.211 b/g/n wi-fi, Bluetooth 2.1, HDMI/analog-AV/optical digital output, USB 3.0, Dualshock 4 controller with built-in LED.
Gaikai-integration, cloud-based gaming service.
Playstation Vita streaming support enabled.
Playstation App coming to iPhone, iPad, Android stores.
Netflix, Hulu Plus, Amazon Instant Prime, Vudu and more streaming services will be available.
The information revealed in the two competing press conferences was actually very similar in content and differed only in approach. Both Sony and Microsoft revealed powerful and comparable technical specifications, enhancements to online services and social integration. However, Sony went about it in a completely different way and may have turned the tide of consumer perception in the process. With a much stronger focus on actual video games and a presentation of additional features as just that, additional, the company made a compelling case to consumers that the Playstation 4 is the console of choice for the next generation of gamers looking to play video games.
Sony surpassed gamers' expectations with a slew of exclusive Playstation 4 games: including Guerilla Games' 'Killzone: Shadow Fall,' Sucker Punch's 'Infamous: Second Son,' Evolution Studios' 'Drive Club,' Studio Japan's 'Knack,' Jonathan Blow's console exclusive 'The Witness,' as well as the surprise announcement of Activision Blizzard's Diable 3 being made available. In addition to exclusives, Sony also focused heavily on third-party support, including Ubisoft's upcoming title 'Watchdogs' and Bungie's 'Destiny,' the latter studio being one of the most recognizable Microsoft game studios of the last decade and most responsible for the Halo franchise.
Having watched both press conferences and looking over both systems' features, the consoles are very similar and neither appears to have a significant technical edge. Refer to IGN's head-to-head breakdown of each console here to get a better understanding of how close the specifications actually are. However, judging by the reaction to each conference on popular gaming websites, the verdict is already in, Playstation 4 is leading the way in popularity before either console has even shipped. Since there is no significant release advantage for Microsoft this time around, consumer perception is what will decide this race and it is already in Sony's favor.
The Impending Console War:
The difference between the two companies' approaches is that Sony has chosen to direct its efforts more at traditional gamers specifically. The danger inherent is that Sony could be restricting its audience to consumers looking to only buy a video game console and could face less long-term sustainability with regard to media feature support. Microsoft, with its incredibly diverse "all-in-one system,' has clearly chosen to market towards a much wider audience and in the process risks alienating consumers looking for a dedicated video game console. However, the only question that should matter to investors is which strategy will translate into more initial sales? As both systems are scheduled for late 2013 releases, they will be directly competing against each other during the busy holiday season and the system that gets off to a faster start and is able to acquire early support is traditionally the one that maintains dominance in the marketplace.
My main concern with Microsoft's approach is that consumers will most likely not be willing to buy an expensive console and pay an additional charge for Xbox Live service just to watch movies and listen to music, so why market it that way? As a gamer, I understand the desire to have an all-inclusive piece of entertainment hardware but it is not the reason I choose to buy a console. I have no interest in purchasing a $500 companion to my TV that can effortlessly switch between cable and Blu-ray at the sound of my voice. While that is certainly impressive, I have other hardware that more or less performs the same tasks at no extra cost. When I decide which next generation console to buy, it will be based solely on the system's game offerings. In this regard, Microsoft has not been clear enough with gamers and Sony has seized the opportunity.
These consoles are mainly for playing video games and it is the traditional gamers who will most likely make or break the systems at launch. To market a system primarily towards any other audience is a risky strategy. It seems as if Microsoft has taken its recent dominance in the video game market for granted and there is always a price to pay for doing that, just ask Sony after the company's seemingly unstoppable Playstation 2 run. Management at Sony seems to understand this now, maybe because the company has been there before and struggled, while Microsoft does not or has yet to change its focus.
The good news for Microsoft is that consumers are a fickle bunch and can be swayed rather quickly. The upcoming E3 conference in June is a perfect time for Microsoft to announce a barrage of new games for Xbox One and to provide potential customers with a better understanding of what they can expect at launch for the new system. With Nintendo Co. Ltd. (OTCPK:NTDOY) having backed out of the premiere game conference, it will be Microsoft and Sony facing off directly. In an atmosphere filled with nothing but gamers, big expectations and the potential for even bigger headlines, it won't be much of a competition unless Microsoft chooses to battle Sony in the actual video game department. I expect Microsoft will soon come out swinging with popular blockbuster series announcements but as of right now the console is not effectively convincing the gaming masses and is losing valuable time in its increasingly short release window. Microsoft, you're on notice, put your game face on!
Disclosure: I have no positions in any stocks mentioned, and no plans to initiate any positions within the next 72 hours. I wrote this article myself, and it expresses my own opinions. I am not receiving compensation for it (other than from Seeking Alpha). I have no business relationship with any company whose stock is mentioned in this article.