This is Part 2 of a short series of articles that will compare the risk profiles for the 25 business development companies ("BDCs') recently covered in my "The Good, The Bad, And The Maybe" series. In "BDC Risk Profiles: Part 1" I focused on the types of portfolio investments of each BDC and non-accrual rates, and Part 2 will focus on volatility ratios and how they might potentially be related to the types portfolio investments.
When evaluating BDCs I focus on five general criteria: profitability, risk, payout, analyst opinions, and valuation. When assessing risk relative to other BCDs I take into account many factors including: portfolio credit quality, investment asset classes, diversification, non-accrual rates, portfolio yield, fixed/variable rate loans, leverage, volatility ratios, market capitalization, insider ownership and trends, institutional ownership and trends, and management/operational history. I will cover each of these areas as well as the other factors I use to rank the risk profiles for each BDC. Below are the current risk rankings for each BDC and for the most recent overall rankings see "Latest BDC Rankings For Q1 2013".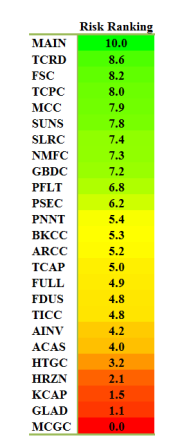 Volatility Ratios
I use quite a few volatility ratios when evaluating risk but will focus on two of the standard measures.
"Beta" is a measure of the correlated volatility, or systematic risk, of a security or a portfolio in comparison to the market. A beta of 1.0 indicates that the price will move with the market, a beta of less than 1.0 means that the security will be less volatile than the market, and greater than 1.0 indicates it will be more volatile. There are a few ways to measure beta depending on the time frame and benchmarks used. Most people use the S & P 500 and anywhere between one to five years. I have included four different sets of beta, some of which came from Seeking Alpha.
"Standard Deviation" is another commonly used absolute risk metric, measuring historical volatility and can be a gauge for the amount of expected volatility. Volatile stocks have higher standard deviations.
The colorful chart below shows the different beta and standard deviation data used to come up with a "volatility rank".
Many things can affect the volatility of BDC stock prices including investor perceptions of risk as well as the underlying assets contained in each portfolio. As discussed in Part 1, BDCs can have a wide range of portfolio investments from safer debt types to riskier equity types. During bull markets BDCs with riskier assets often outperform the others. American Capital (NASDAQ:ACAS) and Triangle Capital (NYSE:TCAP) have the riskiest mix of assets and have outperformed all other BDCs with the exception of KCAP Financial (NASDAQ:KCAP). Below is chart showing the "average grade" of portfolio investments for each BDC alongside its volatility rank.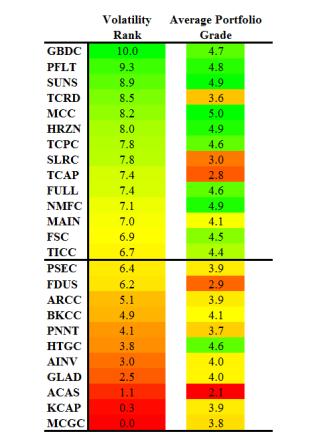 With the exception of a few outliers such as TCAP, THL Credit (NASDAQ:TCRD), Solar Capital (NASDAQ:SLRC), and Hercules Technology Growth Capital (NASDAQ:HTGC), most BDCs with an average investment grade of 4.0 or higher have much lower volatility probably due to safer investments. HTGC most likely has higher volatility due to having a less diversified portfolio with high exposure to the healthcare and technology swings as discussed in this article. TCRD, SLRC, and TCAP have lower portfolio grades but low or no non-accruals and better than average industry diversification, potentially reducing volatility.
Topping the list with the least volatility are many of the BDCs with the highest investment grades including Golub Capital (NASDAQ:GBDC), PennantPark Floating Rate Capital (NASDAQ:PFLT), Solar Senior Capital (NASDAQ:SUNS), Medley Capital (NYSE:MCC), and Horizon Technology Finance (NASDAQ:HRZN), all with grades 4.7 or above due to the large portions of senior debt as shown in the table below.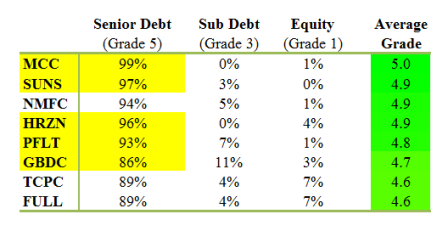 Keep in mind, these volatility measures rely on past price movements and are not necessarily predictors of the future because they do not incorporate new information or fundamental changes in the company. Volatility ratios, portfolio investment grades, and non-accruals are just a few of the many considerations when evaluating risk for BDCs and I will try to cover the basics in the remainder of this series.
For more information about BDCs and how I evaluate them, please see this article.
Disclosure: I am long PFLT. I wrote this article myself, and it expresses my own opinions. I am not receiving compensation for it (other than from Seeking Alpha). I have no business relationship with any company whose stock is mentioned in this article.