Chevron (NYSE:CVX) presently could be worth looking into as a quality play on energy. Shares of Chevron I believe are worth looking into because of the compelling valuation, the technicals, and dividend stability. Even with Chevron hitting a new all-time high Wednesday, I believe shares are significantly undervalued when looking at Chevron itself, and when compared to its peers.
Chevron Fundamentals
[Data from Zacks.com]
Current Price: $126.56
Trailing 12 Month EPS: 12.51
Current PE ratio: 10.11
Expected Long-Term Earnings Growth: 6.30%
PEG Ratio: 1.61
Dividend Yield: 3.18%
Divisions
Below is a chart from the Trefis page of Chevron that breaks down Chevron by its separate divisions. The chart below shows that Chevron is diversified across three main businesses that make up a large portion of the company: Equity Affiliates & Other Income, Crude oil & natural gas liquids, and refined products and chemicals.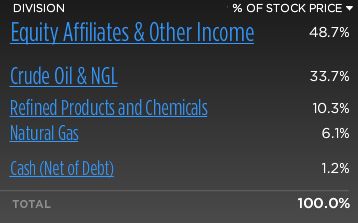 Valuation
Using the data from the fundamentals section from above, I did a DCF [Discounted Cash Flow] model to estimate the fair value for the shares of Chevron. The DCF calculator I used is from Smartmoney.com, I put the data from the fundamentals section, and used the assumptions of the EPS growth would last for 5 years and level off to 1% for years after that. For my benchmark return I used the SPDR S&P 500 (NYSEARCA:SPY), I went to longrundata.com and set the start date to 10 years from today's date to find the annualized total return for the SPY, which was 8.20%. I then added the rate of inflation which is 1.10% according the BLS [Bureau of Labor Statistics] to my 8.2% for a benchmark return of 9.30% to use in my DCF calculation. Based on the DCF calculator the fair value of shares of Chevron is $190.04, which is 33.55% above current levels.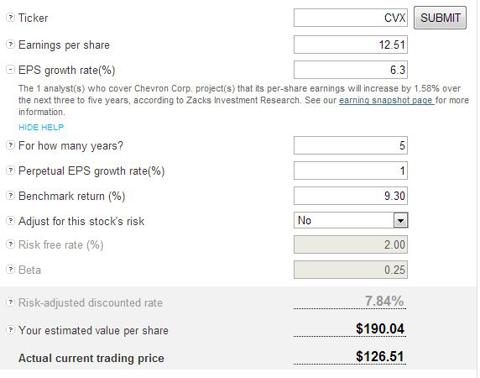 Competition Valuation
As I stated above, Chevron hit another new all-time high Wednesday, using Finviz.com I found that in the S&P 500 there are four Major Integrated Oil & Gas companies: Chevron, Exxon Mobil (NYSE:XOM), Conoco Phillips (NYSE:COP), and Occidental Petroleum (NYSE:OXY). In the table below, I will show the estimated fair values for each of these companies using the same process I used for Chevron in the section above. The table below shows that Chevron is the most undervalued based on the DCF calculations out of the four companies, even though shares are up nearly the most out of the four, and trading at all-time high. I also noticed that Chevron is currently trading at the lowest PE out of the four companies even though it has been a top performer this year, which to me says there is still more room to the upside if Chevron were to trade at the valuation of its peers.
| | | | | | | | |
| --- | --- | --- | --- | --- | --- | --- | --- |
| | Company | Mkt Cap. | 1-year Perform. | PE Ratio | Current Price | Fair Value | % |
| CVX | Chevron | 244.13 B | 29.90% | 10.10 | 126.29 | 190.04 | -33.55% |
| XOM | Exxon Mobil | 412.62 B | 16.28% | 11.34 | 93.1 | 100.2 | -7.09% |
| COP | ConocoPhillips | 78.63 B | 30.05% | 11.56 | 63.72 | 84.39 | -24.49% |
| OXY | Occidental Petroleum | 74.97 B | 21.68% | 13.47 | 92.4 | 101.91 | -9.33% |
Technicals
The technical picture of Chevron shows that it is on the brink of breaking out above the top trend line of the channel it is in, or due for a correction back to the lower line of the channel. If the market continues higher, I would expect Chevron to breakout, but if the market trends sideways or down I could see Chevron moving downward to test the lower band of the channel. The upper channel has been a strong point of resistance, in the short term I believe shares might head back towards the $118-$120 level but long-term I believe shares will continue their march towards the fair value price I calculated above.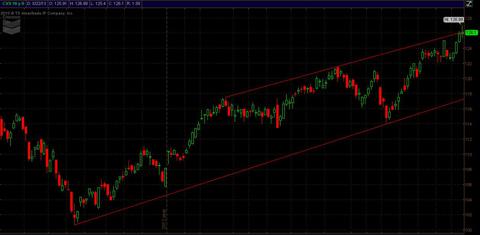 [Technical Data from ThinkorSwim charting software]
Dividend Stability
Chevron is one of the most stable dividend paying companies in the S&P 500 . Using data from DividendChannel.com I constructed a chart showing the quarterly dividend of Chevron since 1995. Chevron has grown its quarterly dividend from $0.25/share in 1995 to a current level of $1/share. Chevron did not cut its dividend during the financial crisis even though crude oil fell to under $40/barrel when the previous year in 2008 crude oil was trading at over $140/barrel. This shows that pretty much no matter what the price of crude oil is Chevron will be able to maintain or raise its dividend.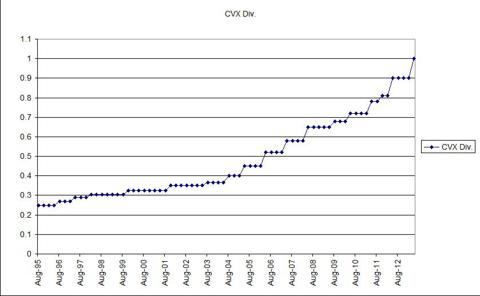 Closing Thoughts
Based on the three factors I outlined above of valuation, technicals, and dividend stability, I believe Chevron is the best choice for someone looking for an undervalued, stable dividend growing energy stock. What surprised me was when I was comparing Chevron to its peers I noticed that all four companies were undervalued, which says something about the energy sector as a whole, and with the four majors making up nearly 40% of the Energy SPDR ETF (NYSEARCA:XLE), that could be another potential broad opportunity. I believe Chevron is the best choice out of the 4 Major Integrated Oil & Gas companies in the S&P 500, because of the unique combination Chevron has right now of lowest peer PE, most undervalued, and on the verge of a potential technical breakout.
Disclosure: I have no positions in any stocks mentioned, and no plans to initiate any positions within the next 72 hours. I wrote this article myself, and it expresses my own opinions. I am not receiving compensation for it (other than from Seeking Alpha). I have no business relationship with any company whose stock is mentioned in this article.