If anyone offers you a 10% yield in investments in bonds, naturally, you should get suspicious. "Is this opportunity extremely risky because the investment is loaded with junk grade bonds?" you would think. "Is it using a leverage to achieve its suspiciously high gains?" Your instincts correctly tell you to be on high alert in case of bond returns that high. In most cases, such an attractive return bears a correspondingly high risk. However, there are exceptions to almost every rule. One such outlier, which generates very high bond returns without any elevated risk, is the PIMCO's actively managed Total Return Bond ETF (NYSEARCA:BOND), managed by the bond legend Bill Gross.
The BOND fund has many bright sides, which we will explore below. On the other hand, with just 14 months of history, not to mention the current low interest rates and correspondingly high prices of bonds, we also have to take into consideration the risks of future lower returns or even losses.
However, I am confident that out of all bond funds, Bill Gross's BOND is one of the best positioned to weather the potential transition to a higher interest rates environment. Here's why.
The Bright Sides
1. Stellar annual return
PIMCO's BOND (the extra-smooth red line in the chart above) has returned 11.86% since its inception on March 1, 2012. That's more than a 10% annual return. What is even more interesting and valuable is the extremely low volatility of these returns. No negative drawdown, very small price fluctuations. The smoothness of the BOND equity curve is just spectacular. It is very similar to a money market fund such as PIMCO's Enhanced Short Maturity Strategy Fund (NYSEARCA:MINT), which uses one- to three-month U.S. Treasury bills (the pink line in the chart above).
So, there are two ways you can describe BOND's performance:
either, that it is delivering much higher returns than investing vehicles that bear comparable risk and have similar volatility, such as the PIMCO's MINT;
Either way, these risk-adjusted returns are spectacular compared to virtually any other investment broadly available to U.S. investors today.
The question is, of course, if they are sustainable. We will cover this topic in the Risks and Drawbacks part below.
2. Actively managed fund
BOND is not an index fund such as, for example, the TLT. Thanks to being actively managed, BOND can profit not only from yields that are typical for other bonds and bond index funds, but also from capital gains from active buy and sell decisions of the underlying securities. The relatively higher annual management fee of 0.45% reflects this active management. However, this half a percentage point is more than wisely spent, in my opinion.
3. Small size
BOND has amassed over $4.3B in assets from investors in the first year of its existence alone; BOND is still tiny, and therefore flexible, in terms of the amount of managed money. Thanks to being new and despite a quick intake of new deposits, it can afford to invest only in the best available deals, including smaller opportunities. BOND doesn't yet have to look for "elephant" deals such as Berkshire Hathaway's [(NYSE:BRK.A),(NYSE:BRK.B)] almost $30B takeover of Heinz (HNZ) or BOND's older mutual fund "cousin," the Total Return Mutual Fund (MUTF:PTTRX), which has been active since many decades ago and currently manages close to $300B as the world's largest mutual fund.
Just for a comparison, to show how fast this new BOND ETF fund has been gaining popularity and assets under management, the largest ETF, the SPY, currently holds approximately $140B after 20 years of existence. The largest gold ETF (NYSEARCA:GLD) holds "just" $50B and the largest Treasuries ETF holds a "tiny" $4B, already less than the new BOND.
4. Superb fund managers
The bond legend Bill Gross and other PIMCO's managers have decades of experience in bond funds management. PIMCO's original Total Return Mutual Fund (PTTRX) has returned 168.54% since January 4, 1999. This is an annualized return of 7.5%. Not bad at all for a bond fund. The correlation of the PTTRX and BOND is only 65%, meaning that not all the holdings and trades are the same in these funds. This can allow the price of BOND to outperform the PTTRX, but there is also a risk of underperformance at certain times.
Why BOND can outperform, but also underperform PTTRX
As mentioned above, the correlation of the ETF and mutual fund versions of PIMCO's bond funds is just 65%. Simply put, the structures of the holdings are far from being identical.
1. Number of positions
BOND is new and has been building its portfolio from scratch for the last two years. Not only is the number of positions held smaller as a result (currently, the number of holdings is 904), but the positions were also cherry-picked to take advantage of the best deals from the vast pool of opportunities.
On the contrary, PTTRX has approximately 19,000 holdings, or about 20 times more than BOND.
It is much easier to outperform the market by holding fewer positions. The more holdings a fund or an individual investor holds, the harder it becomes to beat the general market, because by holding many positions, you are virtually becoming the market. Due to forces of statistics such as probabilities and distributions, you are becoming the average and can't easily diverge from it either to the upside, which is bad for the investors, or to the downside, which is good for us.
This "too big to outperform" and "too diversified to outperform" factor is the strongest reason why BOND has been generating higher returns than PTTRX in the past. If we look at the magnitude of the outperformance of Berkshire Hathaway in the first decades of its existence, when this fund was much smaller and could pick fewer deals because it managed less money, the outperformance of Berkshire was very strong. On the other hand, in the past years, BRK has actually underperformed the S&P 500 index. One of the reasons is Berkshire's large size, "the too big to outperform" phenomenon.
2. Country exposure
BOND holds 82.29% of assets in U.S. bonds and the remaining 17.61% in international securities.
PTTRX holds only 46% in U.S. bonds and 54% in overseas securities.
As bond prices and yields fluctuate in various parts of the world, BOND and PTTRX generate different returns from regional exposure.
3. Cash exposure and leverage
BOND is not leveraged and maintains approximately 20% of holdings in money market-type bonds, which bear very little yield, but are very well protected from any fall in bond prices caused by a potential rise in interest rates.
On the contrary, not only does PTTRX use the majority of its cash to invest in non-money market bonds - PTTRX also uses 50% cash leverage. In other words, it has a minus 50% cash position, and invests this extra borrowed cash into bonds.
As a result, PTTRX has much greater exposure to both U.S. and international bonds than BOND, and a short exposure to cash. In case of a drop in bond prices, PTTRX could get hurt much more severely than BOND.
PTTRX asset allocation: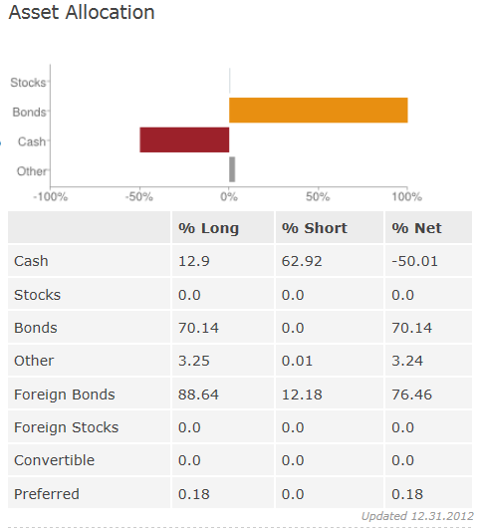 source: money.usnews.com
BOND asset allocation: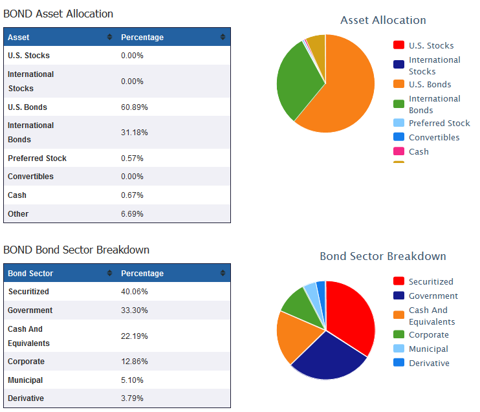 source: etfdb.com
Risks and Drawbacks
1. Past performance is not a guarantee of future returns
The stellar performance in the past 14 months is in no way a guarantee that the fund will perform so well in the future. However, I am confident that BOND will keep a performance above that of its older sister PTTRX, which currently generates 7.5% average annual returns, slightly beating the S&P 500.
BOND's much smaller size should enable it to take advantage of more active micromanagement of its assets, going after smaller and more attractive deals than is economically meaningful for the larger PTTRX.
2. Bond prices are already elevated by many standards
On one hand, it is very hard to find decent bond yields without having to dive into high-risk waters. At the same time, investors face the risk of declining bond prices.
However, again, I have to point to the small size and very young "age" of the BOND ETF. These two qualities pose great advantages over older bond funds in that the structure of the fund's holdings has been completely created in the past 14 months. So, the BOND strategy could already react to an unprecedented Fed quantitative easing and buying of the U.S. Treasuries. PIMCO's BOND is well prepared by now holding much shorter maturities than many other bond funds. These shorter maturities will be less sensitive in the event that interest rates start rising.
3. Change of management
In case there is a replacement of the fund's managers due to retirement or other reasons, it is possible that the performance of the fund would be significantly hurt - and this performance drop could very well be permanent. This is similar to a situation that Apple (NASDAQ:AAPL) faced recently, and which other actively managed funds dependent on one dominant investing figure, such as Berkshire Hathaway, will probably face in the future.
Conclusion
Despite some risks to the future performance, I am very confident that PIMCO's new Total Return ETF BOND will have a bright future and will deliver excellent results to its investors - at least until its size grows from $4B to hundreds of billions of dollars, and until there is a change in management, or a significant rise in the interest rates. However BOND can also underperform its PTTRX "cousin" during certain periods of time due to a different size, number of holdings, country exposure, asset allocation and cash leverage.
Intriguingly, Bill Gross himself has very recently called a top retrospectively in what he calls a 30-year bull market in bonds, predicting lower 2-3% returns going forward. However, even this lower yield, if it is achieved with minimum volatility and low correlation with other asset classes, can be a stabilizing force in your portfolio.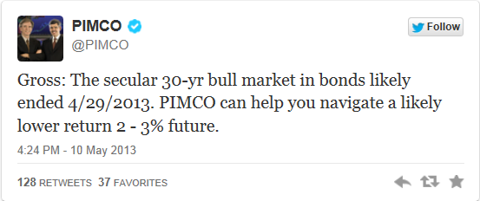 Recommendation
I recommend to buy BOND as part of your bond asset class. However, I do not recommend increasing your current share of bonds asset class as a percentage of your portfolio. I favor dividend stocks over bonds at the moment. However, even most stocks seem to be overvalued or fairly valued at best.
Therefore, I am only adding stocks at reasonable valuations and after a thorough analysis, such as 3M (NYSE:MMM), Berkshire Hathaway, Wells Fargo (NYSE:WFC), Chevron (NYSE:CVX) or Exxon Mobil (NYSE:XOM).
Disclosure: I am long BOND, BRK.B, MMM, WFC, CVX, XOM. I wrote this article myself, and it expresses my own opinions. I am not receiving compensation for it (other than from Seeking Alpha). I have no business relationship with any company whose stock is mentioned in this article.