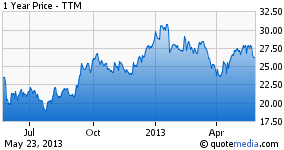 The stock of Tata Motors (NYSE:TTM) is currently trading at $26.67 per share, which is approximately 13.5 percent below its 52-week high of $30.85 per share that was reached during intra-day trading on January 17, 2013. Tata Motors is a manufacturer of automotives, machine tools, and construction equipment that is based in Mumbai. India. In the first four and a half months of this year, shares of Tata Motors are underperforming the broader market indices by currently posting a decline of 7 percent from the stock's closing price of $28.72 per share on December 31, 2012. This contrasts with the present gain of 17.81 percent in the benchmark S&P 500 Index and the slightly more impressive 18.63 percent increase in the manufacturing company-heavy Dow Jones Industrial Average thus far year-to-date. When comparing the stock of TTM with its domestic peers in the India stock market, investors will discover that Tata Motors is also currently underperforming the benchmark S&P BSE India Sensex Index, which has risen approximately 3.5 percent year-to-date in 2013.
With a vitally important quarterly and full fiscal year earnings announcement forthcoming at the end of May, the senior executives of Tata Motors will be in the driver's seat when they release the company's most recent financial results for the period ending March 31. Tata Motors is presently scheduled to announce the company's fourth quarter fiscal 2013 earnings report, full year financial results, and conduct a management conference call with its stock analysts on May 29. Industry analysts have set ambitious expectations for Tata Motors' fourth quarter 2013 financial results, with the most up-to-date average consensus earnings forecast for TTM coming in at a healthy 79 cents per share. For the entire fiscal year 2013, analysts are expecting a consensus mean estimate of $2.74 earnings per share on a diluted basis, although forecasts possess a tremendous amount of variation with a high of $3.73 EPS to a low estimate of $1.98 EPS at present. Clearly, the consensus estimates of industry analysts reveal a high degree of interpretative forecasting involved in the automotive industry in general and TTM's domestic market in India in particular. Investors should take these variances of the financial estimations from the professional stock analysts into consideration when evaluating the future prospects for shares of Tata Motors ahead of the company's fourth quarter fiscal 2013 earnings announcement at the end of this month.
For its full year fiscal 2013, industry analysts show Tata Motors generating a current consensus revenue estimate of $34.27 billion, which would deliver growth of approximately 7 percent year-over-year compared to the company's $32 billion for fiscal 2012. During that time period for fiscal 2012, TTM reported selling 1,269,483 vehicles, of which 955,233 of the sales were for the company's flagship nameplate brand Tata Motors. In its domestic market of India, Tata Motors currently has five major car manufacturing plants: in Sanand in the Ahmedabad region of the western state of Gujarat, in Lucknow in the northern state of Uttar, in Jamshedpur in the eastern state of Jharkhand, in Pantnagar in the northern state of Uttarakhand, and in Pune in the western state of Maharashtra. These plants are responsible for building and assembling such popular Tata Motors passenger vehicle brands as: Aria, Sumo, Vista, Indica, Safari, Nano, Manza, and Indigo. The popular Tata Nano, which is the least expensive production car in the world with a price-tag of approximately $3,000, was named the ninth best selling car worldwide for 2012 with 74,545 units sold during the year. That impressive sales figure represents a healthy 17.73 percent increase over 2011 Nano sales and allowed the tiny vehicle to replace Tata's other top selling model, named the Indigo, in the list of the world's top ten bestselling vehicles. As one of the top selling Tata models, the Indigo is TTM's first sedan and assembled at the company's plant in Pune, alongside its hatchback companion Indica model. The Tata Nano's superb percentage change in sales performance for 2012 was only outdone by Suzuki's Swift and Swift DZire models, which grew sales at 51.83 and 52.21 percent respectively. The Tata Nano is assembled at the company's plant at Sanand, which has been in operation since early 2010 and Tata Motors claims is capable of producing 250,000 cars per year with scalability of up to 350,000 vehicle production capacity.
Tata Motors announced a major restructuring in the middle of January 2013 that the company believes will enable it to become the second largest automobile manufacturer worldwide by 2020. As part of the restructuring, Tata cut hours and eliminated multiple shifts at most of its auto assembly plants throughout India. Importantly, Tata Motors announced on January 23 that it would be accessing the credit markets for a $400 million bond issuance to fund future expansion and maintain current operational costs for its Jaguar-Land Rover division. Tata Motors originally acquired the Jaguar-Land Rover unit from Ford Motor Company in March 2008 for $2.3 billion. Ford had owned Jaguar-Land Rover since 1990 and was further obligated to pay $600 million into the pension fund that covers the two auto makers before the sale to Tata Motors was complete. Ford originally spent $5.3 billion to acquire both brands and spent almost $10 billion trying to return Jaguar to prominence over the nearly 18 year ownership span. For TTM investors, it is advisable to pay close attention to the company's Jaguar-Land Rover unit in the coming quarters to ensure that Tata Motors does not repeat any of the costly mistakes Ford made with the brands.
The TTM chart shows the company's shares are currently trading right at the 50-day exponential moving average of $26.77, which represents a key support level going back to late October 2012. With positive analyst sentiment across the board, the current consensus rating is a buy with a $29.40 per share price target. Combining these two important factors make the stock's current market price of $26.67 and test of the 50-day EMA an optimal entry point for investors who are interested in building a position of TTM shares in their portfolios. With a potentially positive earnings announcement only a week away, the positive analyst ratings and favorable stock price make the relative risk and potential return for TTM a solid investing opportunity.
Disclosure: I have no positions in any stocks mentioned, and no plans to initiate any positions within the next 72 hours. I wrote this article myself, and it expresses my own opinions. I am not receiving compensation for it (other than from Seeking Alpha). I have no business relationship with any company whose stock is mentioned in this article.