What has occurred at J.C. Penney
For 109 years the J.C. Penney (JCP) retail chain provided a reliable, predictable shopping experience. However, within the past 18 months, J.C. Penney has made extensive merchandising changes to its business model that left many of its customers, employees and investors bewildered. The company began to deteriorate financially. Within a short time period customers purchased less frequently. In the fourth quarter of 2012 J.C. Penney sales fell by 32% (yearly sales fell by 24.6%) and full year operating loss amounted to $985 million.
Previous Management
In December 2004 Mr. Myron (Mike) Ullman succeeded Allen Questrom, J.C. Penney's previous CEO.
Mr. Questrom served as CEO during the years 2000 to 2004. During his term at J.C. Penney, he is given credit for saving J.C. Penney from bankruptcy.
Mike Ullman had retired from the retail industry before joining J.C. Penney, but he returned when the J.C. Penney board of directors recruited him to be its new CEO. Under Mr. Ullman's leadership, sales and income rose gradually, peaked in the year 2007, and then declined. Its stock price increased from $20 per share, cresting at $85 in 2007 then fluctuated between $15 and $40.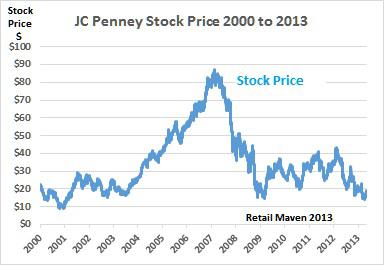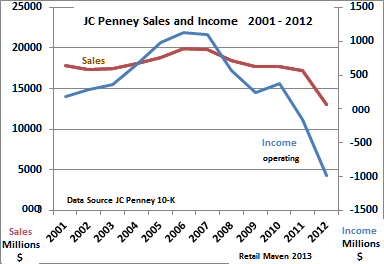 New Leadership
In mid-2010 the investor, Bill Ackman, Pershing Square Capital Management, began to invest in J.C. Penney and accumulated a 17.2% interest. He became a director.
Bill Ackman was dissatisfied with the performance of J.C. Penney stores and questioned the cause for the decline in its operating income. He wanted J.C. Penney to be run by an innovative manager who could guide it to steady growth.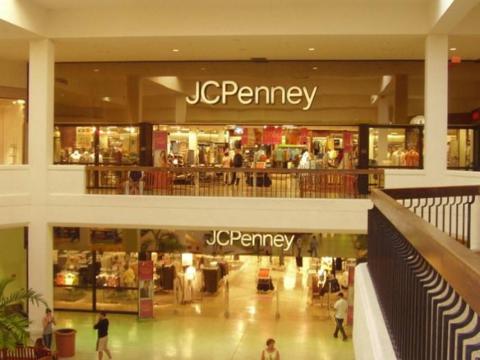 By the end of 2011 Bill Ackman's influence within the company was strong enough to cause Mr. Ullman to resign. Mr. Ackman convinced the board to engage Ron Johnson as new CEO. Mr. Johnson was the retail superstar who guided Apple (NASDAQ:AAPL) stores through their pattern of spectacular growth.
When Ron Johnson took control of J.C. Penney in 2011, he planned many innovations to improve business prospects, and had strong beliefs on how to correct J.C. Penney's declining growth, which occurred since the year 2007.
Mr. Johnson eliminated merchandise sales and excluded money saving coupons, creating a price structure that offered a single, fixed price that he called, "Fair and Square Pricing." His pricing changes did not endear J.C. Penney to its loyal customers.
The sales and profit decline that followed were coincident with the ending of promotional pricing. J.C. Penney's customer expected great sale events and to be given value bearing coupons. The customers reacted to losing special opportunities to save by purchasing less.
Under Ron Johnson's leadership J.C. Penney reduced the number of employees by 43,000 in 2012. This amounts to more than 20% of staff when accounting for seasonal hires. The layoffs created a morale problem within the J.C. Penney Organization, and reduced the quantity of services available to customers.
Mr. Johnson planned the creation of small shops devoted to a single maker's goods, and ordered thousands of mannequins to stand at the entrance to these shops, wearing its merchandise. Boutiques and mannequins are expensive. J.C. Penney's cash position declined because of this extra expense, the cost of transition changes and expenditures on J.C. Penney's stock buy-back.
The boutiques were sparsely manned by sales personnel, so it was more difficult for a customer to complete a purchase.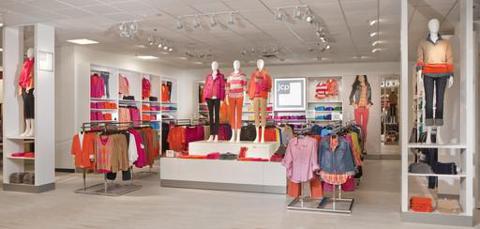 One may argue that the use of mannequins and the installation of boutiques were beneficial for J.C. Penney, but it is difficult to argue that the cessation of merchandise sales and elimination of money saving coupons were not a cause J.C. Penney's difficulties. Periodic special pricing has long been associated with J.C. Penney's merchandising plan. When it ended J.C. Penney's customers sought other retail venues. Those who strayed from J.C. Penney did not seem to return. This is evidenced by J.C. Penney's "Come back to Penney" campaign.
Mr. Johnson changed the store logo. The transformed logo followed two recent logo changes. When compared with J.C. Penney's previous insignia, only 56% of those who recognized the previous logo could identify the new one as symbolizing J.C. Penney. Some customers could not identify the J.C. Penney stores that bore the new logo over their entrance. Those who were confused did not enter.
Addressing the fiscal aspect of J.C. Penney, Mr. Johnson, at the prompting of Bill Ackman, had J.C. Penney re-purchase $900 million of J.C. Penney stock. He took an 11 million share position in Omnimeda (MSO), the Martha Stewart organization's merchandising arm.
The stock buy-back and the Omnimedia re-purchase were completed at a time when J.C. Penney needed all its cash to spend on revitalization. An urgent need for cash occurred later in the year 2012. This caused J.C. Penney costly remediation. It arranged for a loan of $2.25 billion from Goldman Sachs (NYSE:GS) but had to re-purchase $254 million in debentures that were previously issued to fulfill a condition within its covenants.
The the Goldman Sachs loan will incur a yearly interest expense greater than $120 million.
The one time cost to J.C. Penney for redeeming an existing $254 million worth of debentures at a price of approximately 100 million dollars over face value is approximately $350 million, which should be deducted from the net proceeds of the $2.25 billion loan. The loan is an expensive method of financing.
Many of Mr. Johnson's company-wide changes were apparently made without performing the preliminary testing that most retail businesses conduct when developing new policy. Success or failure would clearly become Ron Johnson's sole responsibility.
Return to the past.
In April of 2013 the board of directors discharged Mr. Johnson. They rehired Mr. Ullman as interim CEO to perform the task of fixing the organization.
What information is needed before you invest?
An investor should understand which aspects of J.C. Penney 's business require change. Recent indicators of J.C. Penney's business health, such as an increasing stock price and investment by famous hedge fund operator George Soros, are not a valid reason to decide if J.C. Penney is an attractive investing opportunity since the stock price is based on a hopeful outcome and investors of Mr. Soros' category have different risk profiles and offsetting investments than those who hold smaller positions. J.C. Penney stock.
According to most financial criteria the J.C. Penney stock price is highly overvalued, and its prospects of success as mirrored by businesses that have experienced similarly rapid declines are dim.
Careful observation of what is happening in J .C. Penney stores is an important indicator of investment success or failure.
When one does invest the opportunity for profit along with the risk of loss is great.
Review the revitalization of Pier 1 Imports (NYSE:PIR). In the year 2008 it appeared to be failing. Its stock fell from $7.50 per share on May 7, 2008, to 11 cents in March of 2009. Pier 1 Imports recovered because of the effort and skill of its CEO, Alexander W. Smith. This business rebounded. Its stock rose from 11 cents to $25.22 on May 17, 2013 an increase of 229 times. Success was accomplished with meaningful changes of store level operation, conservation of resources and careful management of company assets.
The Pier 1 Imports example is a noteworthy reason why one should investigate investment in J.C. Penney. J.C. Penney has an enormous market presence. If they recover from their recent decline the upside potential of their value will soar.
A list of changes and conditions that may indicate J.C. Penney's progress follows. It is included for a single purpose, which is to allow you a guide to evaluate if J.C. Penney is conducting necessary steps to correct its problems.
The boutiques and general merchandising sections of stores should increase in sales per unit area. J.C. Penney sales fell to $116 per square foot in 2012 from $149 the previous year. One should look for a large increase in unit area sales.
J.C. Penney must attract younger shoppers. Almost half of J.C. Penney shoppers are over 55 years of age. The data indicate that J.C. Penney is missing the 25 to 45 year old customer age group that is critical to allowing it to succeed. Look for the 55 and over demographic to fall below 40%. This will indicate that J.C. Penney is gaining needed younger customers.
The new logo should be eliminated. It is not appealing, and when used interchangeably with the previous logo that floats above the entrances of many J.C. Penney stores, it confuses customers. Look for its disappearance.
Promotional prices must be reinstalled. Critical to J.C. Penney's success is reverting to its traditional merchandising methods of offering merchandising sales and price saving coupons. These must be promoted through intense advertising. If its inflexible price policy remains, there is little hope.
Look for J.C. Penney advertising on TV, Internet and in newspapers and shelter magazines. Use your instinct to evaluate if its advertising is effective. Advertising is expensive. If it is not productively administered the costs may cause additional financial problems for J.C. Penney.
J.C. Penney should research any projected change in operations before it becomes functional. Follow J.C. Penney's progress, and attempt to determine if it has developed test markets in which to evaluate new ideas.
In addition to discovering if these changes have been made, visit a J.C. Penney store and ask yourself the following questions. If these answers are positive along with indication from your observations that you have made, then J.C. Penney is progressing.
Will you make a purchase during your visit?
Are younger shoppers in evidence?
Is there enough selection to satisfy your purchasing needs?
Is there an opportunity for you to purchase a real bargain?
Do you see merchandise that you would be willing to purchase at regular price?
Can you obtain assistance from sales personnel?
Observe J.C. Penney's Internet site jcpenney.com. Does it offer appealing merchandise that may be purchased on the Internet?
Is there extensive promotional material and appealing offers to direct you to J.C. Penney retail stores?
Good luck!
Disclosure: I have no positions in any stocks mentioned, and no plans to initiate any positions within the next 72 hours. I wrote this article myself, and it expresses my own opinions. I am not receiving compensation for it (other than from Seeking Alpha). I have no business relationship with any company whose stock is mentioned in this article.