J.C. Penney (NYSE:JCP) has had quite a ride in 2013. Its stock is down by just 3.8% in the year to date after having fallen by as much as 29%. Indeed, after hitting a closing nadir of $13.93 the day after CEO Ron Johnson was fired, the stock has rallied ferociously, rising by 36.2%. Moreover, as the chart below shows, J.C. Penney has outperformed both the S&P 500 and the Dow Jones U.S. Broadline Retailers Index, of which it is a component, by a considerable margin in the past month, climbing by 29% compared to a gain of just 4.4% for the S&P 500 and flat performance for the Broadline Index.
J.C. Penney v. S&P500 and Retail Index - Past Month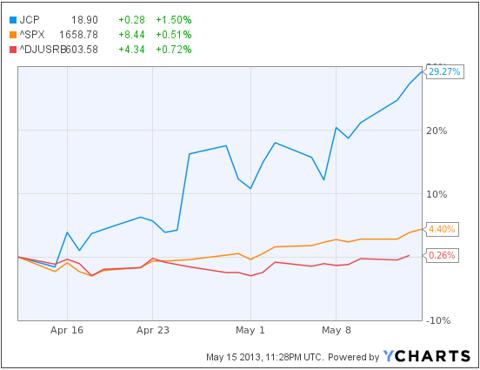 Source: YCharts
That J.C. Penney's stock rallied in the aftermath of the company severing its ties with Johnson should surprise no one. Johnson was responsible for cutting J.C. Penney's popular discount coupons, an unpopular move that was meant to give customers access to "true" prices - in contrast to its old strategy of assigning high prices to its goods only to mark these down significantly with its readily-available coupons and "Best Price" sales.
Its old retail strategy was evidently popular with consumers, if J.C. Penney's performance under Johnson is any indication: over its past four quarters, the company lost a total of $3.50 a share - a deficit that is $2.89 more than what analysts had been expecting. That's an average earnings miss of nearly 600% and it is not surprising that Johnson's support within the company's board evaporated.
To stem the tide, J.C. Penney has implored customers to "come back to JC Penney" through a series of advertisements. The company also took the step of apologizing to customers for doing things that they didn't like - ostensibly a reference to Johnson's strategy, saying that it had learned from its mistakes.
Still, Johnson's mistakes have the potential to linger, as evidenced by J.C. Penney's sour fiscal-first quarter, which it previewed a little over a week ago: the company's same-store sales fell by 16.6%, leading to a 16.4% drop in overall revenue from the same period a year earlier. That drop is marked contrast with the 2.5% rise in U.S. retail sales ex-autos in the first four months of 2013.
Given all this, should investors heed J.C. Penney's call and come back to it, or should investors wait for the company's management to execute before placing their bets?
Earnings Outlook
J.C. Penney reported its fiscal-first quarter earnings on May 16, and the consensus that the company would post a loss of 86-cents a share was off by more than 47%. Actual reported earnings were a loss of 1.31 per share, far wider than the 25-cents per share that it lost in the same period a year earlier.
For the current fiscal year ending on January 15, 2014, J.C. Penney is expected to lose $2.76 per share. This is an important number not only because it represents a narrower loss than the $3.50 it lost in its last fiscal year but also since it is this number that its management needs to beat soundly in order to plant the seeds of a turnaround. While it's certainly true that the current retail environment is challenging, it is not hopeless: overall April retail sales rose by only 0.1% but that is a great improvement on the 0.5% contraction witnessed in March, and is far better than the 0.3% decline anticipated by economists. Moreover, retail sales ex-autos rose by 0.5% -- a five-fold improvement from March's dismal performance.
In such an environment, a flat-to-slightly negative contraction in J.C. Penney's same-store sales would be reasonable to expect, yet it seemed to give away sales to competitors such as Gap and TJX when its own sales declined by over 16%. Consequently, J.C. Penney's management will need to find a way to claw back those sales, but there is precious little sign that this is under way, indicating the importance of post-earnings comments from new CEO Mike Ullman.
Going forward, J.C. Penney's outlook is worrisome. After seeing earnings contract by an average of 26% in the previous five years, the next five years are expected to be equally dismal, with the company seeing a further down tick in earnings to the tune of 27.7% per annum. That contrasts sharply with the expected 12.2% growth in its industry's earnings.
To be fair, these estimates were made in the midst of Johnson's disastrous tenure and J.C. Penney's miserable first-quarter preview, but it will take some doing to convince analysts and investors alike that the company is not in terminal decline. Indeed, if it does continue down this path, it would not be surprising if the company became an acquisition target by other retailers or private equity investors. A lot will therefore hinge on what Ullman does over the next year, but its reversion to old tactics provides some temporary relief.
Valuation and Fundamentals
Given its past and anticipated losses, J.C. Penney cannot be analyzed using the typical price-earnings measure. However, it is worth noting that the markets are giving its sales a significant discount: on a price-to-sales basis, J.C. Penney is trading at 0.32 - a 41% discount to its industry's average. Of course, with its sales expected to fall by over 5% in the current fiscal year, the discount is warranted to some degree. However, if Ullman's team can stabilize sales, then J.C. Penney can make the case that its stock is somewhat cheap.
Meanwhile, on a price-to-tangible-book value basis, J.C. Penney is trading at a 73% discount to its peer group. On the one hand, this supports our earlier contention that if Ullman's team fails to execute, the company would make an attractive acquisition target. On the other hand, it also aids the idea that, in the event of an earnings turn-around, the company can be deemed attractively valued. The fact that there are at least two ways to look at this gives a flavor for the amount of uncertainty surrounding the company's forward prospects - and not in a good way.
One thing that J.C. Penney has going for it is its relatively stable finances. The company has quick and current ratios of 0.4 and 1.4, respectively, which are better than its industry's. Part of the reason for this is because it was able to secure a $1.75 billion term loan from Goldman Sachs. It should be noted that J.C. Penney has the wherewithal to carry this loan. Currently, J.C. Penney's debt levels are quite manageable, with the company carrying a total debt to equity ratio of 0.94 - higher than its industry's but not especially high - the typical debt covenant that banks require of companies is to keep their debt-to-equity ratios to 2 or less so J.C. Penney is hardly in the red zone.
Its relatively strong financials means that J.C. Penney's new CEO will have some time to engineer a turnaround. One of the areas he'll need to focus on is J.C. Penney's gross margin: at 31.3%, it is around 5% better than its industry's but it lags its past performance by nearly 6 percentage points. If Ullman can bring the company's gross margins up back to its five-year average of 37%, he could well be on the way to turning the company's fortunes around.
Conclusion
J.C. Penney's future is still quite uncertain and we believe that this breeds risk. Although we believe that its recent move to return its heavy coupon discounting is a step in the right direction, we haven't seen enough from its new CEO's team to recommend this stock and given its recent torrid run, would advise investors to stay on the sidelines for now.
Disclosure: I have no positions in any stocks mentioned, and no plans to initiate any positions within the next 72 hours.
Business relationship disclosure: Black Coral Research, Inc. is a team of writers who provide unique perspective to help inspire investors. This article was written by Jonathan Lara, one of our Senior Analysts. We did not receive compensation for this article (other than from Seeking Alpha), and we have no business relationship with any company whose stock is mentioned in this article. Black Coral Research, Inc. is not a registered investment advisor or broker/dealer. Readers are advised that the material contained herein should be used solely for informational purposes. Investing involves risk, including the loss of principal. Readers are solely responsible for their own investment decisions.