The Japanese Admiral Isoroku Yamamoto, in regards to the attack on Pearl Harbor, was portrayed in the movie Tora! Tora! Tora! as saying, "I fear all we have done is to awaken a sleeping giant and fill him with a terrible resolve."
Housing has been the sleeping giant in the U.S. economy. According to the Bureau of Economic Analysis, at its peak in 2005, housing made up as much as 6.3% of GDP and the historical average from 1980-2007 was 4.5% to U.S. GDP. As you can see by the infographics (below) from the Bipartisan Policy Center, housing has essentially been hibernating since 2008 and has yet to exhibit the strong recovery that we've traditionally seen following a recession.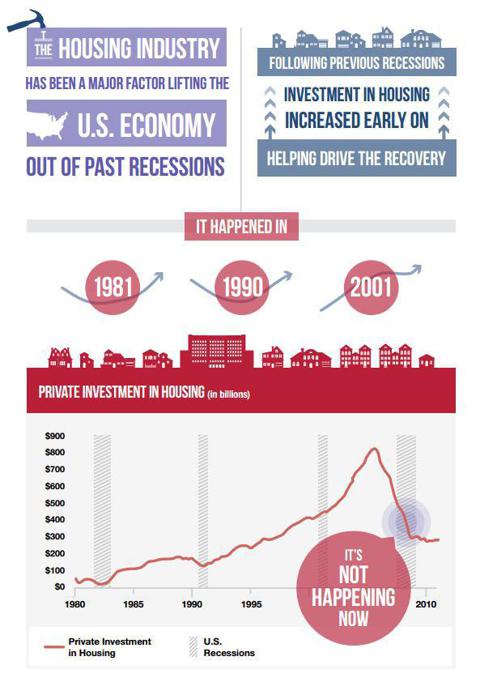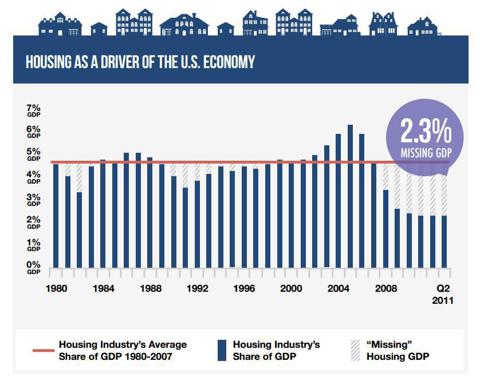 Housing was definitely overbuilt in the last boom and while a period of contraction is logical, the contraction in housing has gone on far too long while the population has continued to grow. The necessary fundamentals are in place for a housing recovery; relatively low prices, low interest rates, favorable mortgage payment vs rent, and low inventories of homes for sale. These fundamentals should significantly benefit U.S. real estate (NYSEARCA:IYR), homebuilders (NYSEARCA:XHB), (NYSE:PHM), (NYSE:KBH) (NYSE:DHI), (NYSE:TOL), companies focused on housing rentals (NYSE:BX) and (NYSE:SBY), and home improvement stocks (NYSE:HD) and (NYSE:LOW).
HOUSING FUNDAMENTALS
The charts (below) are from JP Morgan's Guide to Markets: 2Q 2013 and provide a quick view of several housing metrics and how these fundamental metrics have positioned housing to surge in the near future. Home valuations are extremely low, monthly rent vs monthly mortgage payment comparison heavily favors buying, and an extremely low supply of homes creates a scenario where housing should exhibit the strong recovery that normally helps to pull the economy out of recession. For a more elaborate and detailed analysis of these fundamentals, please see the article "The Greatest Financial Mistake OF A Lifetime: Missing The Housing Rebound"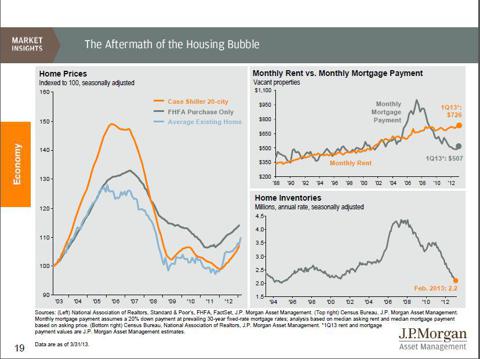 RISKS TO HOUSING
Labor shortages - The Great Recession and housing bust forced many skilled construction workers to find work in other industries. In many markets, it has become increasingly difficult to expand construction operations with the limited number of skilled workers available. Training unskilled workers and/or offering higher wages to attract back skilled workers may be necessary in many markets to scale operations.
Increasing costs - materials, labor, and land costs are all rising. This is making it increasingly difficult for homebuilders to scale operations profitably. In many markets, these cost increases are being more than offset by the increases in home values, which has been reflected in the upbeat margins that many homebuilders have reported recently.
Role of government regulation and intervention - interest rates, financing guidelines, the tax code, subsidies, etc play a major role in housing. Quantitative easing, a basement fed fund's rate, significant tax deductions, and HARP refinancing programs (to name just a few of the more significant items) all play a major part in assisting housing. The potential termination of some of these programs and less accommodative policy may create some headwinds for housing.
CONCLUSION
Since the contraction in housing has lasted so long while the population has continued to grow, it would seem logical that housing would have a stronger and/or longer recovery to makeup for the significant deficit in housing that has accrued since the Great Recession ended in 2009.
RECOMMENDATION
While many housing related stocks have seen some big jumps over the last 12 months, keep in mind that real estate cycles tend to last longer than normal business cycles. We're in the early part of the housing recovery and there should still be significant upside to housing related investments.
Disclosure: I have no positions in any stocks mentioned, and no plans to initiate any positions within the next 72 hours. I wrote this article myself, and it expresses my own opinions. I am not receiving compensation for it (other than from Seeking Alpha). I have no business relationship with any company whose stock is mentioned in this article.