ChannelAdvisor Corporation (NYSE:ECOM) is scheduled for an initial public offering on Thursday, May 23, 2013. Through an IPO priced between $12 and $14 per share, ECOM is looking to raise up to $80.5m, valuing the company at as much as $285m. Due to its solid business model and beneficial macroeconomic trends, ECOM is well-positioned to grow substantially over the coming years.
Company Overview
As the ticker suggests, ECOM is a provider of e-commerce solutions to vendors such as retailers and manufacturers. Through its proprietary software-as-a-service ("SaaS") platform, ECOM enables vendors to easily control and monitor its e-commerce operations across multiple separate channels via one easy-to-use interface. In other words, ECOM provides a 'one stop' solution for businesses to sell or advertise their products on numerous websites. Rather than logging in to each individual website and manually creating or updating a product listing, vendors can simply log in to their ChannelAdvisor account via their web browser, enter the new information once, and have the updates automatically applied across all of their online sales channels. For a vendor selling hundreds or even thousands of SKUs across dozens of websites, ECOM's services are crucial in terms of saving time and ensuring product listing consistency.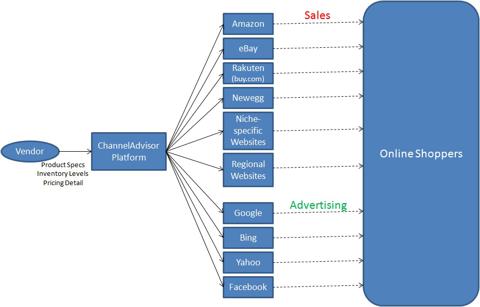 Diagram made by author
ECOM's platform connects vendors and their inventory data with over 200 separate online channels, including Amazon, eBay, Google, Bing, Yahoo and Facebook. In addition to these big names, ECOM also provides sellers with easy access to a wide range of niche-retail and geographically-focused channels, such as La Redoute (France), Buscape (Latin America), and TradeMe (New Zealand). Additionally, vendors' product information is connected to major price-comparison sites, including Google Shopping, Nextag, PriceGrabber and Shopping.com. This enables vendors to exponentially increase their online sales potential, with just a minimal additional time commitment and little added operational complexity.
Currently, ECOM has over 2,000 vendor-customers worldwide, including 27% of the top 500 U.S. Internet retailers in terms of sales as identified by Internet Retailer magazine. While the majority of ECOM's vendors are small and mid-sized businesses, they do boast enterprise-scale vendors including Dell, Jockey, Under Armour, Skullcandy, Sony, Jos. A Bank, Eddie Bauer and Brookstone. As shown below, ECOM appeals to vendors across a wide array of product types and has a significant global presence.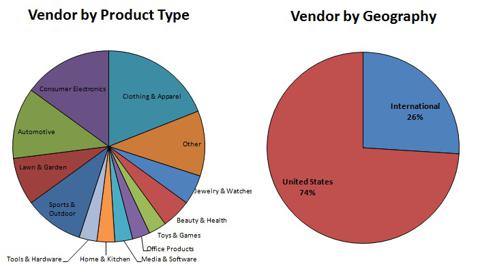 Source: Company filings
The majority of ECOM's revenue is generated through subscription fees that vendors pay for access to the SaaS platform. In addition to a fixed fee, subscription contracts generally include a variable component, which entitles ECOM to a certain percentage of the total dollar value of sales done by the vendor over the SaaS platform.
ECOM has posted strong revenue growth over the past two years, jumping from $36.7m in 2010, to $53.6m in 2012. Due to ECOM's cloud-based business model, it enjoys high gross margins, which have climbed significantly over each of the past two years.

Source: Company filings
Despite strong growth in both revenue and gross margins, ECOM has yet to achieve profitability. However, this is largely due to the bulk of its operating expenses going toward sales and marketing, a discretionary but necessary driver behind its 46% two-year revenue growth.

Source: Company filings
Given its rapid growth, expanding margins, and the scalability of the SaaS platform, it's not hard to imagine ECOM becoming profitable within the next five or so years, even with relatively conservative assumptions.
E-Commerce Industry Outlook
ECOM is strongly positioned to benefit from the continued growth in e-commerce, both domestically and internationally. According to the U.S. Census Bureau, total U.S. e-commerce sales in the first quarter of 2013 totaled $61.2 billion. Since 2000, U.S. e-commerce spending has grown at a compounded growth rate of 4.6% per quarter, with only a slight hiccup in 2008-2009 in response to the financial crisis. Despite this explosion in growth, the Census Bureau reports that e-commerce spending currently accounts for just 5.5% of total U.S. retail spending, indicating there is still much room for growth.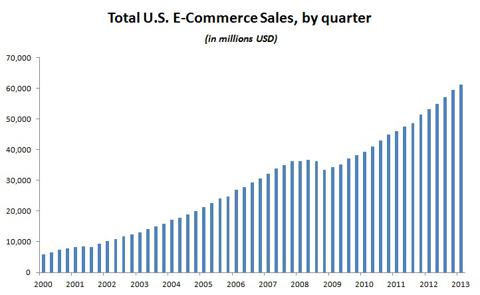 Source: U.S. Census Bureau Data
The trend above bodes well for ECOM, and that's not even taking into consideration e-commerce growth outside the United States. According to eMarketer, a leading internet market research company, the Asia-Pacific region will likely overtake the U.S. in the near future to become the largest e-commerce market in the world after growing by more than 30% last year and being expected to grow by at least another 30% again this year. In a separate study, Forrester Research forecasts that total e-commerce spending in the U.S., Europe, Asia-Pacific, and Latin America combined will see a compound annual growth rate of at least 15% through 2016.
A Brief Look at Valuation
While the above certainly presents a compelling growth story for ECOM, it's necessary to try to quantify what this means for the share price going forward. Because ECOM is a small, unprofitable, "growth" stock, typical earnings-based valuation metrics are unreliable. Rather than trying to predict the wide array of assumptions necessary for a discounted cash flow valuation, let's look at companies similar to ECOM and the Price-to-Sales multiple at which the market currently values them. While this doesn't give an exact price target, it does help to put ECOM's share price in context.
(To generate the following list, I looked for companies that were: 1) cloud-based; 2) e-commerce oriented; 3) small cap; and 4) currently unprofitable.)

Source: Google Finance; Market Cap in $millions
It appears that the market tends to value companies like ECOM at somewhere between 4- and 7-times revenue. These multiples, when plotted against a range of revenue growth assumptions for ECOM for the next three years, gives us the following range of valuations: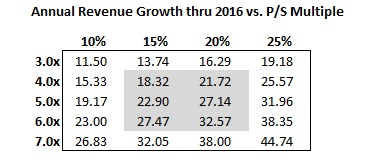 Given the above, it seems reasonable to say that ECOM is worth somewhere between $18 and $33 per share, barring a substantial change in its business operations or macroeconomic conditions. This is obviously a simplified look at ECOM's valuation, and obviously the resulting price range is large. However, given the previously discussed business model and macroeconomic growth drivers, it reinforces the idea that there is significant upside from the current IPO offering range of $12-$14.
Conclusion
ECOM is well-positioned to benefit from the continued wave of online shopping growth across the globe. While not currently profitable, the scalable nature of its cloud-based platform makes this likely to change over the coming years. Given that the IPO price range is in the low-teens, shares of ECOM may very well turn out to be one of the best 'e-commerce' purchases investors can make in the near future.
Disclosure: I have no positions in any stocks mentioned, but may initiate a long position in ECOM over the next 72 hours. I wrote this article myself, and it expresses my own opinions. I am not receiving compensation for it (other than from Seeking Alpha). I have no business relationship with any company whose stock is mentioned in this article.