According to the U.S. Energy Information Agency's ("EIA") Annual Energy Outlook 2013, natural gas is the fastest growing transportation fuel in the U.S.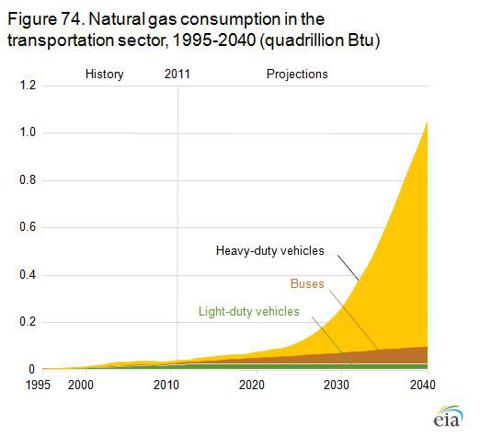 The EIA predicts an average annual growth rate of 11.9 percent from 2011 to 2040. Heavy duty vehicles ("HDVs"), which include long-haul trucks, tractor trailers, buses, and heavy-duty pickups and vans with a gross vehicle weight rating of 10,001 pounds or more will lead the growth in natural gas demand. Natural gas fuel consumption by HDVs increases from almost zero in 2011 to more than 1 quadrillion Btu in 2040: an average annual growth rate of 14.6 percent.
The EIA report paints an extremely bullish long-term picture for companies like Clean Energy Fuels (NASDAQ:CLNE) and Westport Innovations (NASDAQ:WPRT).
Russia Jumps On The Natural Gas Transportation Bandwagon
NGV Global recently reported that Russia joined the EU and China by adopting a strategic long-term energy policy prioritizing natural gas transportation. Russian Prime Minister Dmitry Medvedev signed a decree for Russia setting some of the most ambitious targets I have seen yet in terms of transitioning to natural gas vehicles:
In cities with populations of more than 1 million people -- up to 50% of the total number of pieces of equipment;
In cities with a population of over 300 thousand people -- up to 30%;
In cities and towns with a population of over 100 thousand people -- up to 10%.
Transitioning to natural gas transportation is estimated to save Russia's economy almost $2.86 billion per year. Almost half of that savings will come from the passenger car and truck segment with the rest coming from the freight and agricultural sectors.
Medvedev also suggested Russia may reduce the rate of customs duties on the components that are necessary for the production of natural gas vehicles (NGVs). This would be great for companies like Westport and Cummins Inc. (NYSE:CMI).
Morgan Stanley's Blue Paper On Natural Gas Transportation
While researching this article, I stumbled upon a great research paper released by Morgan Stanley (NYSE:MS). The gist of the report is that the world has a 240 year supply of natural gas and although natural gas transportation has been predominately adopted by emerging markets, those countries have neither the largest gas reserves nor the lowest gas prices. The study says the dynamics are much more favourable in parts of the developed world, particularly in the US. If developed markets become a second source of NGV growth, MS estimates natural gas could displace 1.5-4.5 million barrels/day of gasoline/diesel demand over the next 10 years. However, this could be as much as 5.6 million barrels/day in Morgan Stanley's "Blue Sky" scenario.
As a result, one of Morgan Stanley's suggestions is an overweight in Chart Industries (NASDAQ:GTLS).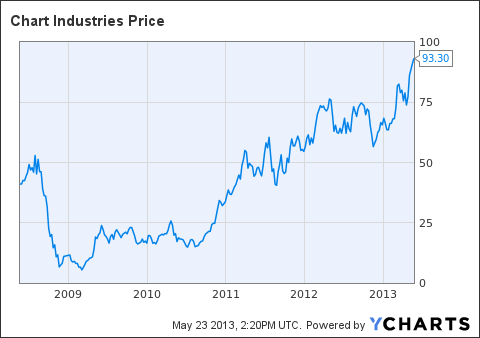 GTLS = $93.30
Mkt Cap = $2.83 billion
EPS (ttm) = $2.40
P/E (ttm) = 38.9
Chart Industries operates in three segments:
Biomedical
Distribution and Storage
Energy and Chemicals
The company has an LNG systems group, which it advertises as the industry's only integrated supplier for LNG fleets: from the liquefier to the on-board fueling system. The company has solutions for LNG liquefaction, distribution, and storage and recently announced a $45 million deal to provide PetroChina (NYSE:PTR) with LNG equipment.
Although the company's P/E could be considered rich, the company is growing nicely. Sales in Q1 2013 were up 27%.
If GTLS is too specialized an investment for your taste, you might consider a more broadly based portfolio of natural gas transportation stocks that also includes natural gas producers (and attractive dividend payers) such as ExxonMobil (NYSE:XOM) and ConocoPhillips (NYSE:COP): 5 Natural Gas Transporation Stock for 2013. Another of these stocks, General Electric (NYSE:GE), has a large presence in natural gas related industrial equipment. With Chart Industries' relatively small market cap (under $3 billion), one could make a case that it would be a ripe takeover target for a company like GE.
Foreign Oil Imports
Despite the growth of natural gas transportation in the U.S., growing U.S. oil production, and talk of U.S. energy independence, the truth is the U.S. is still importing huge amounts of foreign oil. In March 2013, the U.S. imported 296 million barrels -- or 52% of the petroleum consumed in the U.S. At a per barrel price of more than $108, that works out to over $32 billion -- more than $1 billion a day. So much for electric vehicles, the ethanol mandates, "clean coal," biofuels and algae, and all the other what I like to refer to as "distractions." They simply are not reducing America's reliance on oil in any meaningful way. I believe the only factors playing a significant role in reducing U.S. oil consumption have been higher fuel efficiency standards, a weak economy, and natural gas transportation in the long-haul trucking and fleet sectors. When will the U.S. wise up and adopt NGVs in the passenger car and truck sector? Why isn't a vehicle like the Ford (NYSE:F) C-MAX CNG offered in America?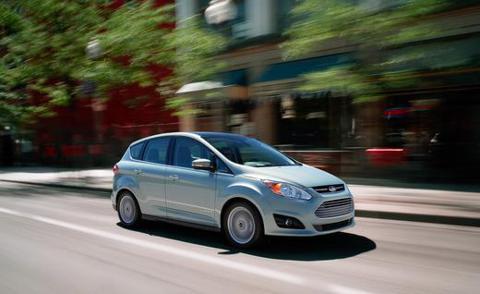 The Ford C-MAX CNG
Summary and Conclusions
Natural gas transportation has a very bright future. Too date, NGVs have been primarily adopted by emerging market countries. However, the fundamental dynamics of natural gas transportation are much more favorable in the United States. The U.S. has a combination of huge natural gas reserves, high domestic natural gas production, and low natural gas prices. Even though the U.S. has such advantages, it continues to import large quantities of foreign oil and has yet to enact strategic long-term natural gas transportation policies like the EU, China, and Russia. Regardless, natural gas transportation is the fastest growing fuel in the U.S. and there are excellent investment opportunities in the sector. It is a fundamental long-term trend with excellent economic and environmental benefits.
Disclosure: I am long COP, XOM. I wrote this article myself, and it expresses my own opinions. I am not receiving compensation for it (other than from Seeking Alpha). I have no business relationship with any company whose stock is mentioned in this article.
Additional disclosure: I am an engineer, not a CFA. The information and data presented in this article was obtained from company documents and/or sources believed to be reliable, but has not been independently verified. Therefore, the author cannot guarantee its accuracy. Please do your own research and contact a qualified investment advisor. I am not responsible for investment decisions you make. Thanks for reading and good luck!