Intercontinental Hotels Group (NYSE:IHG) is the world's largest hotel operator by number of rooms. As at the end of the last financial year, the group was responsible for 622,000 rooms across 4,222 hotels. Impressive numbers. IHG leads the 2nd placed hotel group Wyndham (NYSE:WYN) by 36,000 rooms, with Marriott (NYSE:MAR), Hilton (NYSE:HLT) and Accor (OTCPK:ACRFF) completing the top five.
Of particular interest is the structure of IHG's business model. Of the 4,222 hotels in the portfolio, they only own the bricks and mortar of 16. The rest are franchised or managed under well known brands such as Intercontinental, Crowne Plaza, Holiday Inn and Holiday Inn Express. The ongoing strategy of selling property to focus on hotel management has de-leveraged the balance sheet and raised $5.5bn via the disposal of 183 hotels since April 2003. Net debt continues to fall year-on-year and as of the end of March, the firm owed $1,287m down from $1,687 a year earlier. A good move indeed in the midst of a torrid recession.
Despite the disposals, IHG has increased its room count through new franchise and management wins and in Q1 alone accumulated a net 1,845 rooms via the addition of 12,440 in new relationships and the removal of 10,595 rooms in "lower quality hotels". The main beneficiary of room growth is the Holiday Inn Express chain which ably targets the businessman on a budget market.

Despite some quite visionary and timely efforts, RevPAR (revenue per available room) fell sharply across all markets in Q1 2009 relative to the same period a year earlier. Suffering most, through industry-wide over-supply, was the Asia Pacific region, down 17.2%, year-on-year (yoy). America's RevPAR dropped 13.5% yoy, whilst EMEA (Europe, Middle East and Africa) suffered an 11.6% reduction in RevPAR, a relatively robust performance supported by exposure to the energy rich Gulf region. Earnings per share, headline revenue and operating profit all slumped too, the inevitable function of a global recession.
But hotels chains aren't built in recessions. Strong foundations are built in boom years and the IHG group is sufficiently robust not only to survive the current recession but also to grow market share through the recession and prosper again when positive economic growth returns. I hope so. "Let's meet at the Holiday Inn Express", doesn't have quite the same appeal as the travelling businessmen's anthem for bull markets, "Let's meet at the Intercon."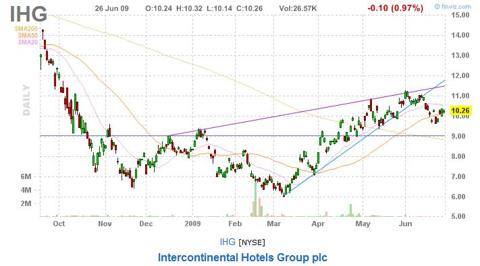 Chart Source:
Finviz.com