There is a huge valuation gap between Yahoo (YHOO) and Facebook (NASDAQ:FB). Yahoo is now in the social network business with the acquisition of Tumblr, which raises the question of how much of a valuation gap is justified. Yahoo and Facebook have the same opportunity and challenge: monetizing a vast amount of Internet traffic. The two companies now look very similar with parallel assets and advertising technology. Over time, I expect the valuation gap to narrow, mostly because of positive performance from Yahoo as a result of the Tumblr deal. A play on this dynamic is a pairs trade of long Yahoo, short Facebook. In this article, I will discuss Yahoo and Facebook in the digital media context. Then I will explain the valuation for Yahoo's core business, adjusted for the sale of its holdings in Alibaba and Yahoo Japan. Finally, I will give my outlook for a long Yahoo, short Facebook trade.
Digital Media and Social Network Landscape
The advertising technology space is dominated by Google (NASDAQ:GOOG). The mini-Googles -- Yahoo, Facebook and AOL (NYSE:AOL) -- are run by prominent former executives of Google and are trying to copy Google's playbook. All four companies have lots of Internet real estate that they try to monetize through advertising.
On the content side, Google has the best content sites. But all four have a mix of premium and generic content. Aside from Google's unique sites, such as the search page, premium content usually involves video, a brand name content creator and/or anything related to live events.
Much of Yahoo's content is generic. The Yahoo.com site is an important monetization engine for Yahoo, but it is populated by generic content. At the time of this writing, the Yahoo.com home page appeared as follows: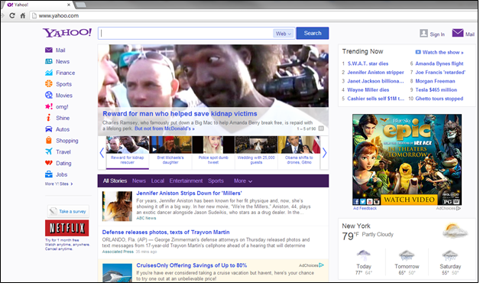 (Source: Yahoo.com)
Companies can make a lot of money off of generic content, but it is important to distinguish between generic and premium content in the context of a discussion about valuation.
Part of my thesis is based on the fact that Facebook's content is also generic. I don't want to insult my family and friends, but most of the content that I view on Facebook is not very engaging. I am not going to show a screenshot of my Facebook account, but at the time of this writing, my Facebook feed looks like this:
Picture of a high school friend with somebody I don't know
A family member sent birthday greetings to another family member
A picture of feet and a nice background
The quote "everything has beauty"
If I go on, we will get to many baby pictures and a few ads for mobile games. (Just so you don't think I am heartless, I connect with family on WhatsApp. Also, Twitter is the first app that I open on my phone.)
Facebook's content is also generic. This is the basis for my analysis of long Yahoo, short Facebook. If I thought that Facebook had premium content, I may not consider this trade. But since I view the content on Facebook and Yahoo (especially after the Tumblr deal) as basically the same, I wonder if there should be a valuation gap between the two companies.
Advertising Platforms: Does Facebook Deserve A Premium
Content is just one side of Yahoo and Facebook's business. The other side is advertising.
Facebook's management deserves praise for ramping up a multi-billion advertising platform in a short amount of time. However, it seems that Facebook is following a very predictable playbook in terms of its advertising solutions.
The main takeaways about advertising from Facebook's last earnings call were: (i) Facebook is trying to push "mobile apps install ads" and (ii) Facebook is developing advertising solutions that are based on targeting.
Regarding mobile apps install ads, I agree that Facebook is in a good position to go after this business. However, this seems like a low-quality advertising opportunity.
Regarding targeting, Facebook's management said the following:
"..I would like to highlight product innovation in ads. Over the last year we have invested heavily in product innovation and I am excited about what we have accomplished at a relatively short period of time. As always, our top focus is on the results we generate for the marketers, and we are pleased to see the ROI we can provide as well as providing a good experience for our users. We continue to innovate new targeting capability that make it easier for businesses of all sizes to reach the right people, both on desktop and on mobile.

In Q1, we gained traction with our Custom Audiences product. This product allows marketers to reach their target audiences based on their own customer databases or databases maintained by third party. For example, a marketer can target ads to customer who have not returned to their store in the past month but do have made purchases before. This product improves their targeting and generates higher ROI for the marketers and a better ad experience for our users. We are really pleased with the adoption of this product.

In Q1, more than twice as many marketers used Custom Audiences than in Q4, including, 23 of the Ad Age 100 top global marketers and many other important clients. Companies from Hotels.com to Intuit, to Virgin America are seeing success with this product. In April, we launched another powerful targeted product, Partner Categories. This enables marketers to use third party data from Acxiom, Epsilon and other data providers to target their ads. For example, we can deliver ads to the 12 million people in the U.S. who are likely to purchase a car in the next six months, or to the 19 million people who are active purchasers of hair care products, households that purchase hair care products at multiples with other households, or to the 23 million people in the U.S. who are heavy soda drinkers, we apologize, Mayor Bloomberg." (Source: Seeking Alpha, emphasis added by author)
Facebook is making the right moves pursuing these opportunities. However, it seems that these products rely, to some extent, on data that is not on Facebook. Despite the fact that Facebook has so much data about everybody, the new ad products are using outside data.
It is important to note that Facebook has other advertising products not covered here, which may leverage Facebook's data more. However, I still question the thesis that Facebook can deliver uniquely successful ads because of all the data that users reveal about themselves on the site.
This creates the opportunity for Yahoo. Yahoo can monetize its sites, including Tumblr, in the same way that Facebook can (and Yahoo is probably doing it already). Marketers can bring third party data to Yahoo to target the same people they are targeting on Facebook. One of the interesting things about Tumblr is that it requires a log-in, which will give Yahoo a lot more data for targeting purposes.
I believe that Facebook still has an edge with its advertising technology, but, again, I question if that edge is enough to justify such a large valuation gap.
Yahoo's (Potential) Killer App: Video
Yahoo has a huge asset that the investment community is overlooking.
Coming this fall, turn to Yahoo for "Losing Your Virginity with John Stamos." In a press release titled, "Innovation Takes Center Stage at Yahoo!'s 2013 NewFront," Yahoo described the new show:
"John Stamos interviews celebrities about their first sexual experiences in 'Losing Your Virginity with John Stamos,' co-produced by Warriors Poets and executive produced by Morgan Spurlock and John Stamos."
Joking aside, Yahoo seems to be making a big push into online video. In addition to the John Stamos show, Yahoo is investing in a number of other original content projects. It also signed a deal for the rights to the "Saturday Night Live" archive.
Video is important because it is the gateway to capturing more high quality brand advertising. At some point, the billions of dollars that brands spend on TV advertising will migrate to the Internet. However, brands (and importantly, advertising agencies) like to tell their stories in 30-second video commercials. The vast majority of brand advertising will likely stay in this format.
Yahoo's legacy sites are more conducive to video content than Facebook. This is an important monetization opportunity that seems to favor Yahoo.
Yahoo And Facebook Users
Here are a few numbers that compare the user base for each company.
According to Yahoo's 2012 annual report, Yahoo had 700 million users in 60 countries (I am not sure if this is daily, monthly or based on another metric). In February 2013, Yahoo had 300 million mobile users. According to Tumblr's website, Tumblr has 109.9 million blogs.
By comparison, in March 2013, Facebook had 665 million daily active users and 1.11 billion monthly active users. Facebook also had 751 million monthly active users on mobile. Furthermore, Instagram had 100 million monthly active users in Q1 2013.
Valuation Of Yahoo's Core Business
The following is a sum-of-the-parts valuation for Yahoo that shows the implied valuation for the core Yahoo business.
The valuation for the Alibaba stake assumes an IPO of Alibaba at $62.5 billion. According to Bloomberg, this valuation represents the median estimate of 8 investment bank and research firms. Yahoo would sell half its stake at this valuation and half later. I am assuming that Alibaba trades up to a $75 billion valuation for the second sale.
The valuation of Yahoo Japan assumes a 15% discount to the current valuation.
There is an assumed 40% tax rate on the proceeds from the sale of the Alibaba and Yahoo Japan stakes.
The cash component starts with the cash at March 31, 2013 and adds $846 million that Yahoo received when Alibaba redeemed the preferred shares (Yahoo announced this in the conference call about the Tumblr deal). The $1.1 billion for Tumblr is subtracted.
The analysis assumes a $778 million buyback at $26 per share.
Based on these assumptions, the value of core Yahoo is $7.6 billion.

The following are valuation multiples for core Yahoo using 2013 guidance from management and equity analyst estimates.
The value of core Yahoo takes into account the $1.1 billion acquisition of Tumblr. However, the estimates below do not include Tumblr's revenue or earnings. Tumblr will probably not have much of an impact on Yahoo in 2013, but could be a big growth engine going forward.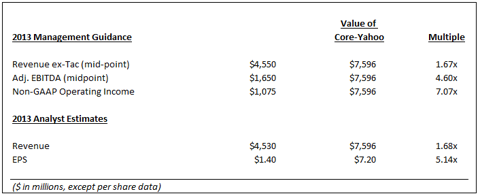 Core Yahoo is being valued by the market at low multiples.
Yahoo vs. Facebook
Facebook has a massive valuation because it has lots of growth opportunities and investors are paying up for the growth.
From the perspective of a long Yahoo, short Facebook pairs trade, the question is whether the valuation differential between the two companies can be maintained. Here is the current gap in valuation between the two companies.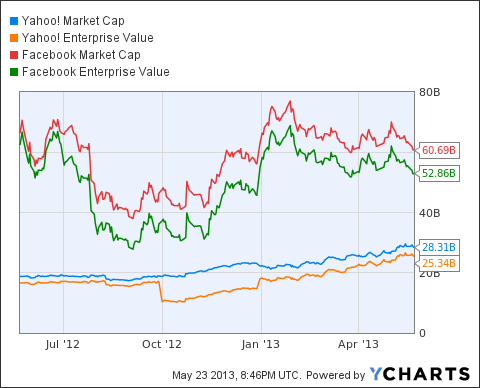 YHOO Market Cap data by YCharts
Although Yahoo's market cap appears at $28 billion in the chart above, only $7.6 billion comes from the core Yahoo business, which means that the real gap is even larger than it appears.
Interestingly, the two companies are roughly the same size in terms of revenue, but Facebook has a lot more growth momentum.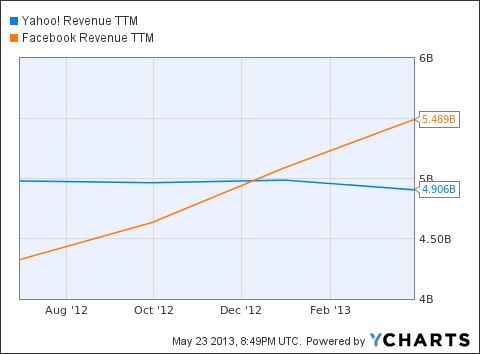 YHOO Revenue TTM data by YCharts
Based on the Q1 results, Facebook is a bit bigger than Yahoo.
Yahoo:
Revenue: $1.1 billion
Operating income: $186 million
Non-GAAP operating income: $224 million
Facebook:
Revenue: $1.5 billion
Operating income: $373 million
Non-GAAP operating income: $563 million
Facebook's valuation multiples are much higher than the ones for Yahoo mentioned above. According to Yahoo Finance, Facebook is trading at:
Market Cap / 2013 Revenue: 8.9x
TEV / 2013 Revenue: 8.4x
P/E (2013 estimates): 44.0x
Facebook's Premium Valuation Is Justified, But...
Facebook should trade at a higher premium than Yahoo. Facebook is growing faster and has better assets.
However, I question the size of the gap between the two. Yahoo's core business just got a lot more exciting with the Tumblr acquisition, and its potential is not reflected in Yahoo's forward estimates. Furthermore, Yahoo has some advantages over Facebook, especially in video.
Outlook For Long Yahoo/Short Facebook
The near-term catalyst for a narrowing of the valuation gap between Yahoo and Facebook is the monetization of Yahoo's stake in Alibaba. Based on press reports, it seems that Alibaba is getting close to an IPO. Furthermore, Alibaba recently redeemed its preferred shares held by Yahoo. This move seems to bring the IPO closer.
About 1/3 of Yahoo's value comes from the Alibaba stake. Yahoo would likely monetize half of that at the time of an IPO. The monetization of the Alibaba stake could help unlock value in Yahoo by clearing up part of the questions about the valuation.
It is unclear what Alibaba's ultimate value may be. The assumptions used above may be on the low side (but they could also be too much).
Yahoo has been making a lot of progress in its core business. It updated many products and added new people. The Tumblr acquisition also adds an exciting new dynamic. However, these efforts are not yet showing up in the financial results. If Yahoo can start to show sustainable growth, it could see the valuation for the core business increase.
Facebook is also poised for further growth, but I expect that its valuation will not change much. I don't expect Facebook's share price to exceed the original IPO valuation for some time.
Like many technology companies, Facebook IPOed at a high valuation and it will take time for it to grow into this valuation. Facebook's share price may not drop, but it could correct through time. I expect Facebook to trade in the $20-$33 range, until it gets cheap enough to move higher on a valuation basis.
The following chart shows the drop in Google's P/E multiple over time. I expect the same thing to happen with Facebook, which could result in a long period of sideways trading.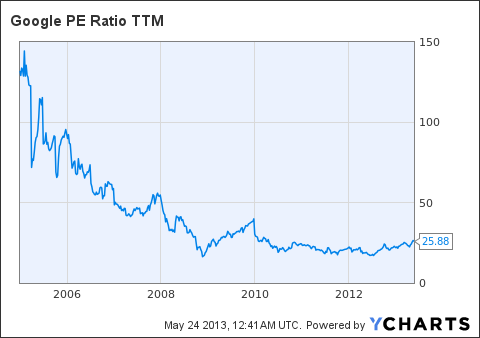 GOOG PE Ratio TTM data by YCharts
The combination of Yahoo's catalysts and the potential for sideways trading for Facebook could create an opportunity for the pairs trade of long Yahoo, short Facebook.
Conclusions
Yahoo and Facebook have the same opportunities and challenges. Facebook seems to have an advantage and is growing faster, but the advantage may not be as big as the valuation gap suggests. Furthermore, the new Tumblr acquisition adds a new dimension to Yahoo that is not reflected in the forward projections.
Currently, I have no position in either Yahoo or Facebook. However, I am considering long Yahoo/short Facebook as a play on the narrowing of the valuation gap (I am also considering just going long Yahoo).
Yahoo's acquisition of Tumblr was a great move, and at some point it should have more of an impact on the stock price.
Disclaimer: The opinions expressed above should not be construed as investment advice. This article is not tailored to specific investment objectives. Reliance on this information for the purpose of buying the securities to which this information relates may expose a person to significant risk. The information contained in this article is not intended to make any offer, inducement, invitation or commitment to purchase, subscribe to, provide or sell any securities, service or product or to provide any recommendations on which one should rely for financial, securities, investment or other advice or to take any decision. Readers are encouraged to seek individual advice from their personal, financial, legal and other advisers before making any investment or financial decisions or purchasing any financial, securities or investment related service or product.
Information provided, whether charts or any other statements regarding market, real estate or other financial information, is obtained from sources which we and our suppliers believe reliable, but we do not warrant or guarantee the timeliness or accuracy of this information. Nothing in this article should be interpreted to state or imply that past results are an indication of future performance.
THERE ARE NO WARRANTIES EXPRESSED OR IMPLIED AS TO ACCURACY, TIMELINESS, COMPLETENESS, OR RESULTS OBTAINED FROM ANY INFORMATION IN THIS ARTICLE OR ANY LINKED WEBSITE.
Disclosure: I have no positions in any stocks mentioned, but may initiate a long position in YHOO over the next 72 hours. I may trade any of the securities mentioned in this article at any times, including in the next 72 hours. I wrote this article myself, and it expresses my own opinions. I am not receiving compensation for it (other than from Seeking Alpha). I have no business relationship with any company whose stock is mentioned in this article.