Free cash flow (FCF) yield can is an often overlooked financial metric in equity valuation. The cash generated from operations after capital expenditures is what effectively belongs to shareholders in the form of dividends or retained earnings. That's why many fundamental value analysts use FCF yield as an important gauge of the ongoing financial health of a company. If cash is king, then free cash flow is the path to royalty.
Here are ten stocks with high double digit last twelve months free cash flow yields (actually greater than 12.5% FCF yield when considering an anticipated drop of no less than 20% during a weaker 2009) with price to tangible book values and trailing P/E ratios less than or equal to the average values of the Russell 2000 small cap index.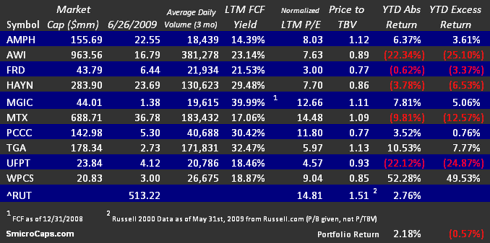 American Physicians Service Group (AMPH-OLD) – To start off the list, let's head to that state where everything is bigger: Texas.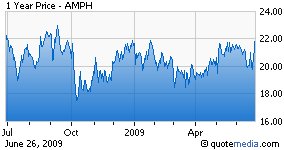 AMPH is a medical malpractice insurer based out of Austin and provides a number of other financial services outside of its core business. Over the past two years, the stock has handily outperformed the S&P 500 and Russell 2000 as well as the overall healthcare and insurance sectors. Since correlation with the XLV (0.48) and XLF (0.39) have been low over the past twelve months, AMPH may represent a unique position to minimize actual sector exposure in a portfolio.
The company's investment portfolio has been managed extremely well. COO Tim LaFrey mentioned their avoidance of subprime and auction rates in last November's conference call. FCF may not necessarily be the best metric to measure the performance a financial/insurance company, but a price to tangible book ratio below its peer group and very conservative leverage (total assets/liabilities are less than two) make AMPH an ideal name to weather these uncertain times in healthcare and financial services.
Armstrong World Industries (NYSE:AWI) – At just under a billion dollars, AWI is by far the largest company by market capitalization on this list.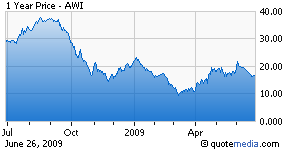 Armstrong makes ceiling, flooring and cabinet products for residential and commercial properties. Take a look at the local Lowe's (NYSE:LOW) or Home Depot (NYSE:HD) for a hands-on sampling of their offerings.
Given the headwinds still facing real estate, it's not surprising to see AWI trading below tangible book. First quarter revenue was down 19.3% year over year, but AWI still has $300M of cash and generated EBITDA in 2008 that covers interest expense nearly twelve times. While Armstrong has been in business since 1891, the company filed for bankruptcy in late 2000 under a massive $3.3B debt load. AWI emerged from chapter 11 in October 2006 with far less leverage, but the stock has largely traded in line with the homebuilders (0.94 one year correlation with XHB) since that time. If you're a contrarian believer in a "housing rebound," Armstrong is a small cap idea to consider.
Friedman Industries (NYSEMKT:FRD) – This Houston based steel processor and pipe manufacturer was discussed in an SA article written in early June, but has underperformed the Russell 2000 since that time.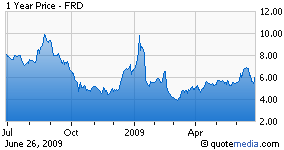 Strong pricing in 2008 led to the company's first ever full year with double digit gross margins (12.7%). Inventory turns also hit a record high of 7.4x, but that can be expected to decline to long term trend of 5-6. Friedman's clean balance sheet offers a margin of safety in what is expected to be a more difficult 2009.
Even with a 60% anticipated decline in annual earnings from 2008, FRD would trade at less than 7x forward EPS. Like quite a few of the stocks in this list, liquidity can be a concern. While FRD traded dollar volume in excess of $500K for thirteen trading days in January and February of this year, average daily dollar volume since March has been less than $125K amid weaker share prices. For a patient value investor, FRD's nearly 2.5% dividend yield offers some income until P/E and P/TBV multiples expand to match more richly valued peers such as Synalloy (NASDAQ:SYNL).
Haynes International (NASDAQ:HAYN) – Not be confused with undergarment maker Hanesbrands (NYSE:HBI), Haynes International, like Friedman, sells tubular products in addition to specialty alloy sheets.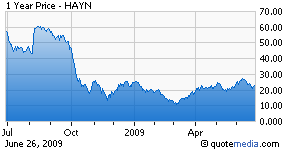 Unlike FRD, shares of HAYN have been beaten down with the big steel companies over the past twelve months. A one year correlation of HAYN with the Market Vectors Steel ETF (NYSEARCA:SLX) at 0.91 and market beta of near 2.5 make shares of Haynes better suited for those who are more bullish on a strong recovery in steel and metals. Friedman, in comparison, has a correlation of 0.76 and beta closer to 1.5. The four sell side analysts that cover HAYN expect a slight loss for the company in Q2 2009 with a recovery in the second half that would lead to FY 2009 EPS of $0.50-$0.70. That high forward P/E multiple of 32 is somewhat offset by HAYN's discount to tangible book. Yet with no long term debt, this is another capital intensive company with a clean balance sheet.
Magic Software Enterprises (NASDAQ:MGIC) – The trailing free cash flow yield of Israeli company Magic Software Enterprises is unlikely to continue at 40%, but with Q2 2009 (quarter ended March 31st) net income improving year over year, a drop off may not be that severe.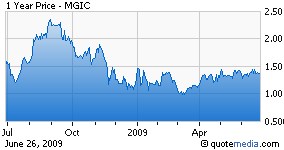 Magic offers an application development platform called uniPaaS along with a suite of business software/SaaS integration services.
I continue to believe that, with disjointed software implementations continuing to be prevalent in IT environments, integration providers will do fairly well. That is, of course, unless Oracle (NYSE:ORCL) finds a way to buy Salesforce.com (NYSE:CRM), SAP and everyone else. With a net cash and equivalents position of $36M (roughly 83% of current market capitalization), the market must either be anticipating future losses, pricing in significant geopolitical and/or liquidity risk or is simply wrong about Magic Software's valuation.
Minerals Technologies (NYSE:MTX) – MTX, a member of the S&P MidCap 400 index and a $1B+ annual revenue producer, has fallen in value by nearly 50% over the past full year to a market capitalization just under $700M.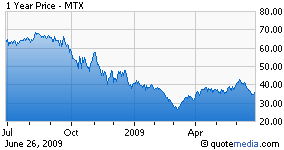 The company's two major business lines are specialty minerals (64.4% of revenues) and refractories. Specialty minerals produces calcium carbonate, limestone and talc for a wide variety of customer applications while refractories products and services, which enhance the heat resistance of steel furnaces and other industrial applications, could be viewed as way to play infrastructure.
While others may suggest that MTX is a "dog with fleas," the fundamentals indicate otherwise. Minerals Tech has increased its cash position by 45.5% year over year and sports an EBIT interest coverage ratio of over 16.
PC Connection (PCCC) – One of my favorites on this list, IT retailer PC Connection hasn't experienced an annual loss since 1994.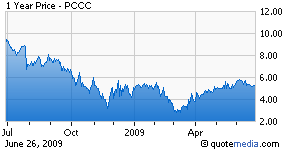 Prior to this year, the company has had one quarterly loss (Q1 2002 - $2.1M – mainly due to temporarily insufficient business controls) as a public company. Even through recent softness, that's a pretty decent track record.
Additionally, I've personally worked with PC Connection in my previous professional life and have found their services to be much more personal and pricing more attractive than the likes of bigger names such as CDW.
The SMB market is PCCC's bread and butter making up more than half of the company's 2008 $1.75B revenue stream. Public sector revenues have shown strong growth (34% from 2006 to 2008) and may represent a backdoor way to capitalize on increased government IT spending. With net cash of $65M and no long term debt, PCCC's current balance sheet discount to more leveraged direct peers PC Mall (MALL – 1.27x P/TBV) and Insight Enterprises (NSIT – 1.39x) is surprising particularly when considering the high correlation with those stocks (one year values of 0.89 and 0.84 respectively). PCCC is covered by only one sell side analyst, Brian Alexander of Raymond James who currently rates the stock as underperform. Mr. Alexander is a very well regarded analyst whom I've met and respect. He noted how bad Q1 was for PCCC during the company's conference call, but despite a 23% revenue decline and $0.06/share loss, PC Connection is expected to earn $0.13 a share (GAAP) in FY 2009.
With shares trading at $0.77 on the dollar and the company expected to maintain profitability, as it has historically, through difficult a economic year, there's relative value at current levels. For the technicians out there, after a rough two year period, PCCC is nestled between its 50 and 200 day moving average. I'll leave that analysis to those who follow the charts and trends rather than fundamentals.
TransGlobe Energy (NASDAQ:TGA) – The only energy name on this list is TransGlobe, a small natural gas and crude producer with assets in Egypt and Yemen.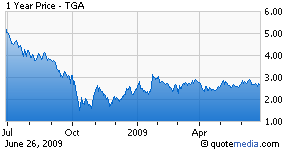 Year-to-date, TGA has moved largely in tandem with crude oil rather than natural gas prices. When looking at a longer time period (1+ year), TGA's correlations with energy ETFs UNG and USO are both between 0.7 and 0.8. A return to longer term correlation trends could make TransGlobe a decent position to express a bullish view on natural gas.
The company took on debt of just under $60M in Q3 2007 so that it could build out production at locations in the Middle East. Yet with reasonably conservative balance sheet leverage (1.4x assets to equity) and an adequate EBIT interest coverage ratio of 9.7x, there is some decent financial flexibility.
One of the downsides of TGA versus other energy investments, such as MLPs, is the lack of dividend income.

UFP Technologies (UFPT) – Two major operating segments of UFPT include packaging and component products, with the latter representing roughly 55% of total 2008 revenue of just over $110M.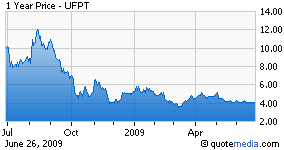 With many automotive, consumer based and industrial customers, it's not a surprise that UFP is a deep cyclical company with a very high one year correlation to the S&P 500 (SPY – 0.92). After reaching an all-time high of $14.42 on May 20th, 2008, shares have plummetted 70% to a much more compelling valuation. UFPT shares trade at 5.6x FY 2010 EPS estimates and boast a healthy EBIT interest coverage ratio of 26.
Liquidity is definitely a concern with establishing a position in UFPT. During calendar 2009, dollar volume has exceeded $200K in only 9.8% of trading days. For those investors who seek out environmentally friendly investment ideas, take a look at the company's molded fiber division, which manufactures products out of recycled paper and services premium customers such as Research in Motion (RIMM).

WPCS International (WPCS) – This final company has been far and away the best year-to-date performer on this list, but there still may be significant upside.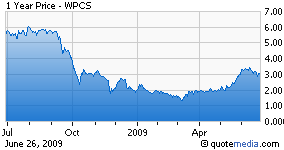 WPCS builds wireless communication systems and specialty infrastructure, including energy and transportation enhancements.
Infrastructure opportunity could be significant as their last 10-Q filing notes that the company is "beginning to see an increase in bid solicitations based on the certainty of Federal government funding support." If WPCS is able to capitalize on increased government spending, top line growth should continue at a healthy rate as it has in fiscal 2007 and 2008 (34.2% and 44.9% respectively).
Yet, when compared to larger infrastructure industry names such as Quanta Services (PWR - P/E of 26.8x, P/TBV of 3.8x), Tetra Tech (TTEK – 25.7, 7.8) and Black Box (BBOX – 13.3, negative TBV), WPCS International still trades at an extremely high discount.
While these ten stocks have passed the initial screener and my brief, preliminary analysis, I have not fully analyzed these companies. If you find any of them interesting you should perform additional research before investing.
Disclosure: The author does not have positions in any of the mentioned securities at the time of this writing.