Thesis
ANN Inc. (NYSE:ANN) is a multi-channel retailer and distributor of women's apparel, shoes and accessories under the Ann Taylor and LOFT brands. As of the end of last year, the company operated a total of 984 stores in North America with the vast majority of them in the US. The 4,300 employee company was founded in 1954 in New Haven, Connecticut and sports a current market cap of $1.4 billion.
In this article, I intend to show that investors still have not forgiven ANN for the horrendous performance the company turned in during the financial crisis and commensurate consumer discretionary spending malaise the company found itself a victim of. The company is growing sales and profits not by simply opening new stores, but by squeezing more productivity and efficiencies from existing square feet and by shuttering underperforming stores. In addition, this sales growth is occurring as margins are maintained or expanded, boosting profitability. I will show that Street estimates for the next few years are too low and that this formerly beaten-down retailer is rising from the ashes of the financial crisis stronger than ever, offering patient investors tremendous opportunity.
Store Operating Metrics
To understand where ANN may be headed in the future, we must first understand where it has been in order to determine its relative attractiveness as an investment today. To accomplish this task, we'll start by taking a look at several operating metrics for the company over the past several years.
First, the most basic operating metric for any retailer is the number of locations it has open. This chart shows each operating unit, Ann Taylor and LOFT, and the number of stores open at the end of each fiscal year going back to 2005.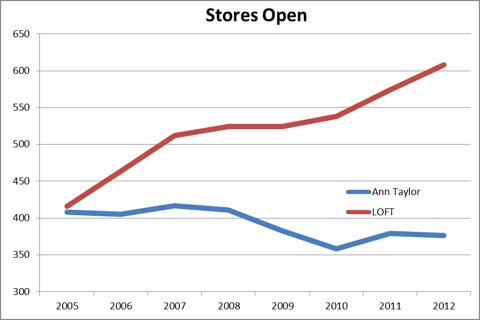 There are a couple of interesting things to note here. First, in 2005, there were a nearly identical number of Ann Taylor and LOFT stores at just over 400 each. However, that drastically changed during and after the financial crisis as the company halted opening net new Ann Taylor stores and instead started closing underperforming stores rather aggressively. Now, there are only 376 Ann Taylor branded stores in the system; less than there were eight years ago.
LOFT branded stores are a totally different story as we can see by examining the red line in the chart. Management opened LOFT stores very aggressively throughout the dataset period excluding the depths of the financial crisis when new store openings were frozen. However, we see the slope of the line turn up again in 2010 and it is showing no signs of slowing down; at the end of 2012, LOFT branded stores numbered 608. It is quite clear which horse management has backed in this race so we will take a look at why the decision was made to abandon new store openings for Ann Taylor and why LOFT stores were selected to be opened at such a vigorous pace.
ANN provides three sales-based metrics for its operating units that we will examine now. The first, dollars per transaction, is simply the average ticket amount across the system of stores for each brand.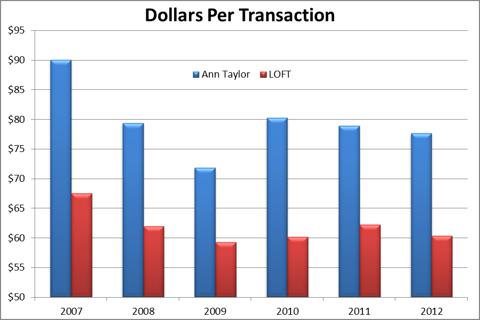 We see a couple of interesting things here. First, we know that LOFT is the brand that management has decided to expand in the past several years but we also notice that Ann Taylor's average ticket price is quite a bit higher than LOFT's. In fact, it has always been this way and I believe this is part of the reason why LOFT was selected to expand instead of Ann Taylor; it has more of a value-oriented consumer base and this resonates after the financial crisis.
Second, the sheer cliff dive that average ticket prices took from 2007 to 2009 is astounding. Ann Taylor tickets fell from $90 to just over $70 and LOFT tickets fell from $68 to $59. Again, this shows that, in a period of economic turmoil, the value-oriented brand is better able to maintain its customer base and pricing than the higher-end Ann Taylor stores. Apart from the ugliness of the financial crisis, we see that ticket amounts have rebounded quite nicely for Ann Taylor and have also stabilized for LOFT stores. This is important as it means that ANN has found the range it can operate in with its stores in terms of what to expect from average ticket prices.
Next, ANN provides the average amount of units sold per transaction.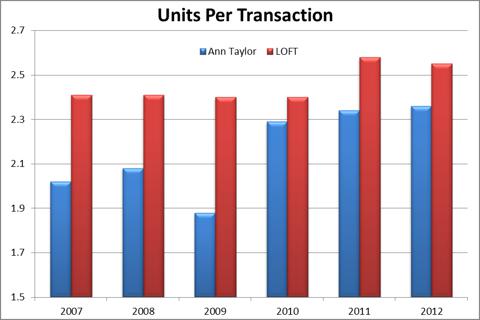 What's interesting here is that LOFT stores really didn't lose unit sales during the financial crisis; the drop in average transaction amount came from consumers buying cheaper items. However, it speaks to the strength of the brand that consumers still purchased the same amount of items when they did go into LOFT stores. Ann Taylor, on the other hand, has experienced pretty wild swings in its UPT numbers, dropping below 1.9 in 2009 but rebounding violently to 2.4 in 2012. This is great news on the surface as it means that when ANN gets a customer to buy at an Ann Taylor store, the customer is, on average, buying more items each time.
The last piece of the puzzle that ANN provides is the average unit retail amount. This is simply the average ticket price divided by the average units per transaction.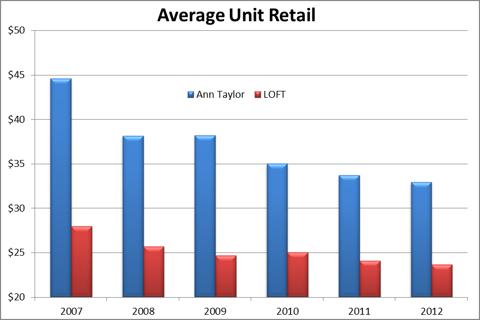 Here, we can see the source of most of the losses in the dollars per transaction. We already saw that the units per transaction were largely unscathed but we now know why average revenue per ticket suffered so much; we see sharply lower unit prices for both brands. The damage is worse for Ann Taylor with average unit prices of $45 in 2007 plunging to $33 last year. LOFT is not unscathed, however, but prices have fallen from $27 to about $23 in the same time period.
If we put all of these metrics together, it gives us a clearer picture of what total revenue should look like at each chain.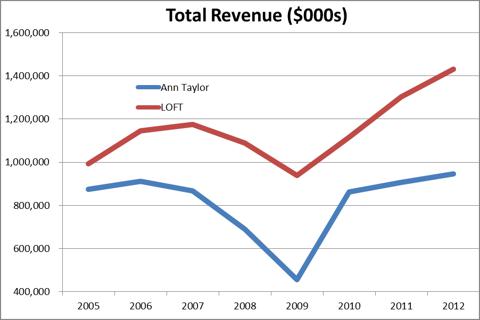 We can see that, even when store counts were nearly identical in 2005, LOFT stores outperformed in terms of revenue by quite a wide margin. Additionally, since Ann Taylor stores took a harder hit from the financial crisis, as we saw earlier, and the company has been opening LOFT stores and not Ann Taylor stores, total revenue for LOFT stores now dwarfs that of its smaller sister chain. Notice also the rapidity with which Ann Taylor stores lost and subsequently regained revenues during and after the financial crisis and the torrid pace at which LOFT has been growing revenues since 2009.
Another very important measure for a retailer is that of traffic. This can be quite difficult or even impossible to measure accurately as there is no way to accurately know how many customers came into the store but didn't buy anything. However, we can derive a measure of traffic from the data ANN provides; that measure is the number of transactions each chain processes each year. This will tell us how many times customers came into stores and actually bought something and can give us clues as to the popularity of each chain.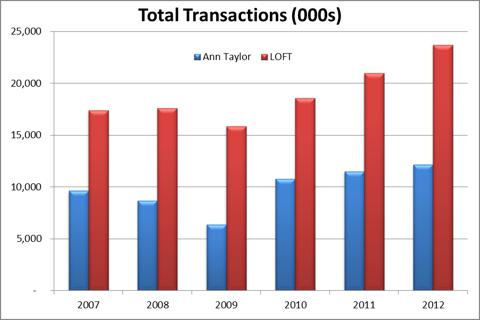 This chart should be very encouraging for ANN shareholders as it shows that since 2009, both chains have made enormous gains in total transactions processed per year, meaning that more customers are coming into stores and actually purchasing something before they leave. The worst nightmare of any retailer is a customer that walks in and decides they don't want anything in the store; ANN is obviously converting more and more customers as time goes on and this is tremendously bullish. The importance of this phenomenon cannot be understated.
Likewise, we can see the total number of units sold for each chain for the same time period.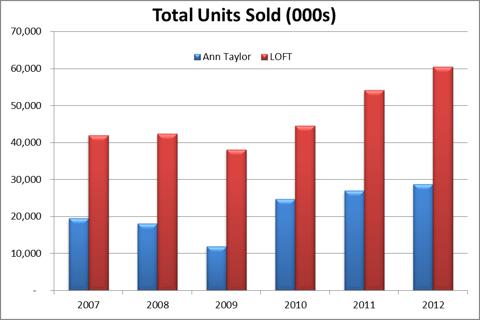 The two charts look very similar but with different scales, as you'd expect, so I won't spend a lot of time on this one. Just notice how much more product this company is shipping in the past few years. Fiscal year 2009 saw sales of roughly 50 million units while last year saw 90 million units sold! That is a tremendous accomplishment and again, terrifically bullish.
Now, we can examine the fruits of these metrics on a per store basis that gets at what is really driving this company's performance. First, we'll take a look at the most basic of per store metrics, total revenue per store.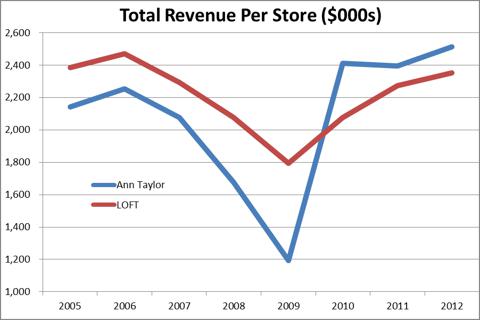 This chart shows the volatile nature of Ann Taylor's revenues over the past several years with per store revenue dropping from nearly $2.3 million per year in 2006 to about half that number in 2009. However, we then see a massive rebound to $2.4 million in revenue per year in 2010, even surpassing the larger LOFT stores in the process. While LOFT has closed the gap some, Ann Taylor stores still outperform LOFT on a revenue per store basis.
LOFT stores suffered relatively less than Ann Taylor stores did during the economic downturn of the financial crisis but still saw per store revenue tank from $2.5 million in 2006 to only $1.8 million in 2009. Again, revenue has since rebounded nicely to nearly $2.4 million per year but LOFT stores are still below their pre-crisis peak in revenue per location, unlike Ann Taylor stores.
You may rightly be asking yourself why per store sales were so volatile during the financial crisis. The answer can be summed up in one term; comparable store sales.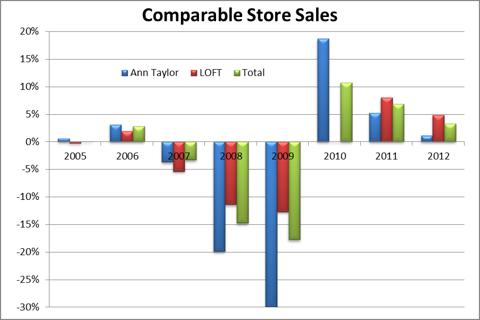 Notice in this chart the absolute devastation of comparable store sales from 2007 to 2009. Ann Taylor sported a 20% drop in 2008 followed by another 30% drop in 2009! Numbers this horrible are rarely seen anywhere and it is no wonder that revenue fell off a cliff as was shown earlier. LOFT was still terrible but fared much better, dropping "only" 11% and 13%, respectively, during the same period.
Something peculiar happened in 2010, however, as Ann Taylor stores took off with a showing of 19% comps versus 2009 while LOFT stores were totally flat. This was good enough to bring the entire company up to 11% same-store sales growth but it could have been so much more. Indeed, LOFT made up for lost time in the past two years with comps of 8% and 5% in 2011 and 2012, respectively. While comps are slowing down at both chains, that is to be expected given the massive losses and rebounds that took place during and after the financial crisis. While I don't like to see declining growth rates, I give ANN a pass here because of what occurred in 2007 to 2009. It would be strange if either the massive rebound didn't happen or if growth rates didn't begin to decline as the subsequent comps became more difficult to beat. Remember our revenue per store graph and know that productivity is still headed in the right direction and do not fear a slowing comp rate until such time that it goes negative. We are a long way from that but if it happens, then a closer look at the system is needed.
Indeed, we can use two more metrics we looked at earlier at the company level and apply them to the store level to see if we should be concerned about slowing comp growth rates.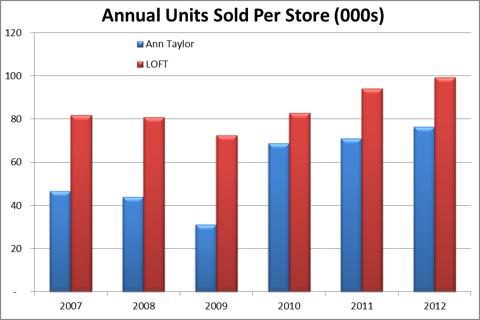 I explained this metric before so I won't do it again but we can see continued productivity gains at the store level even though comp growth rates are declining in the system. Most strikingly for me, Ann Taylor stores moved only about 30,000 units per store per year in 2009 but that number had risen to 78,000 last year, an increase of 160%! LOFT has made nice gains as well but nothing on the order of what Ann Taylor has done.
Likewise, we see the number of transactions per store, or a measure of traffic, increasing rapidly at Ann Taylor stores, driving the unit sales growth.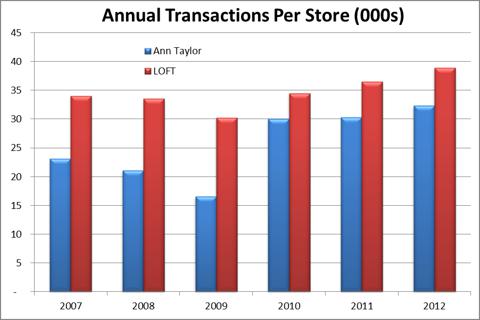 Again, we aren't going to spend a lot of time on this but it's worth pointing out. The number of transactions per store has doubled at Ann Taylor stores since 2009 and LOFT has seen a nearly 30% increase in transactions. The point is that both chains are still gaining productivity by leaps and bounds since the financial crisis and continue to do so.
Our final bit of per store analysis will focus on how productive each square foot of leased space is for each chain. The per store analysis tells only part of the story as LOFT stores generally have larger footprints than Ann Taylor stores. Therefore, we can level the playing field by breaking the numbers down into square feet.
First, here is a look at how many total square feet are leased for each chain in the system.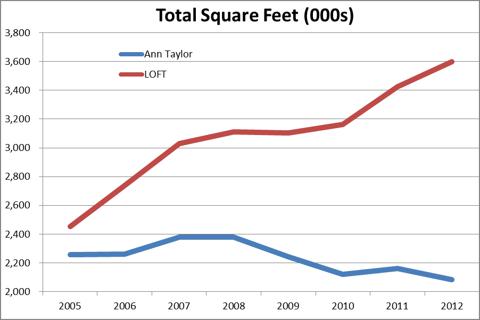 We can see what we saw before with the new store openings but the differences are much more pronounced on a square foot basis. The reason is that LOFT stores average 5,900 square feet whereas Ann Taylor stores average a smaller 5,500 square feet. When you consider this and the fact that the store count in Ann Taylor is declining while new LOFT stores are opening up, the divergence in total square feet for each chain is quite noticeable.
So the question would now be, why the divergence in square feet? From this chart, it appears that Ann Taylor is dying off and that management doesn't care to try and revive it while LOFT's retail footprint grows by leaps and bounds. I suspect the reason management began investing so heavily in LOFT stores is below.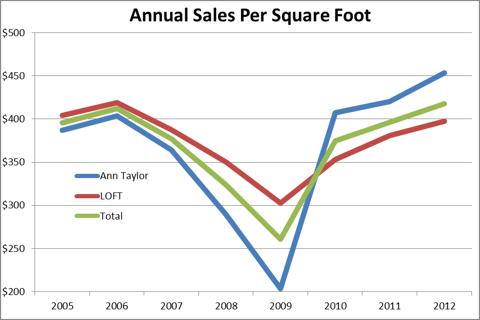 Up until 2010, LOFT had handily outperformed Ann Taylor stores in sales per square foot. In fact, in 2009, the margin was a full 50% of outperformance. However, Ann Taylor's resurgence has pushed its sales per square foot into the $450+ range from a low of $200 in 2009. This is truly astounding and it speaks to management's efforts to close underperforming stores and get the chain right before beginning to expand again. Conversely, LOFT has been opening new stores but has continued to raise its sales per square foot even in the face of the headwinds of opening new locations. Of course, older locations are more likely to sell more product but even with new store openings, LOFT has managed to continue to outperform the previous year every year since 2009. This is perhaps the most bullish chart one can see on ANN's prospects as each store in each chain within the company has produced more and more from each square foot every year since the depths of the financial crisis. Not only is productivity rising, but it is doing so at an astonishing pace.
Company Operating Metrics
Now, we'll switch gears and see what all of these numbers mean for the parent company, discuss some strategic decisions the company must make and then attempt to derive a valuation based on what we know.
First, we'll take a look at company wide sales and gross margin dollars for 2005 to 2012.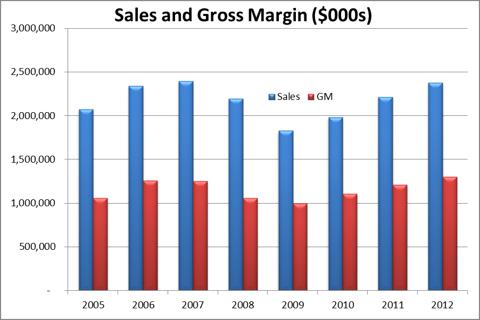 We can see from this chart the significant downturn ANN saw in both sales and gross margin dollars during the financial crisis, resulting in a 24% decline in sales and 21% decline in gross margin dollars from peak to trough. However, we see both metrics move up sharply starting in 2010 with both near historic highs as of the end of last year.
This chart shows SG&A expenditures versus gross margin dollars per year.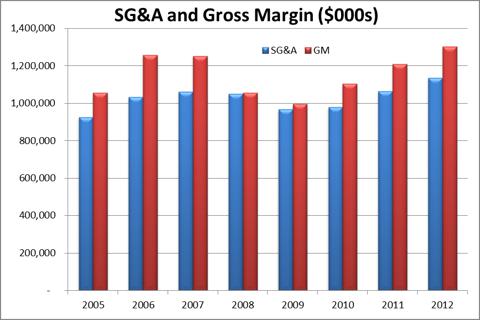 What we see here is that gross margin (red bars) easily outpaced SG&A expenditures, leaving ample room for profit in the years before the financial crisis. However, we see SG&A overtake GM in 2008 and 2009 meaning that ANN had negative operating profits in those years and shareholders suffered as a result. You can see from the 2012 data that GM dollars are at a historic peak along with the simple fact that GM dollars earned in 2012 allowed for a $167 million operating profit last year. As with the other data, the idea is to notice the trends with this data, indicating that GM dollars have not only recovered from the financial crisis but are continuing on to make new highs as well.
Next, this is a simple chart that shows ANN's net income from 2005 to 2012. Note that 2008's number excludes a $287 million non-cash charge that reduced reported net income to ($334 million). I didn't find it instructive to include this non-cash, one-time charge in analyzing the business.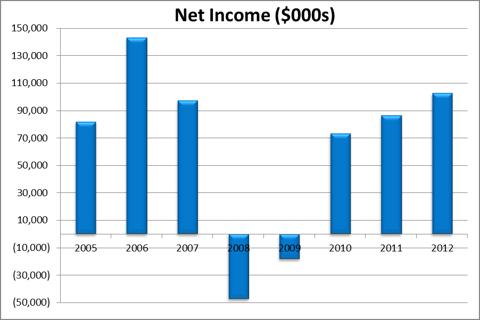 We see the same sort of trends at work here as we've seen in the other data except that net income hasn't regained its pre-crisis high as of yet. In fact, it's rather far off from the level of 2006. The trend is very steadily rising, which is no doubt great for shareholders, but why has net income not reclaimed the historic high?
Two of the biggest contributors to net income are gross margins and SG&A expenditures. As such, we'll look at those now in order to determine what has happened to cause net income to still lag historical highs.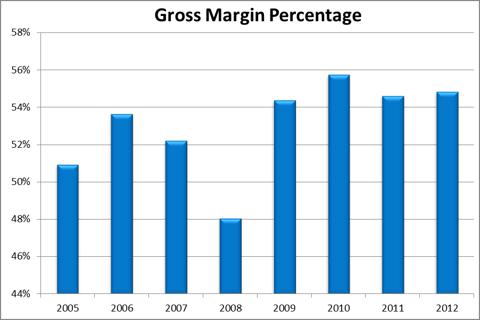 We can see that gross margins actually are near highs and have crested the pre-crisis levels of 52%-54%, settling at 55% last year. This is a dream for a retailer; rising sales, increasing productivity at the store level and increasing gross margins to boot.
The main culprit, in my view, has been SG&A expenditures.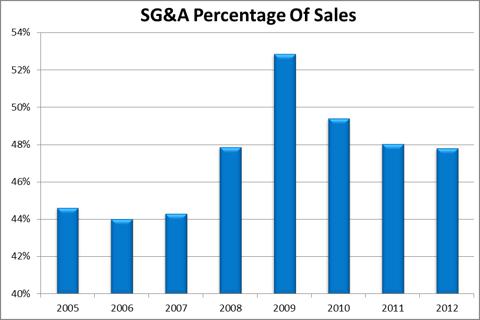 We can see that, as a percentage of sales, SG&A made up only 44% in 2006 but that number has risen to 48% in 2012. At 2012's sales numbers of $2.4 billion, that is roughly $100 million in additional SG&A. This is a staggering amount of additional overhead for a company that didn't even make $100 million last year. So where did this added SG&A come from?
This additional SG&A was due simply to the build-out of new store locations, as we will see now.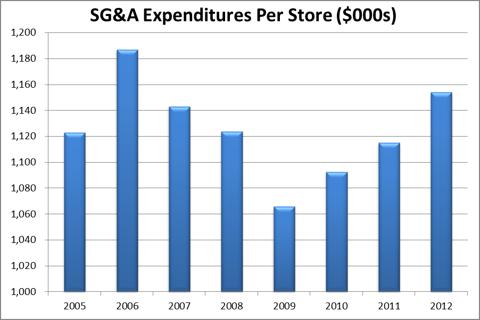 On a per store basis, SG&A is actually lower than it was in 2006, implying that ANN is becoming more efficient at allocating its fixed costs to run its stores. However, we can see that there is room for improvement as 2010's level was a full $62,000 per store less than 2012's number. If ANN can revert back to 2010's SG&A per store expenditure level, that would mean another $61 million in savings per year, or roughly two-thirds the amount of net income the company reported last year.
Finally, ANN's net profit margin is shown below. This is simply the amount of reported net income divided by net sales per year.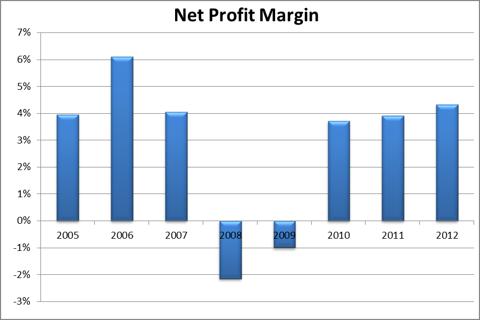 This again speaks to the earning power of this company as return on sales hasn't even gotten to within 175 basis points of the historic high set in 2006. For instance, if ANN had hit its 2006 return on sales number in 2012, it would have reported an additional $42 million in net income on top of the $103 million that was reported. This gives you a sense of the magnitude of the earnings power that has yet to be unlocked at ANN.
Financing
Now we'll take a look at the company's ability to finance its operations, expansion and share repurchases.
To do this, first we'll determine how much free cash flow the company produces.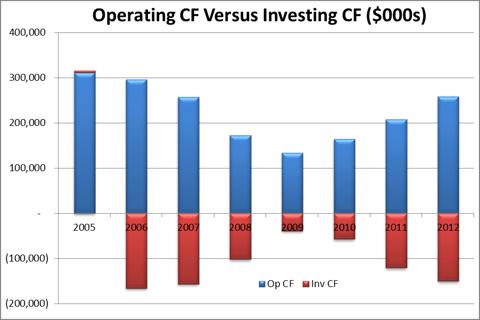 This chart simply shows the amount of cash generated from operations versus the amount of cash generated (or used) by investing activities. Basically, this chart shows you what ANN's assets produce versus what it costs to acquire, maintain and run the assets that produce the cash. The results here should be quite encouraging as ANN is an FCF machine. Even in down years, operating cash dwarfs investing cash outflows, resulting in the company's ability to not only finance any expansion or remodel plans it wishes, but also to do another very important thing; buyback enormous amounts of common stock.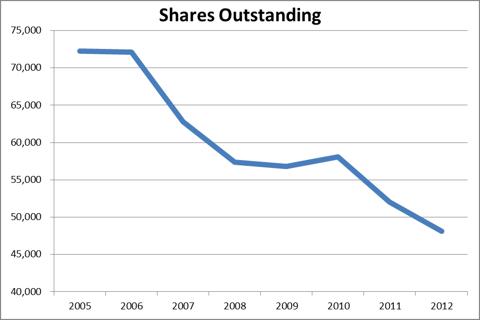 This very simple but very powerful chart shows the amount of shares outstanding in ANN since 2005. We see that, since that time, ANN has retired a full 33% of its outstanding common stock. I have never seen such aggressive retirement of shares and this is one of the reasons why I'm incredibly bullish on this company. In the next decade, this company could literally repurchase enough stock to consider taking this thing private, making shareholders wealthy along the way.
This chart shows the amount of FCF ANN has produced over the past eight years versus the amount it has spent on buybacks each year.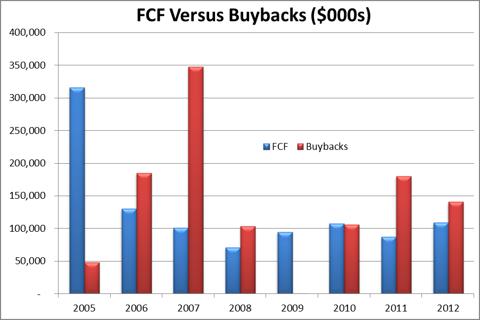 This chart basically shows that not only does ANN repurchase an enormous amount of shares, but it can actually afford to do with just the cash generated internally. Over the time period highlighted in this data set, ANN has produced $1.015 billion in FCF and has repurchased $1.111 billion in shares. As a shareholder, this is tremendously bullish as it means that you know management thinks the stock is cheap and is willing to reduce the float in an effort to raise the value of your shares; you can't ask for more than that as a shareholder.
The fruits of this investment in repurchases can be seen here, along with the amount of money that was invested in retiring shares each year.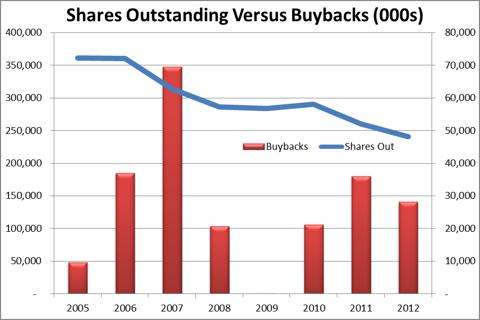 In 2007, when $348 million was spent reacquiring shares, the float began to be reduced significantly. Apart from 2008 and 2009 when buybacks all but stopped, the share count has been on a nosedive ever lower and considering ANN still has a buyback program in place, is showing no signs of stopping.
Finally, this chart shows what ANN's annual EPS was reported as versus what it would have been had there been no buybacks at all. Said another way, earnings are indexed to 2005's outstanding share level for the "no-buybacks" scenario.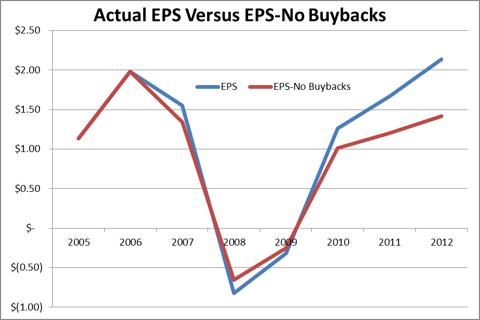 The two lines largely look the same until 2010 when the true outperformance of actual EPS versus what it would have been with 2005's share count. In fact, last year, instead of $2.13 of EPS, 2005's share count would have produced only $1.42 with the same amount of net income! This truly shows the power of retiring shares as the company has to earn less and less money to grow EPS each year. When you get the situation ANN is in where the company is performing quite well on a nominal basis and you factor in the compounding effect of share repurchases on EPS, you see EPS ramp much more quickly than it otherwise would have. Anyone who doubts the efficacy of intelligently executed buybacks should examine this chart.
Lastly, a quick note on ANN's lease obligations upcoming as it leases substantially all of the properties it occupies.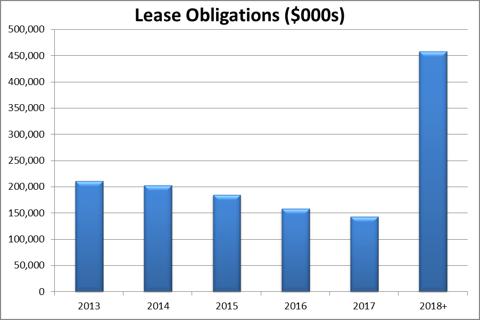 Lease obligations should be about $200 million per year for the foreseeable future and there are no upcoming "balloon payments" or other obligations that may force a liquidity event on ANN. Simply put, this company can afford its leasing needs and then some with no issues.
Inventory
Before we take a look at a valuation, one more piece of the puzzle is still missing. Of course, that is the inventory position of ANN. Inventory is usually the biggest expense for a retailer so it is absolutely critical that inventory is maintained in stock without running too high, eating up free cash flow and making it harder to pay vendors.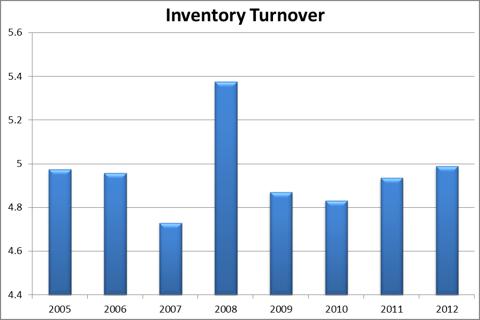 This chart shows the number of times the company's cost of goods sold is rotated during the year, on average. It basically means that, in 2012, ANN sold its entire average inventory position five times over. This is terrific for a soft goods retailer and it means that ANN is quite good at buying the right merchandise and in the right amounts. Of course, this does not mean each item turns five times but to have a corporate average of five is outstanding. In addition, we see the trend is steadily up for the past few years, indicating further efficiencies could be on the way.
The inverse of this ratio is a bit easier to understand; the weeks of supply of inventory. This chart shows the amount of inventory, by the amount of weeks it takes to sell it, per year.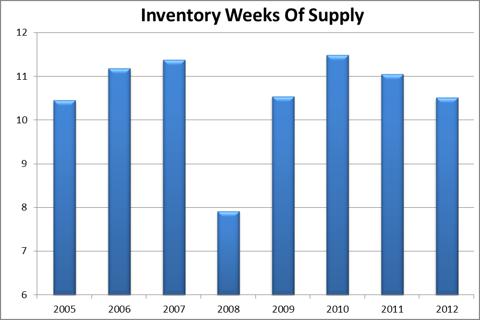 Basically, the trick in retailing is to own enough inventory to serve your customers' needs and not a dollar more. This is impossible of course but the idea is to get close. I think the range of 10-11 weeks of supply is the sweet spot for ANN and management is happy to maintain this level. I show this chart only to show how the number has stabilized and that if it gets out of the 10-11 range, inventory is either too heavy or too light and will require additional attention from investors as to why.
One last point on inventory is regarding ANN's GMROI. GMROI is the gross margin return on investment the company gets from its inventory. The line of thinking is that the higher the GMROI the better because it means you are getting more gross margin dollars in return per dollar of inventory investment. GMROI combines inventory turnover with gross margins as a way to ensure that inventory not only turns quickly, but also profitably.
ANN has done a terrific job in recent years, as you can see, with turning its inventory more quickly while also raising gross margins. This has resulted in the company collecting, on average, over six dollars of gross margin each year on its average inventory investment. This is tremendous and again, the trend is up.
The idea with all of this data is not to get caught up in the details; rather, notice the trends for all of these data points and their current positions relative to historic levels. The point is that ANN is producing great profits without even squeezing the most of out of the system of stores.
Strategy
We'll turn our attention to strategy now and the opportunities that await ANN in terms of growth for the future. I believe there are a couple of ways that ANN can continue to drive increasing sales in order to produce higher stock valuations.
ANN's strategy is currently to continue to close net new Ann Taylor stores, meaning that the company is opening new Ann Taylor branded stores but is closing more than it is opening. This is a great strategy that is aimed at optimizing the existing locations by closing underperforming stores and opening new stores in what are perceived to be better locations. As we saw earlier, this strategy has been used for years now as LOFT was focused on for growth and Ann Taylor store counts have been dropping rather steadily.
I'm all for closing underperforming locations and opening up more profitable ones for obvious reasons that don't need explanation. And the extension of this strategy, given that management stated in the 2012 10-K that the goal for 2013 is 35 net new stores while opening 11 new Ann Taylor stores and closing or remodeling another 21, is that LOFT stores will be added at a rate of about 24 to potentially 45 net new stores this year. This is consistent with what we've seen for the past several years if we recall our discussion of system composition earlier.
Here is the first point where I think management can change its strategy in order to produce greater returns. When management adopted the strategy of net closing Ann Taylor stores years ago, the chain was struggling, as we saw earlier with our data points. However, we also saw earlier that Ann Taylor stores are actually outperforming LOFT stores by many metrics now, including sales per square foot. Therefore, when selecting an investment to make in a new store, I believe that opening LOFT stores while ignoring the red hot Ann Taylor stores is a mistake. Indeed, I believe more value can be added to the company right now by focusing on Ann Taylor stores as we have seen the tremendous rebound in the performance of those stores over the past few years.
Now, the strategy management is using is certainly working and I'm fine with this continuing. LOFT stores have proven to be a terrific investment over the past decade and I'm perfectly happy to see this continue. However, I think the circumstances under which the decision to concentrate on growing LOFT at the expense of Ann Taylor have changed for the better. LOFT is still a terrifically performing brand but Ann Taylor has experienced a resurgence that I believe warrants further investments from the company and I'd like very much to see that happen.
The next strategic opportunity for ANN is in internet sales. During the third quarter of last year, ANN opened up its multi-channel retail strategy of selling through its stores but also allowing its customers to purchase its merchandise in online stores. While there isn't much data available since this program is in its infancy, the idea of allowing customers to shop on their tablets, smartphones and (gasp!) even the dying PC means that ANN can be at consumers' fingertips 24 hours a day instead of just when they go to the mall.
Again, since we can't really quantify the potential impact of this strategy shift, I think a lot of the value in this is that ANN brands will be on consumers' minds more as ANN has many touch points for consumers now instead of just the physical store location. I think internet sales could end up being a decent sized portion of the business but the real value is in the marketing. ANN could utilize customers' email addresses to offer online only promotions in order to drive traffic to the web stores and, again, offer more touch points, building brand awareness and loyalty in the process. I believe the online sales of clothing is probably limited as people generally like to try on apparel before purchasing but accessories is a wide open market for web sales at ANN's online stores. The intangible benefits of building consumer awareness and loyalty will probably trump actual sales over the long run but both are very important benefits and should not be overlooked. In addition, this will allow ANN to ship to customers virtually anywhere in the world, even in countries where ANN has no physical presence.
Next, ANN has done a great job in extending its existing brands to new lines, with examples including Ann Taylor Wedding and LOFT Maternity. Brand extensions like these allow ANN to leverage its existing reputation with consumers in opening up new avenues of revenue sources. Possible extensions to the brands in the future could include workout gear for women, kids and baby clothes and accessories, etc. As ANN caters to working women with a sense of style and moderate to high income, the possibilities are virtually limitless. While women don't visit ANN brands to buy baby clothes or yoga pants, it doesn't mean they wouldn't, and I think ANN has significant leverage in this area. Indeed, when I've visited ANN stores with my wife, I noticed that much of the store is empty aisle space that could be utilized to merchandise more products and accessories. I hope ANN is working on more brand extensions as it could prove to be the next growth driver for the foreseeable future.
Finally, the most exciting strategic move, in my view, is ANN's international expansion. This began late last year as ANN opened up its first stores in Canada. Additionally, ANN is planning to add more stores in Canada this year and I am very enthusiastic about the possibilities that international exposure offers. Canada is a completely untapped market for ANN and if successful, ANN could not only build out potentially hundreds of Ann Taylor and LOFT stores in Canada, but also expand into Europe, where I see the most synergies with US consumers outside North America. Eventually, ANN could have potentially a thousand stores in Europe, given its size, although half that amount may end up being more reasonable. Europe's focus on fashion and clothing that has been well publicized could end up being a boon for ANN if its Canadian experiment turns out well. As with the online store, the impacts of this strategy are difficult to quantify but the risk of failure is far outweighed by the upside if it works. The Canadian experiment is one that investors should be watching very closely for clues as to the long term international plans of this company.
Valuation
Now, we can take a shot at coming up with a valuation for ANN, given what we know. To do this, we'll take a look at three scenarios for EPS over the next four years. First, Street Expectations is the scenario that analysts have priced into shares right now. This includes 10% sales growth each year, stable margins and expenses as a percentage of revenue and no impact from share repurchases. The second scenario is what I'll call my Base Case, which includes the same 10% sales growth, stable margins and expenses as a percentage of revenue and $100 million worth of share repurchases per year at the current $31 price. Lastly, my Margin Expansion scenario assumes the same as the Base Case except that gross margins expand at a rate of 25 basis points per year and SG&A declines 25 basis points per year as a percentage of revenue.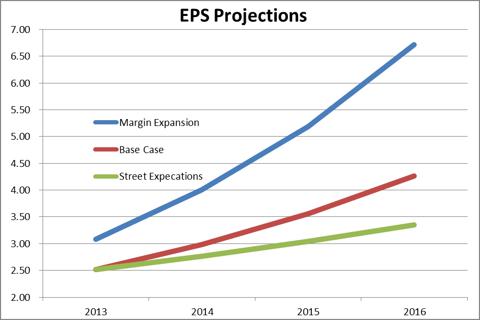 After all the data we've examined, this chart sums up why ANN is so undervalued at $31 per share. First, the Street Expectations scenario calls for $2.50 in earnings for 2013 and rising to $3.35 per year by 2016. This would assume that ANN is trading for 12 times 2013 earnings and roughly 9 times 2016 earnings. For a company that is growing earnings at the rate ANN is, this is pretty cheap. It's not a screaming buy given these assumptions but it's still cheap by most measures. I believe, however, that current expectations are flawed because analysts are failing to account for the effects of reduced share counts via the buyback programs that we highlighted earlier. In addition, I think ANN will continue to expand gross margins and profit margin by reducing SG&A on a relative basis; these expectations simply don't account for those earnings tailwinds. However, if you believe the overly pessimistic expectations, ANN is still pretty cheap at 12 times earnings and only 9 times 2016 earnings.
For my Base Case, ANN still earns $2.50 in 2013 but the effects of the $100 million per year share repurchases, which is actually well below historical amounts, sends EPS to $4.27 in 2016. This would mean that while ANN is still at 12 times 2013 earnings, it is only at 7 times 2016 earnings. Again, $138 million is the average amount of buybacks for ANN over the past eight years so it is completely reasonable that $100 million will happen for the next four years.
Finally, my Margin Expansion case says ANN will blow away Street expectations for $2.50 this year in EPS and produce over $3.00, meaning it is trading at just over 10 times forward earnings. The real fun begins in the out years, however, as the buybacks and expanding margins take effect, boosting 2016 earnings to $6.72, or a multiple of 4.6 to the current price.
None of this, by the way, assumes that ANN expands internationally and it also assumes the web store will never work. Both of those things are gigantic, free call options for shareholders. Given my scenario where hundreds of stores could eventually be in Canada and perhaps 500 to 1,000 more in Europe over the long term, this company could be three times the size it is today in terms of physical store footprint. In addition, women all over the world can now purchase ANN merchandise and have it shipped to them, opening up new avenues for customers that will never see an ANN store and a new way to shop for existing customers. These also assume that ANN doesn't expand its brands into workout gear or any other possibilities that exist.
If the Street Expectations case proves true, we can expect PE multiples to stay around 12 meaning that the price in 2016 of the stock should be something like $40, or roughly 29% upside from today's price. If all ANN can achieve is this set of expectations, it wouldn't deserve a higher price than that anyway. However, I've enumerated why I think this case is overly pessimistic and if even my Base Case comes true, I think PE expansion to perhaps 14 or 15 would be warranted, implying a price in 2016 of $60 to $64, or roughly 100% upside to today's price. Finally, if my Margin Expansion scenario comes true, and I truly believe it has a good shot of happening, multiple expansion up to 17 or 18 would be warranted, given the rapidity with which ANN would be growing EPS, implying a price of $114 to $121, or nearly 300% upside to today's price.
Before you laugh, consider that my Margin Expansion scenario only assumes that gross margins only increase 25 basis points per year and that SG&A expenditures decrease 25 basis points per year as a percentage of revenue. Consider also that if those two things occur, net profit margin would be only slightly higher than what ANN achieved in 2005, lending further credence to the idea that this could happen. Twenty five basis points of improvement per year is not a big undertaking particularly considering that ANN has been expanding SG&A over the past couple of years and that the build out should be close to reversing as SG&A expenditures have stabilized.
Given the fact that the Street is ignoring the enormous amount of share repurchases ANN makes every year and that international expansion is still an experiment along with web sales, the downside risk for ANN is minimal. Of course, shares may trade down during a broad sell-off but any event such as that should be welcomed. The worst-case scenario, even if earnings don't grow, is that EPS will continue to grow given the huge buybacks that occur every year. This should drive the share price higher even in the absence of growing nominal earnings.
Considering the buybacks, the stock is very cheap and when you consider that margins are still nowhere near historic highs, there is enormous room for profit generation at ANN. This could literally lead to a tripling of shares in the next few years if ANN can execute. And if it can't, you stand to lose very little as the company is already too cheap. This really is a case of very limited downside and nearly unlimited upside. The idea of international expansion with the potential of doubling or tripling the ultimate store count of the company is yet another reason to be excited about ANN's growth prospects. If risking perhaps 15% to 20% of your investment on a market pullback in exchange for up to 300% upside sounds good, ANN is for you.
Disclosure: I am long ANN. I wrote this article myself, and it expresses my own opinions. I am not receiving compensation for it (other than from Seeking Alpha). I have no business relationship with any company whose stock is mentioned in this article.