Some investors hate idiosyncratic risk. Others embrace it.
Only a handful of industries suffer negative "surprise" events the way that the cruise industry seems too. The latest shock came earlier this week when Carnival slashed its 2013 guidance because of weak earnings margins. Apparently, customers need a little extra incentive to book a cruise after the February fiasco involving the Carnival Triumph.
In conjunction with the revised guidance, many analysts downgraded the stock. Carnival dropped around 6% and the stock is now down 15% from its high before the "Triumph." (zing!)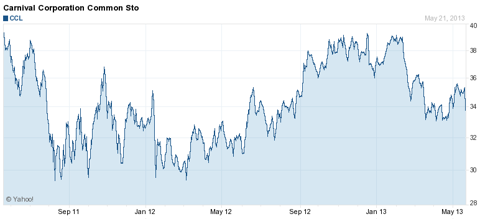 Carnival has its hands full right now for very specific reasons, and in a general sense, the cruise industry tends to be highly polarizing. A lot of investors hate it, either because of that idiosyncratic risk or because they dislike the actual product. But others love it, with equal passion, for the exact opposite reasons. Personally, investments like this have always intrigued me because they present opportunity for people who can tune out all of that emotion and understand what the data are saying.
Let's begin our analysis by looking at the cruise industry in general. Despite all the colorful brands and myriad lines, the industry is essentially controlled by just two companies, Carnival (NYSE:CCL) and Royal Caribbean (NYSE:RCL). Carnival represents around 50% of the total market with Royal Caribbean 25%. After that you have Norwegian (NASDAQ:NCLH) and MSC at about 7% each and then Disney (NYSE:DIS) with just under 3%.
So that's 5 companies fighting for a $36 billion pie.
(Too bad you can't buy stock in just Disney's cruise operations. Its cruise business is growing rapidly and it's becoming one of the biggest drivers in the parks & resorts division. That'd be my bet as the line that eats into everybody else's market share.)
Carnival isn't just Carnival, though. It has a very diverse, very intelligently constructed portfolio of brands that span many markets and nearly every price point:
AIDA Cruises
Carnival
Costa Cruises
Cunard Line
Holland American
Ibero
P&O Cruises
Princess Cruises
Seabourn Cruise Line
As a whole, this is also an industry that, by virtue of population growth, is a virtual guarantee to grow at a somewhat predictable rate.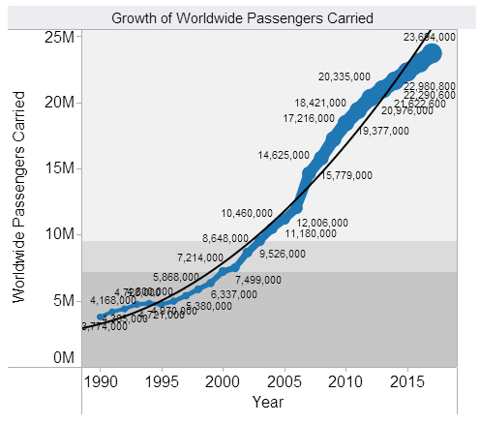 The financial crisis and recession didn't destroy this industry. In fact, total bookings rose as passengers sought to optimize the value of their vacation dollar.
When I was a kid, the cruise industry was relatively obscure. It was a very exclusive, expensive way to vacation. But the industry has grown exponentially since then and companies like Carnival have been on the forefront of bringing cruising to the mainstream. Today when you look at all these surveys of why people cruise, "compelling value" is always at or near the top. The bottom lines of these businesses slow down in recessions (just like everybody else), usually because they have to get more aggressive with their pricing. But the cruise industry's top line is more recession-resistant than you might be aware of.
In any case, the exponential phase of the industry's growth is flattening out. Total passenger growth is slowing and will grow at a lower rate than it did during the last decade. But at the very least, you have a basic, reliable formula for long-term top-line growth in the cruise industry: global inflation + global population growth. There's no way that this is an industry that doesn't grow by an average rate of at least 5% over the next decade or two.
The current combined penetration rate of cruising in North America, Europe, and Australia is just over 2%. We'll get to Asia in a minute, but I don't think it's crazy that the top line could grow beyond the ~5% you'd expect from inflation and population growth. There's still room for extra growth within the developed markets. Mediterranean cruises are skyrocketing in popularity and stealing share from the Caribbean and Mexico. In fact, European (Mediterranean, Baltic, and Scandinavian) cruises now exceed the Caribbean in popularity.
If European penetration rate gets up towards the 3.25% in the U.S., it would represent meaningful growth for the industry. And domestically, there still may be room to grow as well. Only 1 in 4 of Americans have ever actually gone on a cruise. On the surface, however, I'd have questions about the cost/benefit of acquiring new customers here in the U.S., especially given how finely tuned the industry's marketing and value propositions are in this country. It's possible that 1 in 4 Americans represent the number who, by virtue of preference or socio-economics, is actually willing to go on a cruise.
None of that may matter, because there's a powerful, natural force about to play right into the cruise industry's favor: the Baby Boomers. In a lot of ways, CCL is a secular growth play on retiring baby boomers.
Contrary to popular belief, not every Boomer is going to work until death. Some will actually retire. A lot, actually. The ones that do will be looking for leisure, of course, but more importantly, they are going to be obsessed with value. They'll be on modest fixed incomes or uncertain incomes, and more than any generation before them, they will be fixated on getting the absolute best bang for their buck. They won't have a choice. And they certainly aren't going to say "no" to leisure. Not the Baby Boomers. This is the most vibrant, active generation in modern history. Vacations and exploration and movement are hardwired into their DNA. This is a generation that wants and has always wanted to "see the world."
Here's the first kicker: cruise demographics skew dramatically white (91%), above-average income (66% earn $75k+), and older (75% are 40+ and 26% are over 60). I know I'm not the first guy to say this, but the retirement of the baby boomers really does play right into the cruise industry's wheelhouse. The winds are shifting to their backs! These are long-term winds, too. When you talk about the cruise industry, you're not just talking about what's going on this year and next. You're talking about what it'll look like in the year 2020. You know, when the economy is better.
Next there are the river cruises, a hot niche segment that's been growing passengers at a 10% annual rate. In fact, once Carnival gets a handle on the fallout from the Costa Concordia and Carnival Triumph, I'd be highly surprised if it didn't make a play for someone like Avalon Waterways or Uniworld Boutique River Cruises, leaders in this fast-growing segment. Think of the opportunities for cross-promotion between its Cunard, Seabourn, or Holland America luxury lines. There's still room for lateral growth and diversification here.
Finally, there's Asia. This is a massive opportunity for the industry in terms of both new customers and also new destinations. There isn't a single Asian cruise segment in the top 10 and Asia only has 6.5% of the entire cruise market. But they're gearing up for a change. Hong Kong is about to wrap up construction on a two-berth $1 billion cruise terminal. Singapore currently attracts around 1 million passengers per year and they're expecting that figure to grow 50% by 2015. Princess Cruises (which is owned by Carnival and earns more than the flagship Carnival Line on fewer than 1/3 the annual passengers) is scheduled to arrive in Asia a big way in 2014.
At present, only $1.7 billion of total cruise industry revenues come from Asia. That's compared to $34 billion for the U.S. and Europe. The cruise industry is practically non-existent in Asia. Why? Because Asians and Indians have some sort of cultural bias against cruising? Folks across the Pacific are equally sensitive (or more) to value and equally desirous (or more) of luxurious experiences. The infrastructure over there simply hasn't existed, nor have the incomes. But that's all starting to change. In case you weren't sure how the world's population breaks out, I found this helpful pie chart.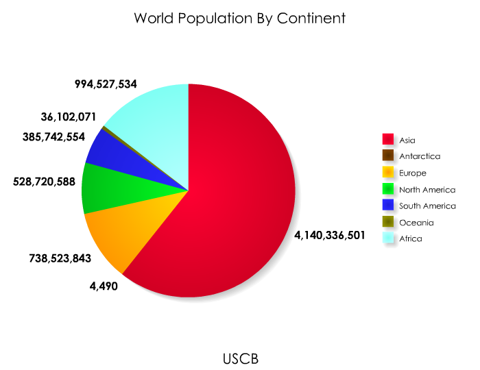 You can see that a company like Carnival or RCL is a very intriguing way to play an increasingly wealthier and more mobile Asia. Why can't Asia be an equally large market in a decade or so?
The long story short is that there's a fairly sturdy floor for top-line revenue growth. And depending on how the industry continues to evolve, plenty of opportunity for marginal growth. There's a chance to recapture some of that double-digit growth of years past.
The Biggest Risk
Before we take a deeper dive into Carnival's fundamentals, let's tackle the first objection: this is an industry that periodically suffers from high profile setbacks.
Any time a cruise ship somewhere breaks down, sinks, or catches fire, the world panics. Despite this, history overwhelmingly suggests that these incidents have zero bearing on long-term passenger behavior.
A hundred years ago one of these ships hit a glacier and, like, pretty much everybody died. It was a big deal. You may have heard of it. But passengers kept cruising.
In 1997 they even made a movie about this horrible disaster where 1,502 souls perished painfully at sea. This movie grossed billions. Everyone said "ew, cruises." Guess what. The cruise industry really took off.
Back in 2010, a few ships had very public outbreaks of the Norovirus on board. Several hundred people got really bad diarrhea. Nasty. Guess what. They rallied and bookings grew over 5% by 2011.
Last January, the Costa Concordia ran aground and partially sunk off the coast of Italy. It was awful. 32 people died and it's a $500+ million cleanup for Carnival. It was everywhere in the news. Everybody freaked out about how horrible an experience it must have been and swore off cruises for good. The ship is still stuck there and the captain is on trial for manslaughter! Guess what. The industry grew another 5% last year.
And then there was the PR mess I mentioned at the top, the Carnival Triumph. It caught fire and lost power back in February. It was a nightmare. Passengers were stranded for 5 days with no power, no A/C, and busted toilets. Passengers erected a shantytown on the Lido deck. Can you imagine? It sounds like something out of Blindness. Cruise cancellations went through the roof. But guess what. Bookings recovered and then some. The cruise industry will grow another 5% this year.
So if you're one of those people that thinks this is a risk for the cruise industry, WRONG!
This is an OPPORTUNITY for investors.
THE QUESTION: Can Carnival be the same company it was at the start of the year?
THE ANSWER: Of course. Nothing has fundamentally changed the long-term dynamic. Everything troubling Carnival right now is short-term in nature. Margins here are as good a bet as any to recover. The industry is a duopoly, after all!
So a very basic target upon which to "anchor" (hey-oo) your expectations would be $40. Ordinarily, I don't like fixing my expectations to previous data points willy-nilly, but in this case, if the market felt like CCL was a fair value at $40 in January, there's no reason why the market couldn't feel like that was a fair value next January.
A Look at Valuations
Now, let's dig into some more numbers. We'll start simple.
Let's be somewhat conservative and say Carnival can earn $2 next year or the one after. That's less than it earned in any year between 2005 and 2008 and roughly equal to what it earned in 2010. It's well below the previous 2014 estimate of $2.60, which is suggestive of the potential margins that still exist with Carnival.
With this semi-conservative forward PE, the stock is trading at 16x, which isn't too far off the rest of the market and properly reflects the [inflation + population + extra] growth opportunities that are available.
The catch, however, is that this stock has rock solid support at $30/share.
So this is your downside: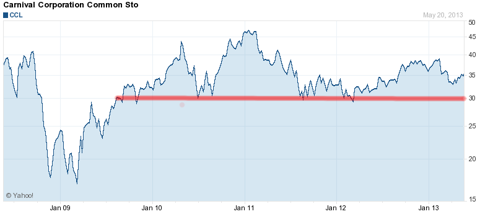 The stock is trading around $33 this morning, which gives you a 10% cushion. Go ahead and buy it anywhere between $30 and $34 and pull the plug on a close anywhere below.
The stock probably won't rocket back to $50, but with an attractive dividend and rather modest debt load, there's a better margin of safety here than investors may realize. Once CCL gets its earnings power back under control -- and I'll bet it will; the company always does -- the business will look substantially more attractive to investors.
At the very least, our $40 pre-Triumph price represents a basic upside target and $30 a basic downside target.
In a very basic sense, over the short run, you're risking 10% in CCL to make 21%. That's a nice enough asymmetric skew of risk/reward for me. Even if you introduce probabilities, I think the expected return is still skewed asymmetrically to the long side. Can you say with certainty that further deterioration from here is really a more likely outcome than a return to normalcy?
I can't.
Here's the real problem, though. Net Profit Margins have dwindled to less than half of what they were at their peak.

The company has been able to mask this somewhat by growing the top line, but that's stuttered lately with all this bad PR and this is why the stock has found itself in the position it's in.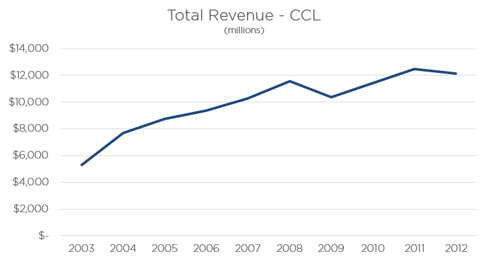 The good news, at least, is that it's still managed to continue generate and grow its free cash flow.

Management does seem to be on top of the issues and challenges facing the industry. Yes, its net margins are struggling because of aggressive incentives, but it's still growing the top line and its cash flow in an environment where not everybody is growing their top line and their cash flow.
The "Good" Scenario
Let's look out a few years, say 2017. Since this is the good scenario, let's assume Carnival can tap into this first wave of the Baby Boomers and also make a meaningful foothold in the Asian market. Let's assume it grows the top line an average of 10%/year between now and then which is what it did pretty much every year between 2005 and 2011 with the exception of 2009.
Then let's assume that it can actually get those margins back up either via growth in its luxury brands, more attractive markets & niches, or through the pricing power you'd expect a duopolistic industry to have. Let's not get too crazy and assume it gets back to the 20% net margins of 2005. But we'll use something more reasonable like the ~15% it averaged in 2007, 2008, and 2009.
This model gets us to around $19.5 billion of total revenue in 2017. With 15% net margins, that's around $3 billion of profit. Assuming no major changes in the total shares outstanding (CCL has actually been buying back stock during the last few years) then you're looking at EPS of around $3.80 per share.
Carnival's PE during the last decade has averaged just under 20x. So if you hang a 20x multiple on $3.80 per share, you're looking at a price of $76.
Keep in mind this is the "good" scenario. Not the "crazy optimistic scenario." None of this is too far in the land of unreasonableness. Even if you scale that top line growth back a bit and shave a bit off the multiple, you could still easily justify a price well into the $60's.
Could Carnival's stock double-and-change by 2017?
You bet.
The "Bad" Scenario
For the bad scenario, let's say that this is as good as it's ever going to get for Carnival. Let's say that there's a mess like the Concordia or Triumph every year, and Carnival has to keep rolling out margin-destroying incentives to keep their bookings *pinkie-to-mouth* afloat.
So let's say that margins never again get above 10%. And then let's say that the top line grows at an average of just 4% per year, a little less than population + inflation as passengers slowly get turned off of cruising as a form of leisure.
That gets us up to around $15 billion of revenue in 2017. That's roughly $1.5 billion in net profit, and just under $2/share. In the bad scenario, we'll assume the market doesn't like CCL as much. So let's use a 17x PE, which is what the stock sported in both 2007 and 2009, on either side of the crisis, as well as where it's currently at today.
That generates a target of $34/share in 2017, which is pretty disappointing considering the stock is trading around $33 today.
BUT GUESS WHAT!
You're collecting a 3% dividend every year.
Yes, Carnival is something of a dividend stock now. (Full disclosure, I do own Carnival in my Dividend Income portfolio right now -- not because of the yield, but because of the total return prospects.)
Debt is a risk for dividend sustainability, and Carnival has always had debt because cruise ships are massively expensive to build. If we're being honest, getting crushed by its creditors would really be the "bad scenario" that could really sink the stock. Fortunately, the debt/equity ratio is only 0.3 right now, and it navigated the financial crisis without blowing up. So I wouldn't be too worried about debt with Carnival.
It did kill the dividend in 2009, however, and in a future major global slowdown that forced them to batten down the hatches, it'd almost certainly kill it again. A payout ratio of 80% isn't something to be afraid of on its own, but this is not the type of business I'd trust to pay me income every year. At some point, however, once the cruise market truly matures, it certainly could be a boring ol' dividend mainstay.
Think twice before using CCL as an income stock. Just know that the dividend is there to give you a little something in the event that the stock goes nowhere for a while.
The reality for Carnival is probably somewhere between our good scenarios and bad scenarios. Carnival doesn't have the upside that a lot of growth companies have in the market right now. But, it's intriguing in that the risk is considerably lower than many may be thinking with a stock that's literally drowning in bad press.
Another Way (The Only Other Way)
Royal Caribbean is a different way to play the same basic trends we discussed, of course. RCL is down this week as well on concerns that its margins will be weak too. These guys are basically the exact same company as Carnival, however, there are a few key differences.
First, RCL is a cheaper stock on pretty much any metric.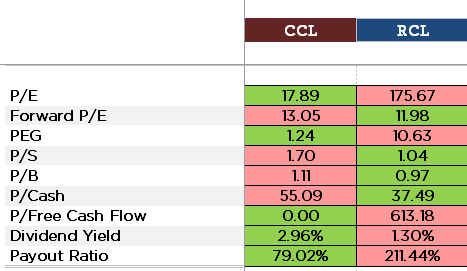 The catch, however, is that it has a whole lot more debt. It also has substantially less institutional ownership. Institutional owners tend to have much longer investment horizons and tend not to react in response to short-term volatility.
Management at Carnival has also done a better job controlling its margins in recent years than RCL. Royal Caribbean is struggling right now, but investors don't seem to be too worried as the stock is up nearly 100% since late 2011.
For what it's worth, I prefer Carnival to Royal Caribbean. But you can always own them both and get access to an entire industry through two stocks.
In Conclusion
My favorite types of investments aren't the ones where I stand to make the most money. And the truth of the matter is that there isn't really massive opportunity to make massive money in Carnival.
No, I get really excited about the opportunities where the risk/return characteristics are skewed meaningfully in one direction. That's very likely the case with Carnival.
If you're embarking on Carnival as a short-term play, I think it's an intriguing trade with a strong chance to recover towards $40 by next year and with extreme technical support this year at $30.
As a long-term investment, it gets even more interesting because of all the positive tailwinds. You have to make some really aggressive, apocalyptic assumptions to think the stock isn't going to have some decent growth in the next five years. The more realistic case is one where the industry top line grows in the high single digits and where margins steadily revert towards historical norms as they wean passengers off incentives. That should easily send the stock on a course to double in 4-5 years.
I realize that may not float your boat, but in risk-adjusted terms, it's a better bet than a lot of opportunities, and probably the market as whole.
As I mentioned, I am long Carnival in one of the portfolios I run right now. Because of the dividend concerns, I'll admit that it's an awkward fit. But Carnival is a total return play with sensible risk and it makes for a good pairing with some of the other names in the portfolio. So much of the time we focus on the type of dividend stock a company has been and we forget about the type of dividend stock a company could become. I'm hesitant to put Carnival in that camp right yet, but I'd be highly surprised if it wasn't some day.
Go ahead and say what you want about the cruise industry -- it certainly isn't for everyone -- but it does offer unquestionable value.
I think the stock offers some value right now too.
Disclosure: I am long CCL. I wrote this article myself, and it expresses my own opinions. I am not receiving compensation for it (other than from Seeking Alpha). I have no business relationship with any company whose stock is mentioned in this article.
Additional disclosure: For additional disclosure, see here.