The markets came back from what could have been a very ugly day yesterday and commodities did in fact join the party. We are in a situation where market participants are getting antsy with what the Fed's plans may or may not be and a bit of paranoia is setting in, for better or worse. Our play is to take the Fed at its word and look to the facts for clarity...all of which tells us the Fed will continue to be buyers of debt securities and at least in the neighborhood of their current levels. On days when the markets doubt the Fed, believe in the Fed and be a buyer...if not because a believer in 'Big Ben' then do so because of the realization of the tremendous amount of buying interest on the sidelines. That is the lesson one should take away from yesterday.
Chart of the Day:
The US dollar is strong, maybe too strong for its own good and this chart of the Australian dollar kind of makes our point. We are at some important support levels here and any further strength in the US dollar could be very bad news for commodities and commodity pricing. 'King dollar ' might attract too much capital is strength remains and more join the easing party.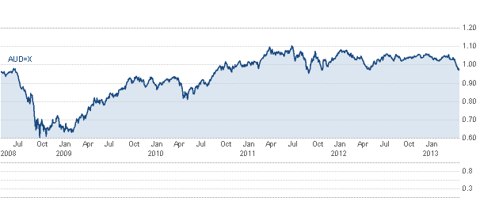 Chart courtesy of CNBC.com
Commodity prices this morning are as follows:
Gold: $1385.60/ounce, down by $6.20/ounce
Silver: $22.39/ounce, down by $0.118/ounce
Oil: $93.62/barrel, down by $0.63/barrel
RBOB Gas: $2.817/gallon, down by $0.0111/gallon
Natural Gas: $4.262/MMbtu, up by $0.001/MMbtu
Oil & Natural Gas
The market got its first taste of results in the Utica from Halcon Resources (NYSE:HK) yesterday and the news did little to help the stock. Shares finished the session lower by $0.54 (8.91%) to close at $5.52/share on volume of 17.6 million shares, well above the daily three month average. The company is using a 60-day resting period for its wells which seems to be what many in the area have adjusted their policies to and has a pipeline of wells that shall come online in the next few months. We did find it encouraging that Halcon did not seem to have any issues getting their wells tied into infrastructure and thus being able to sell their production. One point we would like to make this morning is that not all wells are created equally and this holds true with Halcon. They are in fact drilling some wells which are around half as long on the horizontal as the elephant wells drilled by others in the play. That is important to remember.
This has sure been an ugly chart as of late...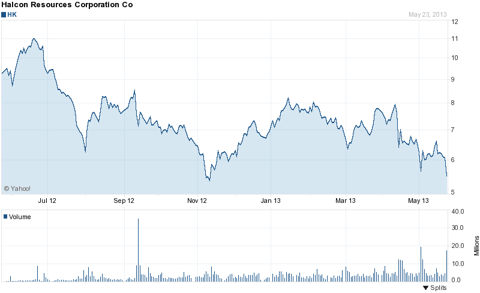 Chart courtesy of Yahoo Finance.
One of our favorite names in the Utica and the E&P sector overall, PDC Energy (NASDAQ:PDCE) was initiated at RBC Capital Markets yesterday with an 'Outperform' rating and a price target of $65/share. The brokerage likes the name because of the high organic production growth rates and exposure to the Utica. Now readers know we recently exited our position here once again due to a 20% rise in less than 20 days (not sessions mind you) and felt the need to take the profits. On a valuation basis it is on the more expensive side here, especially with some questions still surrounding midstream capacity out west but long-term we really do like the risk-reward. Buy on dips and sell some on the rips. It has worked well thus far.
We know that many of our readers search for yield and good solid names which provide good growth with steady cash flow. With that said we have been looking around trying to find names offering decent value after the big run-up over the past year and a good solid dividend. Yesterday BP (NYSE:BP) caught our eye as it has risen less than other names due to the lingering effects of the Gulf oil spill but we think that with the 5% yield and current valuation that it is an intriguing long-term investment proposition for those looking for an addition to their retirement accounts or portfolios where dividends are to be reinvested. It is something we are looking at seriously ourselves.
We like this name here, but a dip to $40/share is most certainly a buying opportunity.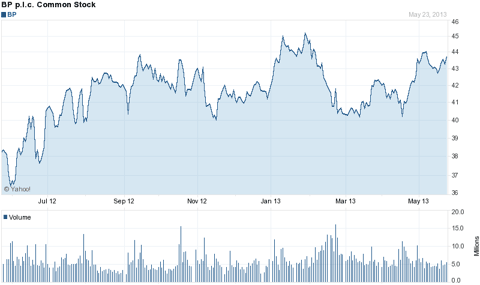 Chart courtesy of Yahoo Finance.
Uranium
Last night we ran across news that suicide bombers in Niger had attacked a uranium mine owned by Areva in the country and a military base. The attacks were in response to the events in Mali where Islamists took over a portion of the country before French troops moved in to neutralize the insurgents and return the area to government control. This is the latest in retaliation attacks and highlights the geopolitical risk associated with mining projects around the world. What it also highlights is just how valuable mines located in North America and Australia are and thus highlight the value such companies as Cameco (NYSE:CCJ) and Uranium Energy Corporation (NYSEMKT:UEC) provide with their exposure to North America and its friendly locales. During the last uranium bull market investors paid up for those names which could bring projects online quickly, thus African projects received rich valuations and rightfully so. However, it is our belief that this cycle shall be different with geopolitics serving a greater role in the valuation models. We would be bullish on all things uranium though and not write off any companies based solely on the possibility of attack or confiscation because as we have learned over the past few years it can happen anywhere. This link provides coverage from The Australian newspaper on the bombings.
Disclosure: I am long HK. I wrote this article myself, and it expresses my own opinions. I am not receiving compensation for it (other than from Seeking Alpha). I have no business relationship with any company whose stock is mentioned in this article.