Breitburn Energy Partners LP (BBEP) is an independent oil and gas limited partnership. It acquires, explores, and develops oil and gas properties for the purpose of generating cash flow to ultimately distribute to its unit holders. It is currently paying about a 9.8% distribution/dividend (form K-1). It is a relatively safe stock as it has about 79% of its production hedged for FY 2013. 77% of oil production is hedged at $93.00/bbl and 81% of natural gas production is hedged at $5.79/MMbtu. NGLs production, which amounts to only 4% of total production, is unhedged.
Furthermore Nymex natural gas futures (June 2013) closed at $4.261/MMbtu on May 23, 2013. This is up substantially from the 2012 nadir of about $1.90/MMbtu. This bodes well for the future earnings and revenues from BBEP's natural gas production. Plus, it does contribute substantially in the case of the 19% of unhedged natural gas production in 2013. The hedging chart for the next several years is below.
Click to enlarge images.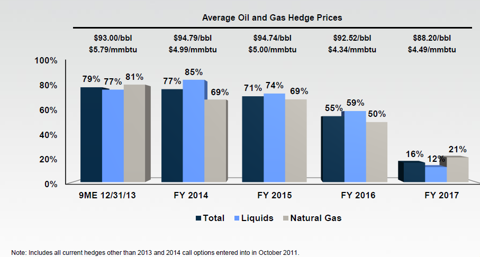 At the moment if appears that the call options for 2013 and 2014 that BBEP footnoted will turn out to be hedging losses. Since this is a limited duration problem, investors should not make too much of this. Besides, no one knows what 2014 will bring with all of the current QE by the central banks around the world. Energy prices could go up.
Of more concern is the recent poor Q1 2013 performance. BBEP increased total net production to a record high 2.35 MMBoe. This is an 18% increase from Q1 2012. It increased net liquids production to a record high of 1.21 MMBOE (51% of production). This was a 40% increase from Q1 2012. However, it increased adjusted EBITDA to just $64.1 million. This was a 4% increase from Q1 2012, but it was a dramatic fall from the Q4 2012 adjusted EBITDA of $78 million. The company attributed this to several factors:
The company had significantly lower strike prices in Q1 2013 on its WTI, Brent, and natural gas hedges. These were $98.80/bbl, $105.46/bbl, and $7.12/Mcf respectively in 2012. The same strike prices for 2013 are much lower at $89.21/bbl, $97.57/bbl and $5.87/Mcf, respectively. It is easy to see why profits fell in Q1 2013 from Q4 2012. In some cases the above prices were as much as 18% lower. Realized prices overall for oil in Q1 2013 were $83.50/bbl vs. $93.83/bbl in Q4 2012.
NGLs, which are unhedged (and 4% of total production), fell from about 53% of the WTI price in Q4 2012 to approximately 30% of the WTI price in Q1 2013. In other words they almost halved. Realized NGLs prices for Q1 2013 were $26.32/Boe.
The company also had weak oil differentials in Wyoming and Texas, and weaker natural gas differentials in Michigan. In other words prices were substantial lower than the Nymex prices.
BBEP had and has ongoing curtailment of production problems from certain Texas fields acquired in July and December 2012.
The net result of all of this is that BBEP had a Q1 2013 distribution coverage ratio of only 0.67x. This was well below its target range of 1.1x to 1.2x. However, I should qualify this by pointing out that this figure would have been 0.83x if you left out the effects of the $14.95 million common equity offering in February 2013 and a $200 million high yield bond offering done in the fall of 2012. Still, both of these actions did positively effect the long term financial position of the company. Plus, the company did declare a $0.475 per unit distribution/dividend for Q1 2013 even though its had a Q1 2013 net loss of $36.3 million (or $0.38 per diluted share). Much of the damage was from unrealized hedging losses (a mirage) and lower realized hedging gains ($22.5 million for Q4 2012 vs. only $5.1 million in Q1 2013). Distributable cash flow was only $32.1 million in Q1 or approximately $0.32 per unit (vs. the distribution of $0.475).
The good news is that BBEP's capital development program (drilling and re-drilling 135 wells in five states) has been doing better than expected so far this year; and it appears that is likely to continue. Plus a lot of the good results has been coming from BBEP's California oil fields, for which it gets Brent prices. BBEP plans to grow liquids production in FY 2013 by over 35%. Hence BBEP has reaffirmed its 2013 production guidance of between 9.5 million and 10.1 million Boe, of which it said 51% will be oil and 4% will be natural gas (or FY 2013 55% liquids versus a Q1 2013 production of 51% liquids -- both oil and NGLs). BBEP has done this even in the face of the curtailment problems, which are expected to continue for another quarter or two and some harsh winter weather problems. This is good news; and BBEP seems to be being conservative in their estimates.
Furthermore, BBEP contends that Q1 is always the worst distribution coverage quarter. It expects Q2 to be a significant improvement; and it expects both Q3 and Q4 to have distribution coverage ratios of over 1x. The exact number is hard to specify. The capital program is so far much more successful than predicted. New acquisitions from the second half of 2012 are still being integrated. Plus, BBEP is planning $500 million in new acquisitions for FY 2013. It expects that such acquisitions could potentially add $23 million to distributable cash flow over the course of a year (about $0.21 per unit). This is an extra reason the distribution figures should go up demonstrably in the second half of 2013. They should already be over 1x in the second half of 2013, even without any new acquisitions. Hence the second half of 2013 outlook is bright for BBEP.
I would further point out that the average analysts' EPS growth estimate per annum for the next five years is 22.81%. This is fantastic for an energy MLP. When you consider the 9.8% distribution/dividend on top of the likely stock price growth generated by the EPS growth, you have to like BBEP over the long term. It also has a very low price/book ratio of 1.07 for its energy MLP E&P company category. There is little not to like about BBEP as long as you can stand the near term negativity. It is still very much a buy.
The two-year chart of BBEP provides some technical direction for this trade.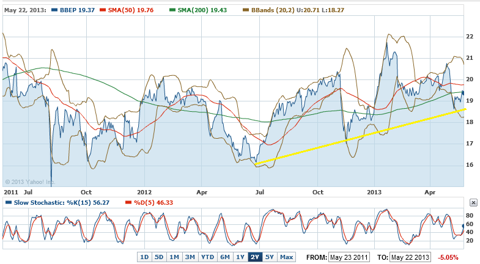 The slow stochastic sub chart shows that BBEP is currently rebounding off a low. It is neither overbought nor oversold. The main chart shows that BBEP is trending slowing and sporadically upward. The yellow line across recent bottoms shows that BBEP appears to be putting in a series of higher bottoms. This is a positive sign. If the fundamentals continue to improve as many expect, BBEP should be able to continue upward.
The CEO has said that he would like to see the dividend yield drop to the 8% range. This is a sneaky way of implying that he wants the stock price to rise. For those who may snidely comment that the CEO's comment means that he is planning to cut the dividend/distribution, I do not believe that is the case. He made a point of bragging about BBEP's consistent dividend raises. BBEP plans to target 5% dividend growth per year. Furthermore, BBEP has raised dividends consistently from the April 28, 2010, dividend of $0.375 per unit per quarter to the April 25, 2013, dividend of $0.475 per unit per quarter.
BBEP is a buy. The average analysts' recommendation is 2.0 (a buy). CAPS agrees with a five-star rating (a strong buy). The only problem I see is that the overall market is overbought. It may be starting a pullback. Such a pullback would likely drag BBEP down with it, especially if oil prices fall. Hence, it may pay to wait to see if the pullback materializes. Alternatively investors could average in over the full year. This would likely yield an overall good entry price to a good growth stock paying a great dividend.
Note: Some of the above fundamental financial data is from Yahoo Finance.
Disclosure: I have no positions in any stocks mentioned, but may initiate a long position in BBEP over the next 72 hours. I wrote this article myself, and it expresses my own opinions. I am not receiving compensation for it (other than from Seeking Alpha). I have no business relationship with any company whose stock is mentioned in this article.