Summary: Realty Income (NYSE:O) is a superior company for a dividend strategy, whether the sub-strategy is current income or accumulating wealth through dividend growth. The company has paid monthly dividends without a miss since 1970, and it has raised dividends for 47 consecutive quarters--almost 12 years.
It would be hard to find a company more singularly focused on delivering dividends to shareholders. Calling itself "The Monthly Dividend Company®," Realty Income describes its business as "…generat[ing] dependable monthly income by owning the freestanding properties of regional and national retail chains under long-term lease agreements."
Type of Company and Stock:
In Morningstar's Style Box, Realty Income is classified as a mid-cap core company, meaning that the stock displays characteristics of both "growth" and "value" stocks. The company is a real estate investment trust (REIT), operating since 1969 and traded on the NYSE since 1994. Its specialty in the REIT world is the purchase and leaseback of commercial retail real estate. Its website is accessible
here
.
Company Story and Strategy: Realty Income follows an unwavering, well-developed strategy and executes it exceedingly well. Its playing field is the niche of freestanding, single-tenant properties throughout the country leased to leading regional and national retail chains under long-term net-lease agreements. Realty Income does not build or develop new retail facilities. Rather, it negotiates and executes sale-leaseback agreements, thus providing the retailers with immediate access to capital to fuel their own business growth. In essence, Realty Income allows the retailers to outsource the ownership of their real estate.
This real estate is managed by professionals dedicated to a conservative financial and real estate acquisition strategy. Care is built into every stage of Realty Income's business model. In picking properties, it follows stringent guidelines, seeking proven profitable sites with more than enough ability to generate sufficient cash to cover the lease payments, called "rent coverage." Realty Income looks for a margin of safety in rent coverage in the event the tenant's business deteriorates. If over time a property fails to maintain adequate rent coverage, Realty Income will sell it. In constructing its portfolio of properties, Realty Income strives for geographic diversity, chain diversity, single-tenant properties, middle and upper market retailers of goods and services that consumers use every day, highly profitable locations, preservation of capital and income, and reliable cash flow. All of these practices contribute to the remarkably consistent results that the company has delivered over the years.
The safety-first approach is also reflected in the leases it negotiates. Realty Income signs long-term leases (15-20 years or more) with just one tenant, and that tenant is responsible for all of the taxes, maintenance, insurance, and most operating costs on the properties, hence the term "net-lease." Realty Income thereby minimizes its own expenses related to the properties it owns. As a result, the company has enjoyed average net operating income margins since 2003 of over 98% and negligible maintenance capital expenditures.
Growth comes from built-in rent escalators tied to inflation, plus acquisition of new properties that meet the stringent criteria. Realty Income currently has about $0.4 B at its disposal if attractive acquisitions become available, although it has no new properties under development and has acquired none so far in 2009.
Realty Income currently owns and manages more than 2,300 properties in 49 states, representing 117 retail chains in 30 retail industries (the two that provide the most revenue are restaurants and convenience stores). It has had tenant occupancy rates of 97%+ almost continuously since it began. The current occupancy rate is about 96%, reflecting the economic hardships facing its tenants during the recession. The weighted average remaining lease is about 12 years. Its properties are generally owned for cash and unencumbered by mortgage debt, so there are no mortgage payments to offset lease revenue. The company has no additional debt coming due until 2013.
Realty Income is superbly managed. CEO Tom Lewis was a finalist for Morningstar's CEO of the Year in 2008. This is their own summary of their 2009 business plan:
Pay 12 Monthly Dividends
Raise the Dividend
Maintain a Conservative Balance Sheet
Maintain High Portfolio Occupancy Rates
Acquire Additional Properties
Tell More People About the Monthly Dividend Company
Stay Conservative
Financials: As the company itself states, "Our mission of providing dependable monthly income for our shareholders requires that we maintain a conservative financial structure that supports responsible growth and generates a strong cash flow." The thing that stands out about Realty Income's financial performance is its consistency. It has a 3-year revenue growth rate of 20%, although that has slowed in the past year. The company has achieved average net operating income margins since 2003 of more than 98% with negligible maintenance capital expenditures. It has a conservative capital structure, with debt to total cap of 37%. ROE has been in the 9% to 10% range almost continually for the past 5 years. Analysts forecast growth of 5% annually over the next 3 to 5 years.
Dividends: Realty Income is well aware of its shareholders' interest in (and need for) dividend income. In fact, the company considers its shareholders as "a market" that it serves, stating that it is "dedicated to providing shareholders with dependable monthly income." It has not missed a dividend payment since it began making them in 1970. It pays dividends monthly and regularly increases them, often several times per year. Its current string of increases stands at 47 quarters (almost 12 years). It increased its dividend payout 5 times each year from 2004-2008, and it has made two increases so far in 2009. This chart shows Realty Income's dividend record over the past ten years: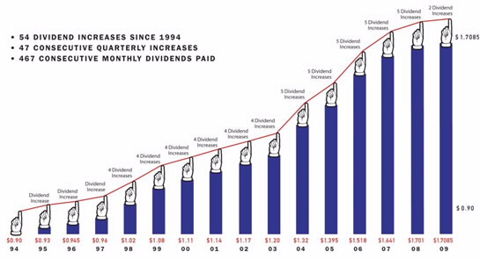 Realty Income's current yield is 7.4% (compared to the S&P 500's 2.8%), and its trailing 3-year average dividend growth rate has been a little over 7%. If that rate of growth were to continue, the dividend return (on initial cost, from dividends alone) would double in about 10 years. Under the
Ten-by-Ten
approach to dividend investing, Realty Income can be expected to be returning 10 percent on initial cost in dividends alone about 4 years after purchase. That can be speeded up by reinvesting the dividends.
I do see two concerns. First, despite its diversification strategy, Realty Income's top 10 tenants represent 45% of its revenue. Second, some of the company's retail tenants currently face very challenging economic conditions. It is not hard to visualize that a few may default on their leases or ask to restructure them. Thus, I would expect to see Realty Income's occupancy rate fall into the low 90%-range, and its growth rate to slow somewhat, over the next year or two.
That said, given the company's strong dividend mission, culture, and history, I would not expect to see any dividend payments skipped, nor the payout cut, during these difficult times. At the time of the latest dividend announcement, CEO Lewis stated, "We are pleased that, despite challenging economic conditions, our operations allow us to once again increase the amount of the dividend we pay to our shareholders. With the payment of the July [2009] dividend we will have made 468 consecutive monthly dividend payments."
The company has announced no plans to pay dividends in stock shares rather than cash, which some troubled REITs have done.
Stock Performance and Valuation: Realty Income's total performance has outpaced the market for the trailing 1-, 3-, 5-, and 10-year periods. It is up almost 3% so far in 2009, a little better than the S&P 500's total return for the year.
The stock's valuation ratios, when blended, suggest the stock is fairly valued at its current price of about $23. Representative indicators include a trailing P/E of 20, Forward P/E of 20, P/CF of 10, and P/B of 2.
Investment Thesis and Conclusion: While near-term growth prospects may not make this a good candidate for a capital-appreciation strategy, Realty Income's wonderful record of dividend consistency and increases, solid business model, strong current assets, and explicit focus on the income needs of its shareholders make it an outstanding pick for investors following a dividend-investment strategy. For investors seeking diversification in their portfolios, Realty Income provides a liquid path to spread into real estate.