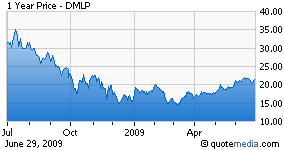 We initiate a buy recommendation on the limited partner units of Dorchester Minerals (NASDAQ:DMLP) for royalty income from oil and gas production including growing proceeds from shale formations unlocked by new technology. The stock offers unlevered appreciation potential of 54% to a McDep Ratio of 1.0 and identical levered appreciation potential of 54% to Net Present Value (NPV) of $32 a share.
Estimated annual distribution yield is 8% despite unusually low natural gas price relative to the already low Henry Hub industry benchmark. The Bakken Shale of North Dakota is beginning to contribute to oil that accounts for 31% of NPV. In our analysis we add production and reserves from the backlog of shale wells to be transferred to the partnership when cash flow is no longer reinvested in new drilling. General Partner Casey McManemin explains the "Minerals NPI" that holds the backlog in his annual presentation to unit-holders.
Developing natural gas volumes from the Fayetteville Shale in Arkansas contributes to a stable volume outlook that boosts NPV. The partnership will also be positioned in the Barnett Shale of Texas when an acquisition announced May 15 closes in a few weeks. Finally, the timing of our buy recommendation appears supported by stock price and long-term oil price moving above the 200-day and 40-week averages potentially signaling an extended uptrend.
Originally published on June 5, 2009.