To say that Potash Corp. (POT) has underperformed the broader market over the last couple of years would be an understatement. If you bought the company in early January 2010, the share price would be about the same today as it was at that time. It hasn't changed much since then either. A January 2012 entry point would has brought the same results as a January 2010 entry point did.
Since the demand for food and desire for better results per acre remain in place, it may be time to take a closer look at Potash as the lack of performance in the midst of the high-flying market may signal the stock is poised to jump.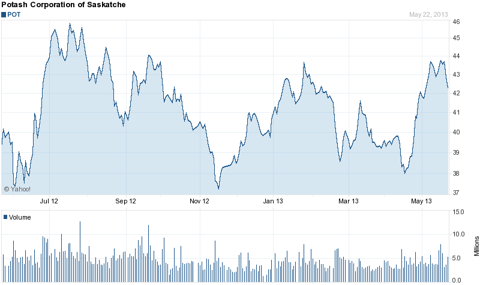 World Potash Supply and Demand
The first element that must be looked at with Potash Corp. is the supply and demand equation. You can see in the chart below that expectations are that potash demand will grow at a steady pace.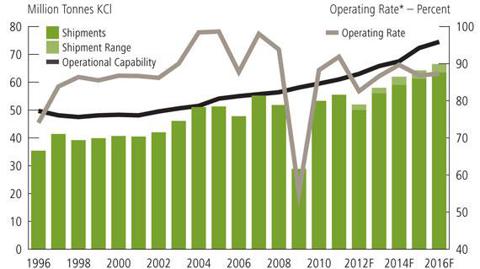 Potash also believes there has been an under-applying of potash around the world, and developing countries will continue to drive growth in the sector over the medium term.
The company also points out that long lead times for bringing on new supply should offer support as demand continues to rise.
That positions Potash Corp. nicely, as it accounts for about 20 percent of global potash capacity, making it the largest potash supplier in the world at this time.
Potash Supply
There is no question on the demand side of potash, as at this time only about 50 percent of arable land in the world is using fertilizer, pointing to the growth potential in the years ahead for all major fertilizers.
Even so, according to the EDC, Potash prices will continue to be under pressure because of existing inventory levels.
"Potash prices will soften in 2013 and into 2014 because of producer inventory levels that are well above average, lower-than-expected Chinese and Indian contract closing prices, and significant capacity increases, both in terms of expansions and new greenfield projects that are coming on line over the next few years."
As for 2013, the EDC believes "potash prices will hold at current levels through most of 2013 and weaken thereafter."
Overall fertilizer sales are projected to rise by 9 percent in 2013 (most of that driven by potash), while in 2014 global fertilizer sales from Canada are expected to drop by about 4 percent. The 9 percent boost this year is "mainly driven by a rebound in U.S. and Indian demand for potash as well as continued robust purchasing by Brazilian farmers."
Chief Executive Bill Doyle says he sees "prices of $470 per ton for potash in Southeast Asia for the third quarter, and prices approaching $450 a ton on a delivered basis in Brazil."
Competition Advantage
In a low-margin environment, there is no doubt Potash Corp. has an advantage over its major competitors.
One example is Agrium (AGU), which has partially focused on building out a strong retail operation. While improving over time, it has weighed on the margins of the company.
Even in the phosphate market Potash has wider margins than key competitor Mosaic (NYSE:MOS). The reason for that is Potash has focused on the more profitable feed and industrial market.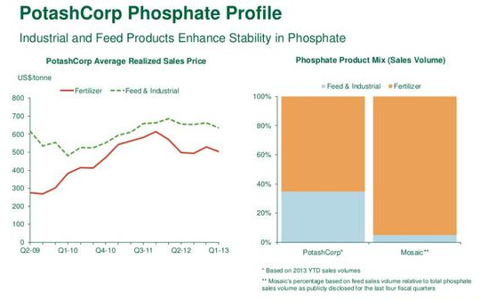 Some pressure will remain on Potash Corp. in the medium and long term as new competitors are rising, with junior mines in China and India getting closer to production, as well as Chinese imports from other countries like Laos.
That could pressure potash sales at the giant fertilizer company over the next several years.
The good news for Potash Corp. is it is in a strong position to take on competitors because of its wide margins. That and its ability to endure long-term battles puts it in a better position than its peers.
Call Contracts
This week Potash had a record number of call contracts traded, with "2.7 call contracts traded for each put contract yielding a 0.37 put/call ratio where 5,593 put and 15,163 call contracts exchanged hands."
That could be important because it usually means traders are expecting a change in prices and so will adjust their portfolios accordingly. In other words, a shift in the share price of Potash is expected soon.
It could challenge the thesis of the EDC as to the length of time potash prices will hold. Traders appear to be saying by their actions that a weakening in prices could happen sooner.
Expansion
With low margins, excess supply and low prices, Potash CEO William J. Doyle says it makes no economic sense to build new mines.
He even recently gave advice to BHP Billiton (NYSE:BHP) concerning giving the possible go-ahead to start work on its proposed 8-million ton potash mine in Western Canada, reiterating that the economics of that project don't make sense in the current environment.
Since Potash Corp. is sitting on so much product now, this isn't something to be concerned with, although low margins over a period of years could start to be of some concern. Of course any contraction of supply will move prices up, so that's just a matter of the market sorting things out.
For now, Potash will work from its known reserve base, and that should be adequate for a long time, even though emerging markets will continue to demand more fertilizer.
That means capex should drop until markets change.
Dividend Boost
Dividends are always a measure of the confidence the leadership of a company has in the future, and in that regard Potash Corp. believes its future is a bright one.
Over the last several years it has raised its dividend by over 700 percent, providing a yield of 3.20 percent as I'm writing. The dividend stands at $1.40. Potash recently gave the dividend a 25 percent shot to bring it to where it stands today.
Its latest earnings report confirms the fundamentals of the company remain intact, as earnings climbed 13 percent in the first quarter year-over-year, reinforcing the future narrative of the company.
Conclusion
Potash has lagged while many other sectors of the market have soared. With the underlying fundamentals of the company remaining strong, and continuing to operate in its core business at margin levels its competitors can't approach, it's a little puzzling as to why the shares of the company haven't taken off (although they shot up over the last month).
It appears the major reason is the uncertainty surrounding the pricing power of potash. The question is whether prices will hold through the rest of 2013, or they'll come under pressure before the expected 2014 time period.
Whichever happens, Potash is the strongest-positioned company in the sector, based upon its margins.
Long term, even with some smaller, emerging competitors, the future of Potash looks bright, and when the rebalancing of prices becomes more clear, we'll get a better indication of where the company is headed.
Based upon nothing else but the company performing as well as some other equities and not being rewarded for it, Potash could make a nice short-term move.
Over time, the good dividend and ensured future growth make Potash a company to look at to hold for the long term.
Disclosure: I have no positions in any stocks mentioned, and no plans to initiate any positions within the next 72 hours. I wrote this article myself, and it expresses my own opinions. I am not receiving compensation for it (other than from Seeking Alpha). I have no business relationship with any company whose stock is mentioned in this article.