As rooftop solar becomes more popular in the U.S., electric utilities are feeling the squeeze. The first concrete evidence was this May 10th article that describes the concern of utilities; they have realized that solar is costing them to the tune of 1.3 billion dollars a year, by their own estimate, in California alone. In the words of an Edison International spokeswoman, solar users are "still using the distribution grid and other utility services, minus generation, but do not pay their share."
Let's examine her statement. Below is a diagram of the traditional electric grid. Notice how the power plants are connected to the residential network with a series of substations, high voltage lines, and low voltage distribution. These high voltage lines are necessary for a power plant to efficiently transmit energy.
Grid for traditional energy generation: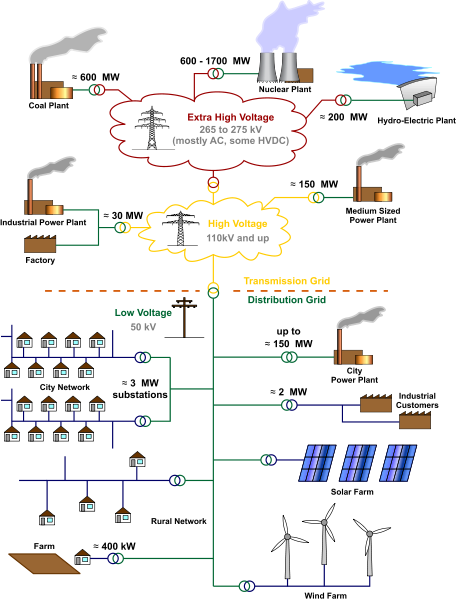 Here is the same diagram, modified for distributed solar. The parts of the grid that are unnecessary have been blacked out.
Grid for distributed solar:
All of those substations and high voltage lines are unnecessary for distributed solar because the energy is consumed near its production. So, the implication of the spokeswoman's statement is untrue. Rooftop solar generation uses just a small fraction of the grid.
The spokeswoman also skips some of the negative externalities of traditional power generation. Traditional electricity generation has a negative impact on the environment and the health of us all, and that impact is not reflected in its price. There are two sides to this coin.
This brings me to my first point: if we are to intelligently transition our electric grid to the next generation, policymakers cannot rely on the talking heads for guidance. Engineers and scientists need to guide this transition.
The second half of the Bloomberg article describes a lobbying group that was formed by SolarCity (SCTY), Sungevity, Sunrun and Verengon. These are some of the largest solar installers. Their goal, of course, is to preserve the net metering agreements that make solar power quite profitable. The return on investment from solar panels varies widely and it has been hard for me to find a good average. I have seen estimates of solar ROI ranging from 8% to 20%. That certainly beats Treasury yields and, depending on the year, may beat the stock market.
The bottom line for investors:
Now is a good time to buy solar hardware because it is profitable and those government incentives won't be around forever if the utilities have their way. Investors in solar securities such as First Solar (NASDAQ:FSLR), SolarCity , and SunPower (NASDAQ:SPWR) need to keep their ears to the ground in case this debate intensifies.
Disclosure: I have no positions in any stocks mentioned, and no plans to initiate any positions within the next 72 hours. I wrote this article myself, and it expresses my own opinions. I am not receiving compensation for it (other than from Seeking Alpha). I have no business relationship with any company whose stock is mentioned in this article.
Additional disclosure: I am long SPWR.