Analysts said Monday that Shaw Communications Inc.'s transition toward offering wireless services is becoming a matter of "when" not "if."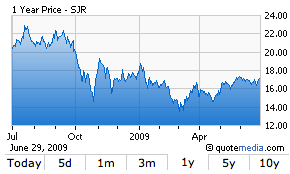 Until now, the Calgary-based cable operator's management had been speaking about whether Shaw would enter a wireless market where start-up costs are enormous and the scale of competition even more so (Shaw reported revenue of $861-million in its third-quarter earnings release Friday. Revenue for Rogers Communications Inc. (NYSE:RCI) last quarter was $2.7-billion).

Rhetoric at Shaw shifted on last week's earnings call, said UBS Securities analyst Phillip Huang, who said in a note Canada's second-largest cable TV company "seems to believe that entering the wireless business is inevitable given the industry's evolution."

Management gave no definitive dates or guidance on the call. But the change in tone still made an impact with Mr. Huang, who said the looming move "elevates the uncertainty of [Shaw's] earnings and cash flows."

Additionally, the sizable cash outlays required to build a wireless network could mute the company's dividend growth over the next 18 months, said the analyst, who left his Neutral rating on the stock unchanged and a price target of C$20.

Shaw, the second-largest cable TV company in Canada, is one of a handful of cable and phones companies that won a chunk of wireless spectrum in last summer's federal election that will allow it to offer mobile-phone or Internet services, pitting the company against entrenched industry rivals Rogers, as well as Bell Canada Inc. and Telus Corp. (NYSE:TU).