In my previous biotechnology industry article, A Journey To Add Biotech To The Portfolio, I investigated the biotechnology industry to find some companies that might be worth investing in. Without repeating the entire article I created a stock screener and did some additional number crunching to develop a list of companies with a market capitalization under $500 million with plenty of cash on hand to fund operations for over 18 months and a strong presence of institutional investors. I also looked for companies that had products in phase II or III clinical trials that might be a catalyst for increases in stock prices. I also wanted the cash position of the company to account for at least 15% of the market cap as a way to judge how much expectation for future revenue is already incorporated into the share price. That article left me with a strong list of six companies to investigate: Oncothyreon (ONTY), Galena Biopharma (GALE), Threshold Pharma (THLD), Vical (NASDAQ:VICL), Rigel Pharma (RIGL), and Spectrum Pharma (NASDAQ:SPPI). In this article I wanted to delve deeper into one of these uncovered gems to see how strong the product pipeline is for the company. I picked Vical Inc. because it carries a cash hoard to sustain operations for over four years based on the current cash burn rate. I like the level of cash because it leads me to believe the risk of them having to issue debt or additional shares is low before they can get one of the products to market.
Vical
Before we look at the science and upcoming products from Vical I want to go over the couple items that make the stock interesting from a more fundamentals perspective. Vical is a small biotechnology company with a current market cap of approximately $310 million. 27% of that market cap is held in cash by the company and Vical has no long-term debt. According to the financial statements for the last fiscal year of the company it burned around $17.5 million in cash. At the current cash level of almost $84 million the company could continue to go through cash at that rate for over 4.5 years. This is important because it means the company has plenty of cash to fund operations until it can start producing products that generate profits. In several articles about the biotechnology industry it was stated or implied that following the "smart money" of institutional investors was a strong strategy for success. Vical has approximately 45% institutional ownership and that ownership has been fairly consistent for the last two quarters reported on Fidelity.com. Vical seems to fit the mold of a healthy biotechnology company with enough resources to fund its research through commercialization. Vical has several products in its pipeline - one getting ready to report on its phase III clinical trials, two more entering phase III, one in phase II, and two more in preclinical trials. This is an impressive depth of product development for a small cap company and could lead to equally impressive revenue streams.
Vical Inc. "researches and develops biopharmaceutical products based on our patented DNA delivery technologies for the prevention and treatment of serious or life-threatening diseases" (Vical.com). The DNA delivery technology is complex but the basic idea is the plasmid DNA can be injected into the skin or skeletal muscles where the DNA enters the cells and the cells start producing the protein encoded in the DNA. This produces possible vaccines for infectious diseases and cancer as well as immunotherapeutic advances to help the body repair the damage caused by diseases such as cardiovascular disorders. It helps the body to either recognize the disease as something it wants to fight or program it to repair the damage caused by the disease.
Below is a screen shot from the Vical Inc. web page on the product pipeline.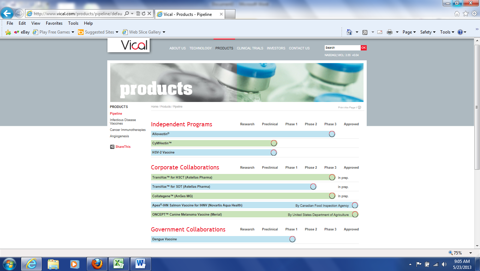 You can see that the company has an impressive number of therapies approved or entering phase III clinical trials with other corporate partners. The company's business strategy appears to be to cast a wide net of uses for its DNA technology in several disparate markets. Two products are already approved - one that is aimed at the Canadian farmed salmon industry and one for the US pet industry. These were developed in collaboration with other companies and the revenue appears to be very weak for Vical.
To me the product Collategene is the most interesting of the corporate collaborations. This product has already completed a Phase III Trial in Japan with superior results over the placebo group in this double blind study. The Phase III clinical trial earned the "Fast-Track" designation for Collategene (evaluategroup). The estimated potential of this therapy is $2 billion in annual sales, according to Vical. The phase III clinical trial was approved in 2010 but in March of 2013 it announced the approval for a revised SPA (Special Protocol Assessment) (AnGes Inc.). I am new to the biotechnology industry but this concerns me - the ability for Vical to move this product to commercialization. I would not incorporate this product into future revenue projections at this point.
The TransVax CMV Vaccine is entering the phase III clinical trial for hematopoietic stem cell transplant (HSCT) recipients and a phase II clinical trial for solid organ transplant (SOT) recipients in 2013. The phase II clinical trials for HSCT were promising with improved cellular and antibody responses vs. the placebo at later time points, sustained at one year (Vical.com). The potential market for this vaccine is approximately $500 million and growing by 12% annually (giiresearch.com). This could generate strong profits for the company but is not expected to reach the market until 2016.
Now looking at the independent research, Allovectin has completed the phase III clinical trial and is set to report its findings in August of this year. This is the short-term catalyst for the company. Allovectin is addressing advanced melanoma which is a relatively small portion of the market but one that is underserved and is estimated to be worth approximately $2.5 billion (Stephen Simpson). Being independent Vical would garner a larger profit margin on this product if it is approved by the FDA. I think this is the short-term catalyst for Vical. If the report is positive we could see a strong upside movement for this stock. It would not be unreasonable to expect a successful release of Allovectin could be worth upwards to $500 million in annual sales and 20% market share. Even if we conservatively expect 10% market share that would equate to $250 million in annual sales. The product itself is easily administered in the doctor's office and must be refrigerated but the ease of storage and administration should allow this product if brought to market to capture a decent amount of market share.
My conclusion is Vical is in a strong financial position and should not need to raise additional capital before Allovectin and TransVax can be commercialized. 45% of the company is owned by institutional investors meaning the "smart money" is already betting on this stock. Beyond the top two products Vical has a strong pipeline of different products and appears to be a strong candidate for being undervalued.
Disclosure: I am long GALE. I wrote this article myself, and it expresses my own opinions. I am not receiving compensation for it (other than from Seeking Alpha). I have no business relationship with any company whose stock is mentioned in this article.