Infrastructure master limited partnerships have become increasingly popular due to competitive yields, tax sheltered distributions and increased growth potential due to greatly increased oil and gas production.
As basically toll roads for energy related fluids, they stand to benefit by improving economic conditions. As yield alternatives to some investors who might otherwise have purchased bonds, they may experience some negative forces from those investors rotating back to bonds as interest rates rise once the Fed stop suppressing rates. As tax sheltered investments, they are experiencing some positive forces due to recent tax hikes.
As beneficiaries of tax preference rules, they may be subject to some adverse changes in tax legislation if Congress actually gets around to tax simplification -- but we suspect that neither will Congress simplify anything, nor will they see this area of tax preference as appropriate for reduction. Instead there are bills in Congress to extend similar tax benefits to a wider range of energy related investments.
The Alerian Infrastructure MLP index tracks 25 leading MLPs in the energy pipeline, storage, terminalling and gas processing mid-stream sector.
In alphabetical order by symbol, the index constituents are:
| | |
| --- | --- |
| ACMP | Access Midstream Partners LP |
| APL | Atlas Pipeline Partners, L.P. |
| BPL | Buckeye Partners, L.P. |
| BWP | Boardwalk Pipeline Partners, LP |
| DPM | DCP Midstream Partners, LP |
| EEP | Enbridge Energy Partners, L.P. |
| EPB | El Paso Pipeline Partners, L.P |
| EPD | Enterprise Products Partners L |
| ETP | Energy Transfer Partners LP |
| GEL | Genesis Energy, L.P. |
| KMP | Kinder Morgan Energy Partners |
| MMP | Magellan Midstream Partners, LP |
| MWE | Markwest Energy Partners LP |
| NGLS | Targa Resources Partners LP |
| NS | NuStar Energy L.P. |
| OKS | Oneok Partners LP |
| PAA | Plains All American Pipeline, LP |
| PVR | PVR Partners LP |
| RGP | Regency Energy Partners LP |
| SEP | Spectra Energy Partners, LP |
| SXL | Sunoco Logistics Partners L.P. |
| TCP | TC Pipelines, LP |
| TLLP | Tesoro Logistics LP |
| WES | Western Gas Partners, LP |
| WPZ | Williams Partners L.P. |
This table presents those 25 MLPs along with several attributes:
allocation weight within the index
indicated yield
5-yr distribution growth rate
3-yr distribution growth rate
1-yr distribution growth rate
ratio of 3-yr standard deviation to 3-yr total return
2008 total return
debt to capital ratio
Wright Quality Rating
Thomson Reuters StarMine Rating
3-month average dollar trading volume per minute
BarChart.com technical rating
weighted indicated yield of the index
weighted StarMine Rating of the index
(click image to enlarge)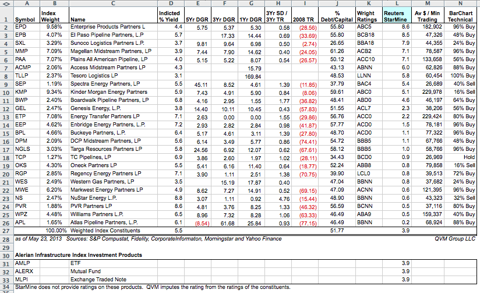 Below the MLP table within the image are listed 3 investment products that track the index: AMLP (an ETF), ALERX (a mutual fund) and MLPI (an exchange traded note). We have imputed a "StarMine" rating to each of those three products to be the same as the weighted StarMine rating of the constituents.
The MLPs are listed in descending order according to the StarMine rating (best on top). Only 5 of the 25 have a bullish rating. They are EPD, EPB, SXL, MMP and PAA. Fully 14 have a bearish rating. On a weighted basis the index (and by indirection, the index tracking ETF, mutual fund and ETN) have marginal neutral ratings of 3.9, approaching bearish.
See an explanation of the StarMine and Wright ratings systems on our blog at this link.
Based solely on the data in the table (you need to explore additional data not shown here), SXL appears to be the most interesting. Although it has the lowest yield of the top 5, and the lowest short technical rating (a weak Buy), it may be a good pickup on a dip.
It has the lowest leverage level, which means it may have more room to grow by acquisition, or to finance or refinance at better rates. It has a nice consistency to its distribution growth rate. It has the highest overall quality rating from Wright, and is bullish for year ahead performance. As the charts below show, it also has the lowest EV/EBITDA valuation of the top 5 MLPs in the list.
Here are price, distribution and valuation charts from YCharts.com for the top 5 MLPs.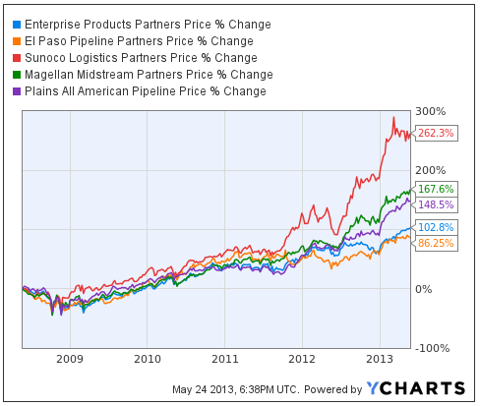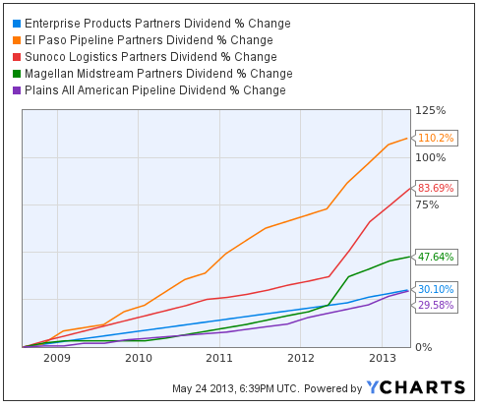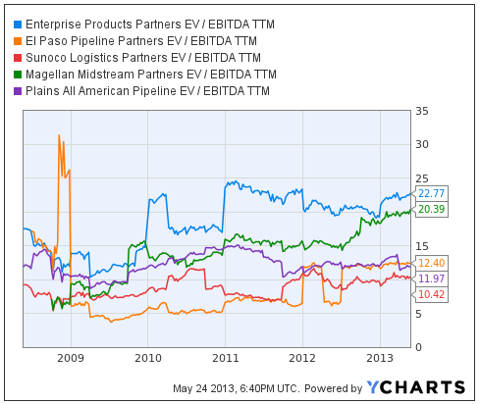 As our favorite of the group at this time, here is the self-description of SXL from its last 10-K filing.
Note from this description that this is not a play on the natural gas boom. Also note that they have some commodity price exposure that some other MLPs do not.
We are a Delaware limited partnership which is principally engaged in the transport, terminalling and storage of crude oil and refined petroleum products. In addition to logistics services, we also own acquisition and marketing assets which are used to facilitate the purchase and sale of crude oil and refined products. Our portfolio of geographically diverse assets earns revenues in 30 states located throughout the United States. Our reporting segments are as follows:

The Crude Oil Pipelines
Transport crude oil principally in Oklahoma and Texas. The segment consists of approximately 4,900 miles of crude oil trunk pipelines and approximately 500 miles of crude oil gathering lines that supply the trunk pipelines.

The Crude Oil Acquisition and Marketing
Business gathers, purchases, markets and sells crude oil principally in the mid-continent United States. The segment utilizes our fleet of approximately 200 crude oil transport trucks, approximately 120 crude oil truck unloading facilities and third-party assets.

The Terminal Facilities
Consist of an aggregate crude oil and refined petroleum products storage capacity of approximately 40 million barrels, including the 22 million barrel Nederland, Texas, crude oil terminal; the 5 million barrel Eagle Point, New Jersey, refined petroleum products and crude oil terminal; approximately 40 active refined petroleum products marketing terminals located in the northeast, midwest and southwest United States; and several refinery terminals located in the northeast United States.

The Refined Products Pipelines
Consist of approximately 2,500 miles of refined products pipelines and joint venture interests in four refined products pipelines in selected areas of the United States.

Our primary business strategies focus on generating stable cash flows, increasing pipeline and terminal throughput, utilizing our crude oil gathering assets to maximize value for producers, pursuing economically accretive organic growth opportunities and improving operating efficiencies. We believe that these strategies will result in continued increases in distributions to our unitholders.
Here are graphical representations of overall "Street" opinions of SXL from 4-Traders.com. It is in Hold territory, with an upward bias.
Unfortunately, the price change to the lowest target price is large relative to the price change to the average and high target.
S&P may or may not be in those "Street" data. They give SXL 4 Stars for year ahead performance, and assign a $71 12-month target price, versus the $66 average "Street" target price.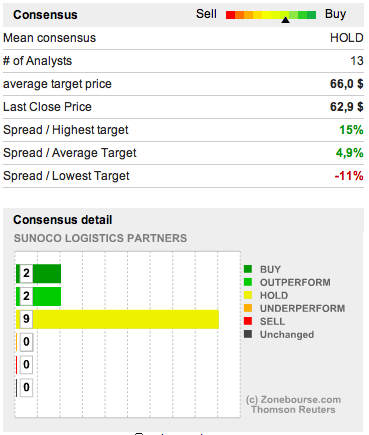 Also from 4-Traders is this graphic showing the high, low and average target price over time, as well as the incidence of upgrades and downgrades. The target is still rising, but the number of upgrades is dwindling, and some downgrades are cropping up.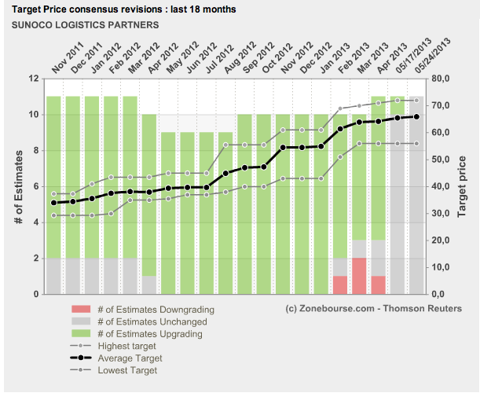 We like the MLP category and currently have our exposure to MLPs through other vehicles, but may add individual MLPs to some accounts. Not all account investment policies permit use of MLPs.
Disclosure: QVM has no positions in any mentioned security as of the creation date of this article (May 24, 2013). We certify that except as cited herein, this is our work product. We received no compensation or other inducement from any party to produce this article, but are compensated retroactively by Seeking Alpha based on readership of this specific article.
General Disclaimer: This article provides opinions and information, but does not contain recommendations or personal investment advice to any specific person for any particular purpose. Do your own research or obtain suitable personal advice. You are responsible for your own investment decisions. This article is presented subject to our full disclaimer found on the QVM site available here.