Even with the Nikkei 225 plunging over 1,100 points Thursday, analysts remain positive that ongoing "Abenomics" will fuel economic growth, arguing that the temporary setback in Japanese equities and exchange traded funds is a healthy correction.
"The decline in the Japanese stock market, though significant, should be considered a healthy correction," writes David Kelly, Chief Global Strategist at J.P. Morgan Funds, and Yoshinori Shigemi, Executive Director Global Market Strategist at J.P. Morgan Funds, in a research note.
"Market Corrections remind us of the importance in maintaining portfolio diversification and a long term focus, which can help prevent investors from overreacting to short term movements in particular markets," the analysts added.
The analysts argue that investors could see some volatility in the near-term and should focus on the real economy and political environment. For instance, the U.S. recovery and stronger U.S. dollar will continue to support Japanese exporters.
"We continue to like Japanese equities because 'Abenomics' has already improved confidence, lowered the yen, and boosted cyclical areas of spending potentially setting up positive feedback loops," the analysts said.
Looking ahead, approval for Abe's administration is above 70%, which should help the Abe push ahead with his "Third Arrow" structural reform, including deregulation, free trade agreements and lowering corporate taxes.
Nevertheless, the analysts also point to two potential hurdles: the Bank of Japan open market operations has so far failed to keep JGB yields at low levels, and the government's decision on raising consumption tax from 5% to 8% in April 2014.
The WisdomTree Japan Hedged Equity Fund (NYSEARCA:DXJ) was down 4.9% in afternoon trading Thursday and the iShares MSCI Japan Index Fund (NYSEARCA:EWJ) was down 4.7%. DXJ is up 42.7% year-to-date and EWJ is up 24.4% so far this year.
"Investors should not just chase top performers this year and this is a good example," said Todd Rosenbluth, director of ETF Research at S&P Capital IQ.
The CurrencyShares Japanese Yen Trust (NYSEARCA:FXY) was up 1.1% in afternoon trading Thursday, with the Japanese yen appreciating 1.3% against the U.S. dollar. FXY is down 15.9% year-to-date.
"You have a sell-off in equity markets that contributed" to yen gains, Geoffrey Yu, a senior currency strategist at UBS AG, said in a Bloomberg article. "Given the correlation, it's simply risk-off in Japan, yen stronger."
WisdomTree Japan Hedged Equity Fund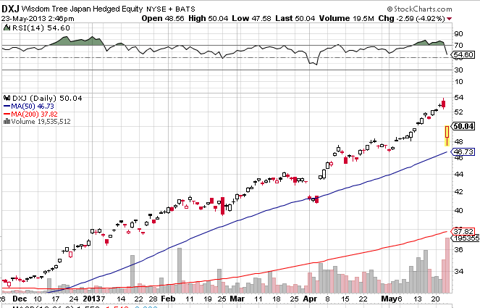 For more information on the Japan, visit our Japan category.
Max Chen contributed to this article.
Disclosure: I have no positions in any stocks mentioned, and no plans to initiate any positions within the next 72 hours. I wrote this article myself, and it expresses my own opinions. I am not receiving compensation for it. I have no business relationship with any company whose stock is mentioned in this article.
Additional disclosure: Mr. Lydon serves as an independent trustee of certain mutual funds and ETFs that are managed by Guggenheim Investments; however, any opinions or forecasts expressed herein are solely those of Mr. Lydon and not those of Guggenheim Funds, Guggenheim Investments, Guggenheim Specialized Products, LLC or any of their affiliates.