This is Part 4 of a short series of articles that will compare the risk profiles for the 25 business development companies ("BDCs") recently covered in my "The Good, The Bad, And The Maybe" series. This article focuses on insider and institutional ownership of BDCs including general trends of buying and selling, as well as the market capitalization of each.
Previous Risk Profile Articles
When evaluating BDCs I focus on five general criteria: profitability, risk, payout, analyst opinions and valuation. When assessing risk relative to other BCDs I take into account many factors including: portfolio credit quality, investment asset classes, diversification, non-accrual rates, portfolio yield, fixed/variable rate loans, leverage, volatility ratios, market capitalization, insider ownership and trends, institutional ownership and trends, and management/operational history. I will cover each of these areas as well as the other factors I use to rank the risk profiles for each BDC. Below are the current risk rankings for each BDC and for the most recent overall rankings see "Latest BDC Rankings For Q1 2013."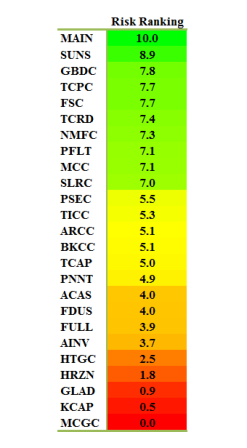 Market Capitalization
The BDC industry is relatively small, around $27 billion, and for the purposes of this article I will classify them into the following three levels:
Large: greater than $1 billion
Medium: between $400 million to $1 billion
Small: under $400 million
Generally, I do not place much importance in market cap as an indication of risk, but I do consider it. My portfolio has a balance between more stable and established companies versus rising stars that are newer, smaller cap, and potentially higher growth. Some of the more established BDCs have been around for almost 10 years or longer, including Ares Capital (NASDAQ:ARCC), Apollo Investment (NASDAQ:AINV), Prospect Capital (NASDAQ:PSEC), and American Capital (NASDAQ:ACAS) with market caps greater than $1 billion.
Insider Ownership
Insider ownership helps to align interests between management and shareholders and is known as "having skin in the game." 'Insider' has a broad definition and includes "director or senior officer of a company, as well as any person or entity that beneficially owns more than 10% of a company's voting shares." For the purpose of this article I will focus on the CEO/President/Chairman of each BDC with the following ownership breakdowns:
High: over $10 million
Medium: between $1 million to $10 million
Low: under $1 million
The holdings of CEOs vary widely, from Horizon Technology Finance (NASDAQ:HRZN) whose top three each own 5,000 shares or less (less than $75,000) to the CEO of Main Street Capital (NYSE:MAIN) with $40 million in personal holdings. Keep in mind that HRZN has a market cap under $150 million compared with MAIN of over $1 billion. Most BDC insiders are buying small amounts or holding but Hercules Technology Growth Capital (NASDAQ:HTGC) and MCG Capital (NASDAQ:MCGC) insiders have automatic sells, probably related to compensation activity, and Gladstone Capital (NASDAQ:GLAD) and Golub Capital (NASDAQ:GBDC) have recently had insider selling.
Institutional Ownership
Institutional ownership refers to the ownership stake held by large financial organizations and pension funds. Institutions generally purchase large blocks of a company's outstanding shares and can exert considerable influence on management. Portfolio managers often have teams of analysts, as well as access to corporate and market data that most retail investors do not. Once institutional investors establish large positions, they typically find ways to drive up the value and investors who get in at or near the beginning of the buying process will benefit.
Institutional turnover in most stocks is quite low. However, if a portfolio manager is having a bad quarter, he or she might dump underperforming positions (and buy into companies that have trading momentum) in the hope of achieving parity with the major indexes in the following quarter. The pressure on these managers and the resulting fickleness can lead to volatility and hurt the individual investor who happens to be on the wrong side. Institutional selling can destroy value for individual investors regardless of the underlying fundamentals of the company. It is important to keep tabs on and react to the moves the biggest players are making.
The chart below shows the CEO and institutional ownership levels as well as the 'net direction' of institutional owners broken out by BDC market cap levels.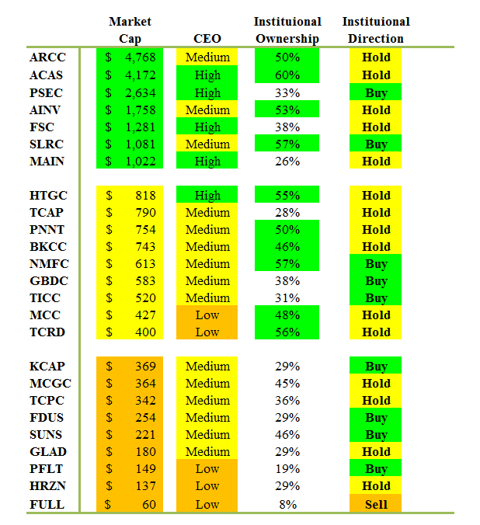 Obviously, the larger cap BDCs such as ARCC, ACAS, PSEC, AINV, FSC, SLRC and MAIN, tend to have CEOs with larger holdings and higher institutional ownership levels, with Full Circle Capital (FULL) as the micro-cap outlier of the group. The companies with higher institutional ownership, currently in a 'Hold' or 'Buy' direction, and CEOs fully aligned with shareholders' interests are preferred. However, I would consider BDCs such as Fidus Investment (NASDAQ:FDUS) and TICC Capital (NASDAQ:TICC) with lower institutional ownership, but actively buying, a potential opportunity.
Market capitalization, insider and institutional ownership, leverage, volatility ratios, portfolio investment grades, and non-accruals are just some of the many considerations when evaluating risk for BDCs and I will try to cover the basics in the remainder of this series.
For more information about BDCs and how I evaluate them, please see this article.
Disclosure: I am long MAIN. I wrote this article myself, and it expresses my own opinions. I am not receiving compensation for it (other than from Seeking Alpha). I have no business relationship with any company whose stock is mentioned in this article.