According to a recent report, ConocoPhillips (NYSE:COP) has decided not to sell its stake in the Canadian oil sands assets as the company has already reached its capital targets by divesting from other resources. Canada's oil sands can be an attractive venture but due to large financial requirements, technical and political challenges, explained later in the article, ConocoPhillips would have had a tough time finding the right buyers.
Last year, we witnessed the historic acquisition of the Canadian energy firm Nexen by China's state-owned offshore oil giant CNOOC for $15 billion. However, now, state backed firms are not allowed to purchase majority stakes in Canada's oil sands - which has significantly reduced the number of potential buyers, particularly those hailing from Asia Pacific, for ConocoPhillips's assets.
Canada is home to one of the world's biggest oil sands reserves which contain nearly 170 billion barrels of recoverable oil. Oil sands are natural geological formations that contain heavy oil, called bitumen, which is too thick to be transported through pipelines unless it is diluted or heated. The country's current oil sands output is 1.4 million barrels per day while it aims to touch 3.5 million barrels per day by 2025.
The extraction of oil from oil sands is a difficult and expensive process which is why the smaller players in the industry usually avoid developing oil sands assets. ConocoPhillips uses the steam-assisted gravity drainage, or SAGD, to extract oil (bitumen). Through SAGD, nearly 80% of the oil sands resources, which lie 1,300 feet below the surface, can be extracted while mining is used for the remaining 20% which usually occurs around 250 feet below the surface. The SAGD process is shown in the picture below.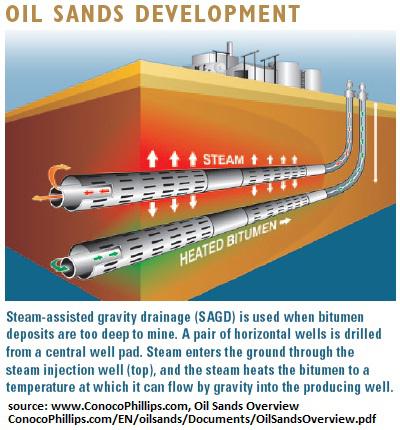 ConocoPhillips has amassed about one million of net acres of land in the oil sands regions of Athabasca which hold an estimated 15 billion barrels of resources. In its latest earnings release, ConocoPhillips' management pointed out that it increased its Canadian production by 6% year-over-year to 283,000 barrels of oil equivalents per day due to "ramp-up" of oil sands assets.
Two of ConocoPhillips' leading assets include the Surmont Project and the FCCL Partnership. The former is a 50-50 joint venture between ConocoPhillips and Total E&P Canada which is operated by ConocoPhillips while the latter is a 50-50 partnership between ConocoPhillips and Cenovus Energy (NYSE:CVE) - Canada's second leading oil producer - in which Cenovus is the operator. The FCCL partnership also includes Foster Creek, Christina Lake and Narrows Lake. The current output to ConocoPhillips from here is 67,000 barrels per day while the two have received regulatory approval to expand Foster Creek and Christina Lake to 428,000 barrels per day.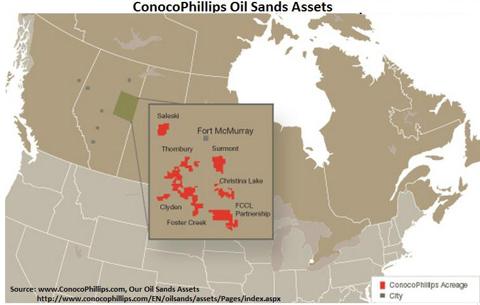 In its quarterly filings released in the final week of April, Cenovus Energy revealed that its combined oil sands production at Foster Creek and Christina Lake has crossed 100,000 barrels per day, showing a 22% increase from the same quarter last year. ConocoPhillips's current oil sands production (pre-royalty) is around 78,000 barrels per day, with most of it coming from the FCCL Partnership.
The difficult extraction process and the shortage of skilled labor make oil sands an expensive undertaking. Moreover, the United States, the primary buyer of Canadian oil, is witnessing an increasing supply from its domestic oil fields, which is having a negative effect on the export prices of Canadian oil making investments in oil sands less lucrative for foreign and domestic buyers.
The bitumen prices have remained weak in December, January and March - which is reflected in the poor performance of ConocoPhillips Canada - but have improved in March and April therefore sequential improvements are expected in the current quarter.
COP: Stock Update
About a month ago, Barclays raised its price target on COP from $62 to $67 while Credit Suisse and Wells Fargo have set targets of $70 and $72, respectively. The company's stock has risen by 10.80% in the last six months to $62.80 and is above its 50-day and 200-day moving averages of $60.33 and $58.27 respectively. It has a P/E of 10.19 and gives an attractive yield of 4.20%. The overall market sentiment is bullish except for UBS which has a price target to $53 and has reiterated its "Sell" rating.
Disclosure: I have no positions in any stocks mentioned, and no plans to initiate any positions within the next 72 hours. I wrote this article myself, and it expresses my own opinions. I am not receiving compensation for it (other than from Seeking Alpha). I have no business relationship with any company whose stock is mentioned in this article.