Linley Gwennap and Kevin Krewell, two semiconductor/chip analyst superstars of the esteemed micro-processor analysis firm, "The Linley Group" recently chimed in on Intel's (NASDAQ:INTC) latest micro-processor micro-architecture codenamed "Silvermont". The firm was mostly positive on the micro-architecture, correctly pointing out that the significant overhaul that comes from a move to an out-of-order design, coupled with other micro-architectural improvements, should allow the chip giant to gain a much better competitive position in the mobile applications processor world. However, there are a few arguments given the analysis regarding the competitive landscape today that I disagree with.
Understating Intel's Current Competitive Positioning
The group made the following observation regarding the competitive landscape pre-Silvermont:
Even so, Intel has some catching up to do. It will sam- ple Merrifield in late 2013, and some customers are likely to announce phones in 1Q14 (perhaps at CES or MWC) and begin shipments in 2Q14. Until then, Intel's single-core Medfield will struggle to compete against quad-core A15- class processors. The dual-core Clover Trail+ is a stronger competitor, but its higher power limits it to tablets and extra-large phones (phablets).
First and foremost, while it is true that the single-core Medfield will indeed be no match for quad core Krait/A15 applications processors from Qualcomm (NASDAQ:QCOM) and Nvidia (NASDAQ:NVDA), the point that "Clover Trail+" is limited to tablets and "extra large phones" is somewhat misleading. Empirical results from Anandtech demonstrate that even a dual-core Cortex A15 design built on Samsung's 32nm node consumes roughly twice the active power as a dual core Qualcomm Krait or the Clover Trail part, and is unsuitable for handsets: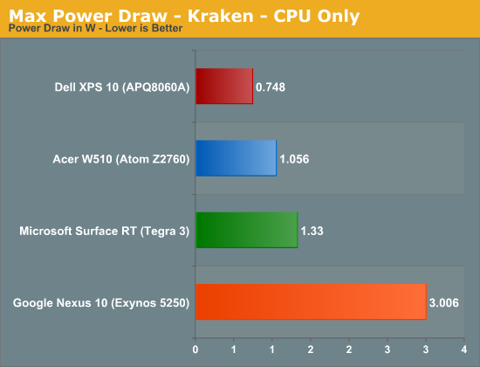 While the dual core Atom CPU consumes 1W and the dual core Krait 750mW, the dual core Cortex A15 draws 3W! Of course, the A15 is a much higher performance design than the Atom or Krait, but the notion that the dual core "Clover Trail+" design is unsuitable for anything but larger handsets and tablets, but that a quad core Cortex A15 would be suitable for smaller form factor devices simply seems incorrect.
In fact, if we look at the two major players that have announced quad Cortex A15 based designs - Samsung (OTC:SSNLF) and Nvidia - we see that the former is relying on "big.LITTLE" in order for the part to have reasonable battery life in what is already in a very large handset (Galaxy S IV), and the latter is targeting high end tablet/convertibles as well as a fan-cooled handheld gaming device known as "Shield". Even Samsung admits that its quad A15 at full tilt consumes 6W, well outside of the range of a handset and dangerously close to Intel's Ultrabook processors: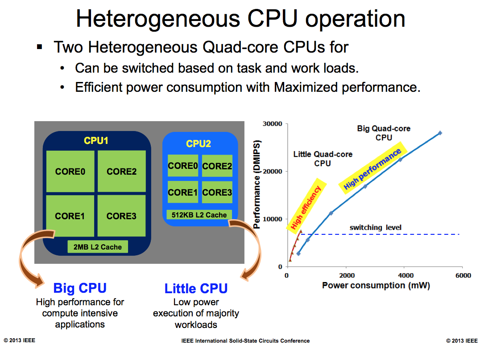 Intel's Dual Core Clover Trail+ Offers Quad-Core Level Performance
While there is absolutely no doubt that the Cortex A15 is a more powerful design than Intel's 32nm "Saltwell" Atom core, benchmarks that are not crippled on Intel's processors, such as AnTuTu show that the dual core/four threaded "Clover Trail+" can go toe-to-toe with the quad core "Krait" solutions and even the quad A15 solutions within a smartphone power envelope. Here are the results of Intel's Z2580 solution: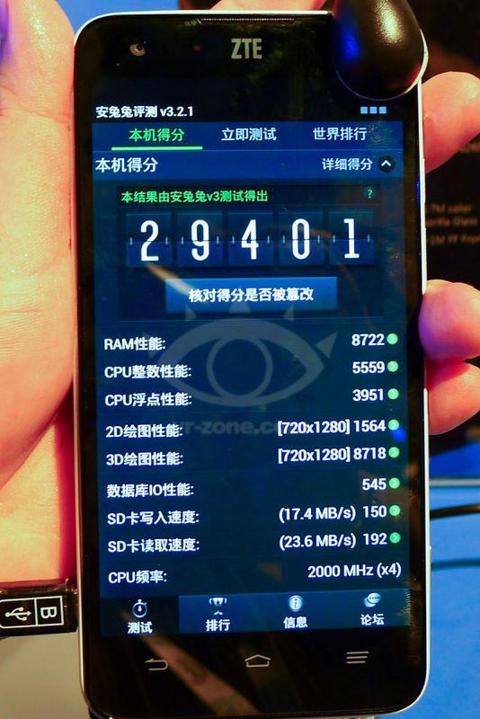 Now, here are results from Qualcomm's quad core Krait and the Exynos 5 Octa compared with the Clover Trail+, courtesy of VR-Zone: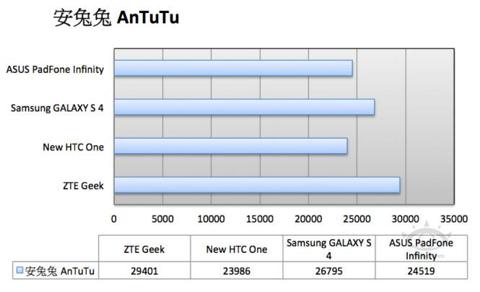 The point? The quad Snapdragon 600, the Exynos 5 Octa, and the dual core Clover Trail+ are all in the same ballpark, and are all used in "larger" phones, rather than in iPhone-like small devices. There is only so much power you can use in a phone, which means at a given node there's only so much performance you can squeeze out before killing your battery.
Conclusion
While I agree that Qualcomm/Samsung have a marketing edge with their "quad core" solutions over Intel's dual core solution, I do not agree that Intel's single core "Medfield" is the right comparison against quad A15/Krait designs. At this time, Intel has "caught up" more or less with the best on the market today (depending on which benchmark you look at). My personal view is that Intel offers a much more compelling solution at 22nm, with both a redesigned micro-architecture as well as a transistor lead, although we will have to wait to see if this turns out to be true, and if so, whether it translates into meaningful, high volume design wins.
Thank you for reading, and I would appreciate any and all comments below!
Disclosure: I am long INTC, NVDA, QCOM. I wrote this article myself, and it expresses my own opinions. I am not receiving compensation for it (other than from Seeking Alpha). I have no business relationship with any company whose stock is mentioned in this article.