Tesla Motors, (NASDAQ:TSLA) Inc. designs, develops, manufactures, and sells electric vehicles and electric vehicle powertrain components. The company also provides services for the development of electric powertrain systems and components, and sells electric powertrain components to other automotive manufacturers. It markets and sells its vehicles through Tesla stores, as well as over the Internet. As of March 31, 2013, the company operated a network of 32 stores in North America, Europe, and Asia. Tesla Motors, Inc. was founded in 2003 and is headquartered in Palo Alto, California.
Tesla Motors has good news to share: after the automotive crisis a few years ago, Time magazine reports that Tesla has repaid its $465 million government loan in full. The repayment of the loan, originally made by the Department of Energy, signifies that the automotive industry is indeed on the road to recovery.
Tesla's loan was part of the government's 2010 Advanced Technology Vehicle Manufacturing Program, a $25 billion fund authorized by Congress, signed by President George W. Bush, and awarded under President Obama. The loan program, which was separate from the U.S. auto bailouts to GM and Chrysler under the Troubled Asset Relief Program (TARP), was designed to get fuel-efficient vehicles to consumers faster.
The loan repayment is a major victory for Tesla, which was branded as a "loser" company by Mitt Romney during his unsuccessful 2012 Republican presidential campaign. "I would like to thank the Department of Energy and the members of Congress and their staffs that worked hard to create the ATVM program, and particularly the American taxpayer from whom these funds originate", Tesla Motors CEO Elon Musk said in a statement. "I hope we did you proud. U.S. taxpayers made a substantial profit from a government loan provided to the all-electric carmaker."
Tesla's loan repayment is a big boost for the still-nascent U.S. electric car industry. "While the market has taken longer than predicted to get going, sales of electric vehicles in the U.S. tripled last year and are continuing to increase rapidly in 2013," said Moniz, the U.S. Energy Secretary. "Tesla and other U.S. manufacturers are in a strong position to compete for this growing global market."
A good friend of mine recently took delivery of a brand-new Tesla Model S. This is the all-electric vehicle boasting high-end luxury, state-of-the-art design, and an all-electric driving range of 300 miles.
Not only is the Model S a top-notch vehicle that crushes every other electric car available in the marketplace today, but its ability to travel 300 miles on a single charge has proven to be a serious game-changer in the world of electric cars.
In fact, in the first quarter of this year, Tesla delivered more electric cars than any other automaker selling electric cars.
Remember, this is a small, Silicon Valley start-up competing against the manufacturing muscle of companies like GM, Nissan (OTCPK:NSANY) and Ford (NYSE:F). And they're crushing it, thanks mostly to the fact that the Model S provides the kind of driving range that calms the nerves of those who worry about their electric car running out of juice.
It also doesn't hurt that this pure-play electric car company has been building a network of charging stations across the country.
Bottom line: In these early days of electric vehicle integration, the ability to provide exceptional all-electric ranges is paramount to any electric car manufacturer's success.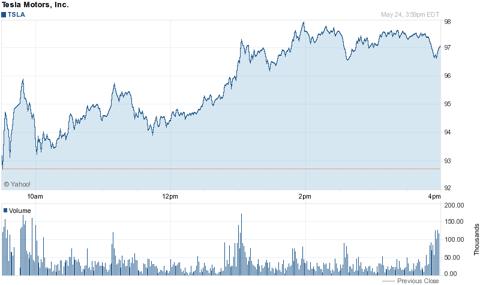 Disclosure: I have no positions in any stocks mentioned, and no plans to initiate any positions within the next 72 hours. I wrote this article myself, and it expresses my own opinions. I am not receiving compensation for it (other than from Seeking Alpha). I have no business relationship with any company whose stock is mentioned in this article.