The world's biggest energy company Exxon Mobil (NYSE:XOM) is gearing up for the development work at the Julia oil field in the Gulf of Mexico. The work here is not going to be easy, but Exxon has one of the best deep-water drilling records of all of the major oil firms. Just a day after Exxon's announcement, Royal Dutch Shell (NYSE:RDS.A), undeterred by its previous setbacks in the Arctic and the Macondo oil spill disaster, also announced that it is going to drill a new well in the Gulf of Mexico and will go deeper than any other company has ever gone in that region. The search for good oil deposits have the majors taking on more risk to continue replacing reserves.
Although oil prices have dropped recently, there is a constant need to increase reserve replacement ratios in the industry. Companies are now looking to tap into their ultra-deep offshore resources that go into water depths of more than 4,500 feet which is followed by several thousand feet of drilling on the sea floor to the reservoir.
Exxon, along with its Norwegian partner Statoil (NYSE:STO), will invest more than $4 billion on the field which was discovered about six years ago and is believed to hold reserves of 6 billion barrels. The two partners have an equal share in the field while Exxon is the operator. This is the same field for which Exxon was involved in a lawsuit with the U.S government in 2011. The latter moved to cancel Exxon's lease as the oil company has been delaying the development work. The case was later settled and Exxon is finally moving ahead with its plan for phased development at Julia.
Actual production in the first phase of 34,000 barrels of oil per day is expected to start in 2016. The life time of the field is estimated to be more than 40 years. The six wells which will be developed on the field have subsea tie-backs to another production facility located 15 miles away called Jack and St. Malo which is operated by Chevron (NYSE:CVX).
Although the field will significantly strengthen Exxon and Statoil's position in the Gulf of Mexico, this is an ultra-deep water field where the resource is located 30,000 feet below the sea level. Development work here is certainly going to be "technically challenging" as stated by Exxon's official spokesperson, but then, there are few other companies out there that can do this better than Exxon Mobil. Last year, Exxon Neftegas Ltd drilled the world's deepest well in Russia's Far East on the Sakhalin shelf. The well is an astonishing 40,600 feet deep - 7.7 miles -- which makes it the world's longest extended reach well. Exxon undoubtedly has one of the best drilling technologies and has extensive experience of operating in Gulf of Mexico having drilled 36 wells. However, the deepest well which Exxon has in the Gulf of Mexico measures just 8,700 feet. So, this is a significantly different scale of operation than Exxon has engaged in in the Gulf to date.
However, the deepest fully operational offshore project in the Gulf is on the Perdido platform which is operated by Shell. Perdido goes 8,000 feet, but after Exxon's announcement, Shell has also decided to start working on the nearby Stones field, which was discovered back in 2005. Both of these - Perdido and Stones - are located in the Gulf's promising and the most challenging Lower Tertiary trend. Promising because the region holds 15 billion barrels of oil but challenging because it is also the deepest area in the region. The Stones field is about 1,500 feet deeper than Perdido. Like Exxon, Shell's project will also involve phased development. Without giving any cost estimates, Shell has said that in the first phase, it will start producing up to 50,000 barrels per day starting in 2016 from the 2 billion barrels of reserves.
The politics of the region aside, I feel more confident about Shell's prospects than Exxon simply because Shell has already built a similar well in the nearby region. In the coming months, there are going to be further developments on ultra-deep water resources. The drilling at these places is expensive and risky, but according to data provided by IHS, an average ultra-deep exploration well is 11.5 times more effective than their onshore counterparts; hence all the more reason to invest in these resources. Moreover, a large percentage of new discoveries are in fact, ultra-deep. According to one estimate, nearly 50% of all the discoveries which happened in H1-2012 were located on waters at least 4,500 feet deep.
Exxon's RRR in 2012 was just 115% overall with 1.8 billion oil-barrel equivalents added. After years of building up its natural gas reserves while gas prices were cheap, Exxon is moving back to adding proportionately more crude oil to its reserves. Crude and other liquids rose 174% in 2012 and beginning work on Julia is a necessary part of that strategy. With U.S. natural gas prices back over $4 per million BTU and the ratio of cost per BTU between oil and natural gas returning to around 4:1 after reaching a high of 8.65:1, we should expect savvy energy majors to invest in assets counter-cyclically. We are bullish on oil and natural gas long-term due to projections of demand that will come from Southeast Asia and China over the next two decades and especially like Exxon-Mobil's moves to remove itself from unstable areas like Iraq and repurpose assets closer to the U.S.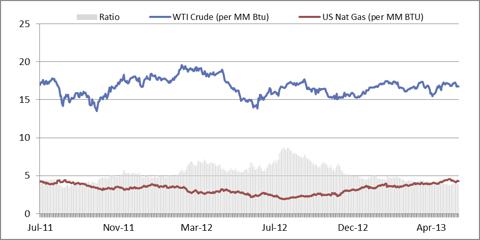 Disclosure: I have no positions in any stocks mentioned, and no plans to initiate any positions within the next 72 hours. I wrote this article myself, and it expresses my own opinions. I am not receiving compensation for it (other than from Seeking Alpha). I have no business relationship with any company whose stock is mentioned in this article.