Global large cap conglomerates have a desirable risk return profile, and this is supported by a diverse earnings base, strong free cash flow and growing dividends. For income-focused investors, having a mixture of stable growing dividend payers, and high growth dividend payers is in my opinion the best mix for long-term capital growth and income. The following three conglomerates act as a great bedrock to portfolio returns and their steady return profile will underpin portfolio returns over the long term.
General Electric (GE) -Global Innovation
General Electric was founded in 1892, however the story starts in 1878 when Thomas Edison founded the Edison Electric Light Company. After creating the first electric light, Edison and his team quickly moved on to create the first dynamos to generate electricity capable of powering neighborhood lighting systems. Things rapidly evolved and the merging of Edison Electric Light Company and Thomas-Houston Company saw GE born. Since then, the company has not looked back, expanding into one of the largest global innovation companies.
General electric now serves customers in over 100 countries operating out of seven main industrial business segments; Power & Water, Oil & Gas, Aviation, Healthcare, Transportation, Energy Management and Home & Business. GE Capital, a wholly-owned subsidiary, specializes in commercial financing, in keeping with the company's history of building and supporting growth in a number of industries.
Since falling heavily in value in 2008, GE has been resilient and as we approach the mid-point in 2013, the past twelve consecutive quarters have seen operating earnings growth. Five out of eight business segments showed growing profits from 2012. This was driven by increased revenues in Aviation, Oil & Gas, Healthcare and Transportation. Demand for aircraft engines produced by GE rose on the back of higher demand for airline aircrafts. The Oil & Gas segment had a large increase in equipment demand, of which a large proportion is drilling. This sector is benefiting from the rising demand from emerging markets and the ever-increasing amount of drilling equipment required. Shale oil & gas also requires a greater amount of wells drilled due to shallow oil fields and this supports GE's equipment-based revenue.
At the end of the first quarter, GE's backlog of equipment and services was the highest it has ever been reaching $216 billion, underpinning future earnings growth.
Procter & Gamble (PG) - Consumer Goods
Founded in 1837, this company now has one of the largest portfolios of popular consumer brands. Procter & Gamble's products are sold in over 180 countries accessing a wide consumer base. The company operates in two main global business units; Beauty & Grooming, and Household Care. A number of popular brands P&G owns which you may know include: Gillette, Oral-B, Pantene, Duracell, Fairy Liquid and Olay.
The company's performance has been excellent over the long term, and the company has managed to steadily grow revenue and earnings. Due to the staple nature of PG's products, earnings have been robust even during economic downturns. First quarter results were positive, increasing EPS by 7% from Q1 2012, as Procter & Gamble focused on reducing costs.
Johnson & Johnson (JNJ)- Healthcare
This global healthcare company has a global reach, operating in over 60 countries which provides access to a global consumer base. The company's primary focus has been on products related to human well being. The business is split into three business segments; Consumer, Pharmaceutical and Medical Devices & Diagnostics. Consumer products include Listerine Mouthwash to Neutrogena skin care products.
Johnson & Johnson has managed to consistently grow revenue over the years. For 2013, Q1 sales increased to $17.5 billion for the quarter, an 8.5% increase on 2012 Q1. Consumer products grew the slowest out of the three business segments, rising 2.2%, whereas worldwide medical devices & diagnostics sales rose 10.2% which was helped by the acquisition of Synthese Inc.
Pharmaceutical sales also increased in the double digits,10.4%, driven by the following drugs; Invega, Stelara, Simponi, Remicade and Prezista. There were also strong sales results for recently launched drugs; Zytiga, Xarelto and Incivo. With a number of drugs submitted to the FDA for approval, pipeline growth looks promising and revenue should continue going forward.
Emerging Markets Revenue Growth
Emerging market expansion is key for large global companies to continue to grow. All three of these companies have a strong presence in emerging markets and they continue to grow revenue from these areas.
General Electric - Five out of nine emerging market regions grew in the double digits for 2013 Q1. Healthcare is an area which is targeting strong growth from emerging markets, most notably China. Double digit growth is expected to continue as emerging market countries invest in infrastructure and more advanced technology to support domestic growth and maturing consumer demands.

Procter & Gamble - Domestic growth is a main driver in emerging markets, maturing demand for consumer products continues and will support revenue growth. China and India contribute to a significant proportion of revenue currently, and this looks to expand going forward.

Johnson & Johnson - Two business sectors emerging markets are seeing rapid expansion and demand in are consumer products and healthcare. Johnson & Johnson has a great position in both and as emerging markets develop, healthcare will play a more important role and demand for pharmaceuticals, both over the counter and prescription will grow. Furthermore, medical equipment revenue should grow as countries spend more on healthcare infrastructure to facilitate domestic growth.
Strong Free Cash Flow & Balance Sheet
The highly cash generative businesses have been able to support a long history of dividend growth. All three of these companies have had a positive free cash flow over the past five years (apart from 1 quarter for GE), and have been able to grow dividends on the back of this.
General Electric has been paying dividends for over a century, but unfortunately it was forced to cut its dividend following the credit crisis. Since 2010, GE has rapidly been trying to make up lost ground, raising dividends by over 17% YoY.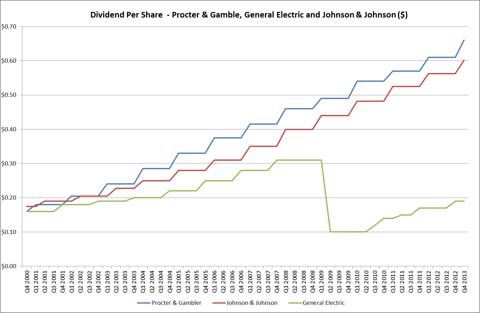 Both Johnson & Johnson and Procter & Gamble have also been paying dividends for a very long time and consistently grown dividends over the years. The chart above shows that Procter & Gamble is leading slightly in terms of dividend growth since 2000. The payout ratio also has room for flexibility; GE - 50%, Procter & Gamble - 50% and Johnson & -66%. While these have some room for growth, it highlights earnings growth is important to maintain their long standing history of dividend increases.
Current Yields:
General Electric: 3.23%

Johnson & Johnson: 3.04%

Procter & Gamble: 2.94%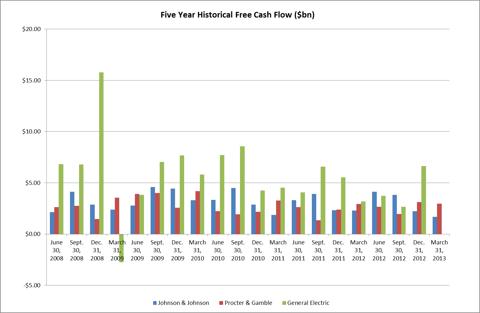 A strong free cash flow enables companies to distribute earnings back to shareholders without eating into working capital. On top of this, cash balances are also very high, GE has over $90 billion in cash, Procter & Gamble has $5.8 billion and Johnson & Johnson has $21.6 billion. Share buy backs have also been contributing to shareholder returns, in 2013 Q1, GE - $1.9 billion and Procter & Gamble - $1 billion.
Share Price Performance
Year to date performance has been robust, consumers have led the way in the recent market rally driven by demand for robust earnings growth even during recessionary periods. Sentiment towards the healthcare sector has also been strong this year as many investors have previously worried over the 'patent cliff' approaching for a number of core drugs which suppressed valuations.

Source: Google Finance
On a long-term value basis, these three conglomerates offer a great entry point at most price levels, even at market highs, they should provide generous returns and underpin an income portfolio. Consumer's have lead the market rally over the past year and some are starting to look expensive, Procter & Gamble currently trades at a P/E of 20. Johnson & Johnson and General Electric are more reasonably priced for the medium term investor (3-5 year horizon) at 16.76 , 15.3, respectively.
Summary
Global conglomerates act as a great bedrock to income portfolios. With diverse earnings, they are able to weather country specific risks and with large established distribution networks and strong brands, barriers to entry remain high. Emerging markets will be fundamental going forward in generating revenue and each company is well-positioned to capitalize on this. A strong free cash flow and dividend growth makes these companies an attractive holding for the long term. Despite being fairly expensive on a price to earnings basis, for long-term investors, the growing earnings and yield offered still makes them an attractive purchase.
Disclosure: I have no positions in any stocks mentioned, and no plans to initiate any positions within the next 72 hours. I wrote this article myself, and it expresses my own opinions. I am not receiving compensation for it (other than from Seeking Alpha). I have no business relationship with any company whose stock is mentioned in this article.