Costco Wholesale Corporation (NASDAQ:COST) will announce quarterly earnings on Thursday, May 30 before the market opens. Actually, it is scheduled for 3:00 a.m., but I don't expect to wait up until then to check the results.
Costco engages in the operation of 627 membership warehouses where it offers branded and private-label products in a range of merchandise categories. The company recently raised its dividend for the 11th consecutive year, although it is yielding only 1.1%.
The stock trades at 25.63 times trailing earnings. This seems to be a little pricey compared to Wal-Mart (NYSE:WMT) which sports a p/e of 15.23 and pays twice the dividend rate (2.4%), albeit with about a 1% growth rate.
Costco reports revenues on a monthly basis, usually less than two weeks after the end of a month. This makes for fewer surprises around earnings time, and relatively small stock price changes after an announcement. Revenues for the last 35 weeks were up 9%, approximately what earnings growth has been. Analysts expect a rosier future, with a five-year growth rate of 13.3% per annum. Even with these projections, the current price seems a little high.
Looking forward to next week's earnings announcement, let's check out what has happened over the past four quarters, with the stock price change from the close on the day before the announcement until the closing price on Friday (when the weekly options expire):

Costco has not done very well after earnings announcements. Even though it beat estimates every time for the last four quarters, the stock fell after the announcement three out of four times. The only gain was $1.17 when it barely bested estimates in May a year ago. Every other quarter it lost an average of $1.39. All the price changes were nominal, but mostly they were negative.
There is much to love about Costco, especially its business model. It maintains a fixed and low mark-up on its inventory, pays its employees well - 42% more than competitor Wal-Mart's Sam's Club, and Costco covers health insurance for 96% of its employees compared to 44% for WMT (according to a 2005 New York Times article), has a limited product line (it sells about 100 times the SKU average of a typical supermarket), and manages to keep operating costs down to 9.6% of sales. A significant amount of profits are generated from membership fees, and member retention is about 90%.
This business model has allowed the company to out-perform WMT by a large margin: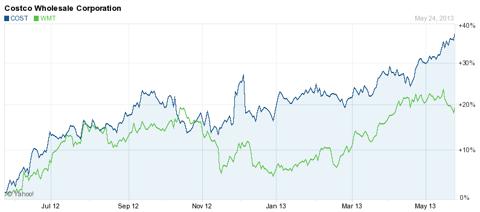 What strikes me about this chart is the rapid run-up in the stock price recently, and what that means to the expectation level heading into next week's earnings announcement.
Over the last several months, I have been testing the proposition that the level of expectations prior to an earnings announcement is a better indicator of what the stock price will do than the actual earnings themselves. I call it the Expectation Model. Basically, I examine recent stock price activity, estimates vs. whisper numbers, past post-earnings price changes vs. results, current RSI levels, and come up with a measure of whether expectations are unusually high or low.
If expectations are usually high, there is an excellent chance that the stock will be flat or fall after the announcement, regardless of how much the company might surpass estimates, and conversely, the stock is more likely to move higher when expectations are low, even if estimates are merely met. (Unusually low expectations are generally less predictive of higher post-announcement prices, however - unusually high expectations more reliably predict lower prices after the announcement).
I have had some serious success with this model, including ten consecutive winning pre-earnings calls (average gain about 20%) without a loss - see results and update. Many of the earnings plays were published in Seeking Alpha articles published before the announcement. Some examples, here and here.
So how does Costco stack up with the Expectation Model? Bottom line, expectations seems to be unusually high leading up to next week's announcement. The stock has had a huge run-up recently, rising 9% over the past 6 weeks and hitting a new high of $114.72 last week. Whisper numbers are higher ($1.06) than estimates ($1.02). RSI is 80 (overbought).
High expectations, a record of lower stock prices after earnings, and what I believe is a currently-expensive stock price, all lead me to believe that there is an excellent chance that Costco will trade lower next week and that anyone who is thinking of buying shares should wait until after the announcement and most likely get a better price at that time. And it is really difficult for me to say that because I really love this company.
I like everything about Costco - its prices, its selection (limited but saves me time making a multitude of choices), the pleasant clerks, the speed of checking out, its return policy, and the free samples. I shop there knowing I am getting a good price all the time and don't have to time my purchase to catch a special sales event. Everyone shopping there seems to be enjoying the experience. I visit Costco every week and the Kirkland brand is everywhere in my house. If Peter Lynch were advising me, he would say that I should own Costco stock (I probably should, but all my money is tied up in options which I care more about than my favorite place to shop).
Having a long-term love affair with this company makes it very difficult for me to make an investment, which is a bet that the stock is headed lower, but I believe strongly in my Expectation Model and will place the bet (knowing that it only needs to trade lower over a short two-day period and I will still make a nice gain if it goes up by a dollar or so as well).
With the stock price trading just under $115, I plan to buy June-13 120 calls and sell May 5-13 115 calls (weekly options expiring 5/31/13) for a credit of about $.62. Here is the risk profile graph for five of these diagonal spreads assuming that IV of the June option will fall from 19 to 16 after the announcement:

The amount at risk is the maintenance requirement ($2500) less the $310 cash received, or about $2200. These positions should make an average gain of about 15% if the stock stays flat or falls by any amount after the announcement. It can go up by about $1.50 before a loss should result. However, it is a little scary to see how much can be lost if the stock rallies over $2. This is an investment you should only make with money that you can truly afford to lose. I plan to do it, and expect it to be my 11th consecutive winning earnings trade.
Disclosure: I have no positions in any stocks mentioned, but may initiate a short position in COST over the next 72 hours. I wrote this article myself, and it expresses my own opinions. I am not receiving compensation for it (other than from Seeking Alpha). I have no business relationship with any company whose stock is mentioned in this article.
Additional disclosure: I intend to place the bearish diagonal spread on COST as outlined in the article.