Since recommending Seagate (NASDAQ:STX) on September 7, 2012, shares of the HDD maker are up about 43%. In that piece, I concluded that the stock could double by the end of 2014 to $60, given the scale of the company's share buyback program, exceptionally bearish valuation, and some organic income growth.
It's well known that the HDD industry has several strong headwinds. A secular shift towards mobile computing is underway, which overwhelmingly favors solid state drives (SSDs) and flash memory.
Additionally, the inflated gross margins that both Western Digital (NYSE:WDC) and STX enjoyed as a result of the Thai floods and subsequent supply shortage have largely passed as the market has returned to equilibrium. Without this temporary pricing power, both companies' bottom lines are facing the reality of a rapidly declining PC market and weakened HDD demand in that part of the business.
That being said, I think investors are underestimating the potentially transformative impact of a large, positive tail scenario. In this case, HDD demand actually increases over time as a result of data creation from smartphones, tablets, and PCs and the resulting cloud storage needs. Furthermore, STX's investments in SSD and flash also pay off as PCs move towards a hybrid model and the company's products penetrate at least some of the direct mobile memory market.
Positive Tail Scenario - 50% Upside
Management reiterated its guidance for 250 million shares by 2014 in its most recent quarterly conference call, so we'll use that for modeling purposes.
The company is also guiding for "slightly higher" than $1.8 in annualized FCF -- we'll say $2 billion given a strong anticipated back-end of the year (more on this below).
On $2 billion of annualized cash flow and 250 million shares, investors are getting about $8 in free cash flow per share. On that figure, the FCF yield is an outstanding 18.6%, and investors are paying 5.3 times FCF.
Modeling for $2 billion in FCF seems reasonable for fiscal 2014; management is expecting supply constraints toward the end of calendar 2013 given the rapid expansion in cloud growth, which overwhelmingly utilizes cheap, bulky HDD drives.
ASPs (average selling prices) have been ~$63/unit over the last couple of quarters, a far cry from the $73/unit it was doing during the supply shortage. I believe ASPs will tick upwards as cloud storage capacity needs continue to grow and the STX/WDC duopoly works to keep prices elevated.
According to IDC and Seagate's own projections (which we may want to discount a bit), HDD capacity demand is expected to explode over the next few years as both the public and private cloud builds outward: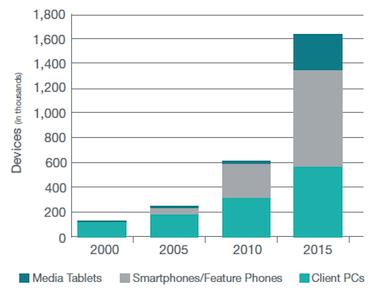 The key catalyst here is data creation stemming from mobile platforms.
As I noted in my September recommendation, STX has made several investments in the SSD space to prepare for this secular trend. The company kicked things off by swiping Gary Gentry (the lead SSD guy at Micron (NASDAQ:MU)) to invigorate its SSD line. Its recent SSD rollout is once again receiving great reviews, and pricing appears to be competitive.
One of the more interesting bull cases for Seagate is its backing from Samsung (OTC:SSNLF), which generally flies under the radar. When Seagate bought Samsung's HDD business, Samsung took a 9.6% stake in STX, in addition to receiving cash and stock options.
Samsung is a main player in the SSD business, why would it want to effectively stay invested in the fate of the HDD business? To me, it looks like a vote of confidence from a player that has a large influence on the future of memory storage.
Conclusions
By the end of 2014, Seagate should be doing at least $2 billion in FCF on 250 million shares, giving investors an FCF yield of more than 18% at current prices. Analyst estimates are calling for $5.48 in FY14 EPS, giving STX a 7.8X forward multiple, well below the 10X historical forward valuation.
Short interest recently dropped by a massive 9 million shares to a little over 20 million (6.5% of the float) as the stock broke out above $40. 20 million shares are going to continue to get more difficult to cover as the company buys back more stock. Given the fact that the company needs to buy back more than 100 million shares in the next 18 months to meet its goal, the pressure to cover is going to get more intense. Shorting the stock has a huge negative carry against it as well, given the 3.7% dividend.
Multiple normalization (10X forward EPS) would bring shares to about $57, though I think the EPS understates the underlying FCF generation; a much better indication of owner earnings.
A share price of $57 implies more than 30% upside, but the FCF yield is unparalleled in today's market and offers exceptional relative value. Add in a 3.7% dividend, and the total yield is greater than 20%.
The bear case for the company and industry as a whole is reasonable given the uncertain future dynamics of memory storage. However, the ongoing share buybacks, anticipated supply constraints, dividend and cheap multiple are likely to keep a floor under the stock, while the positive tail sets up a nice risk-reward profile.
Disclosure: I am long STX via calls. I wrote this article myself, and it expresses my own opinions. I am not receiving compensation for it (other than from Seeking Alpha). I have no business relationship with any company whose stock is mentioned in this article.