I love Whole Foods (WFM). It's one of my favorite grocery chains. There's not a store close to my home, so I always try to sneak into one when I travel to New York City or Atlanta. I think the Austin-based grocer has an incredible business model with one of the strongest sources of differentiation in the retail sector. I would also go as far as saying that Whole Foods has one the most sustainable retail models today and that's why I pulled out Chris Zook and James Allen's book, Repeatability: Build Enduring Businesses for a World of Constant Change, to describe the "best in class" grocery brand (see my Forbes.com book review here):
The power of a repeatable business model lies in the way it turns the sources of differentiation into routines, behaviors, and activity systems that everyone in the organization can understand and follow so that when a company sets out on a particular path, it knows how to maintain differentiation that led to its initial success…that strongest source of differentiation in a company's business are its crown jewels.
As retail stock, Whole Foods has definitely delivered "crown jewel" results. Just a few days ago, shares crossed over $100 for the first time as total sales (reported for Q2-13) increased 13.5% over a full-year period. Also earnings per share increased 19% year-over-year to $0.76 while free cash flow remained robust with $326 million reported (year-to-date).
Clearly, Whole Foods is hitting all cylinders and Mr. Market really likes the special ingredients - the wide moat - that differentiates the grocer from the competitors in a manner that serves its customers better and more profitably. Here is a 90-day snapshot of Whole Foods share price growth (WFM closed last at $104.80 per share):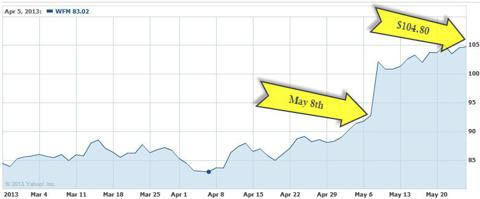 With just under 400 stores nationwide, Whole Foods has considerable capacity to expand domestically and internationally. In a recent Seeking Alpha article (Whole Foods Market Q2 Results: Why I Am So Bullish), Nicholas Ward explains the prospects for the robust growth:
Another thing that I like about WFM is the fact that Mackey (founder and CEO) has publicly stated that he will put his business first when compared to shareholders. This is not to say that he tends to be greedy. He believes that the best way that WFM can benefit its shareholders is to continue its growth which will justify the 35x P/E ratio that the company maintains. This trend continued in Q2, with Mackey spending 47% more on capital expenditures than he returned to shareholders. WFM spent $109 million on cap-ex in Q2, $61 million of which was spent in relation to new stores. WFM opened 6 new stores in Q2 and 1 thus in Q3, brings its total to 349. The company estimates that it will open 32 new stores in 2013 and 33-38 in 2014.
But of course Whole Foods investors are sacrificing growth for dividends, and for a dividend investor, Whole Foods is not a "top of the shelf" fixed-income product. In fact, with a miniscule 0.8% dividend yield, Whole Foods barely provides gas money for a dividend investor to get to the grocery store. Here is FAST Graph (below) that illustrates Whole Foods' historical earnings, stock price, and dividend growth. As you can see, the shaded aqua blue area represents dividends paid and you can easily see that Whole Foods dividend growth has not been nearly exciting as the share price growth (shaded green area).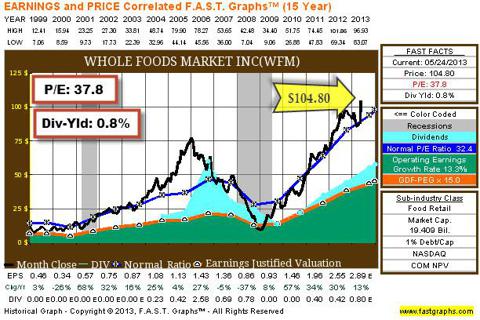 So how can an investor benefit from owning Whole Foods shares but at the same time benefit from owning a stock with Whole Foods-based income? In other words, is there a way to hedge my value portfolio by owning a high growth stock like Whole Foods and also an income stock with Whole Foods exposure?
Regency Centers: A Pure Play Grocery REIT
A REIT's ability to attract a roster of high-quality tenants is very important, particularly in retail sectors such as malls and neighborhood shopping centers. It's essential that a shopping center REIT has productive tenants since that means higher traffic, which also means higher sales.
Such retail prosperity means that the tenants will be able to pay the rent bumps built into their leases as well as provide additional rent to the property owner when sales overage provisions are contained in the leases. In addition, it also justifies higher rental rates when it's time to renew leases.
Regency Centers (NASDAQ:REG) is the only shopping center REIT that focuses almost exclusively on buying and developing grocery-anchored shopping centers. Founded in 1963 by Martin and Joan Stein, Regency Square Properties developed the first regional mall in Jacksonville, Florida and later migrated into neighborhood shopping centers. In 1993 (and 30 years after its founding), Regency Centers initiated a public offering by raising around $108 million and that initial capitalization grew into a grocery-anchored shopping center dynasty.
Like Whole Foods, Regency also has a differentiated strategy that is built on owning and investing in high-quality grocery chains like Whole Foods. With a grocery-anchored investment strategy Regency owns around 85% of grocery related assets and the company has targeted its differentiated strategy around major markets and university towns.
Regency owns 341 shopping centers (including a few single tenant properties) and by focusing on infill grocery-anchored centers in areas (population over 100,000) with household incomes above the national average (average household income in excess of $100,000), the "best in class" REIT has gained a strategic advantage over the less resilient competitors. Regency owns properties in some of the most attractive markets in the U.S.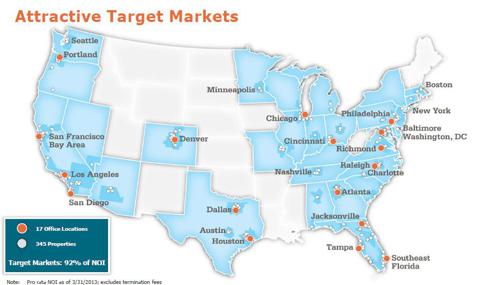 Regency's attractive target market investment strategy - investing in dominant grocery centers - provides the REIT with a highly sustainable competitive advantage that produces "best in class" results ($27 million annual grocer sales or $520 per square foot). Here is a snapshot of Regency's target markets: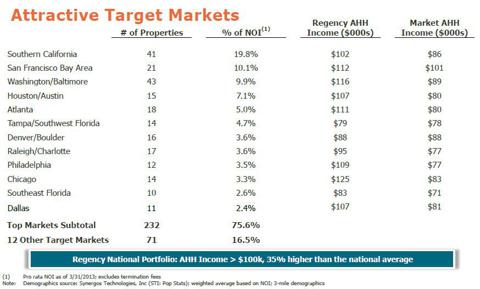 Regency owns nine shopping centers anchored by Whole Foods; however, the Jacksonville-based REIT has a very diverse portfolio of grocery tenants, including Publix, Safeway (SWY), Kroger (KR), Albertsons, Ahold, Supervalu (SVU), Harris Teeter (HTSI), H.E.B., and others. Here is a snapshot of Regency's top grocery tenants: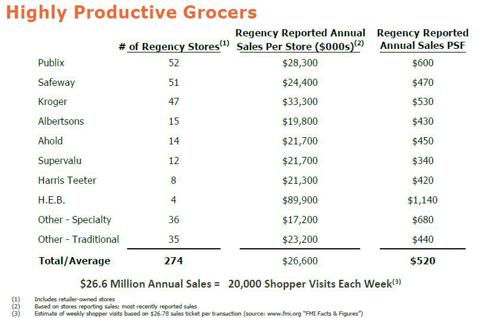 Regency's proven investment strategy has resulted in a recession proof model that generates consistent customer traffic and sustainable revenues. In addition, the grocery-based model is not as threatening as the other retail models that are impacted by e-commerce sales. Here is a snapshot of Regency's well-balanced necessity driven model: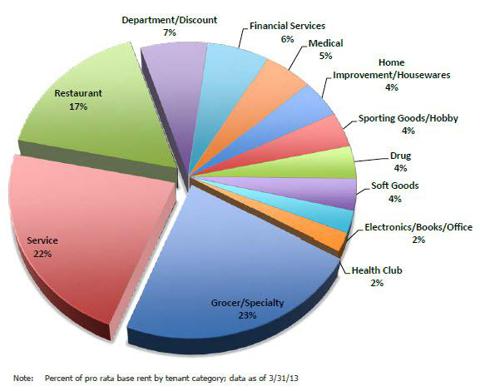 Regency Centers: Building a Moat With Quality Assets
Because Regency owns and invests in highly productive centers, the operating profits and asset values are higher. Accordingly, a blue-chip REIT like Regency will figure out ways to boost traffic at its centers where more traffic means more sales, and more sales means less tenant turnover and higher lease revenues.
As an example, Regency has pruned its portfolio by pruning lower quality centers and focusing on acquiring and developing higher quality ones. Since 2010 Regency has disposed of around $642 million in lower-quality centers while acquiring over $445 million in more productive "higher barrier to entry" centers.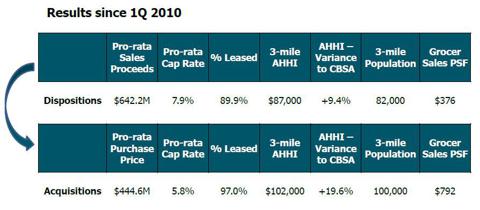 For example, in 2012 Regency acquired Uptown District in San Diego for around $81 million. The 148,000 square foot center has dual grocery anchors - Ralphs and Trader Joe's - and the combined property generates over $70 million in annual grocery sales. The demographics for Uptown District are exceptional with an average population of over 222,000 and average household income (1-mile) of over $72,000.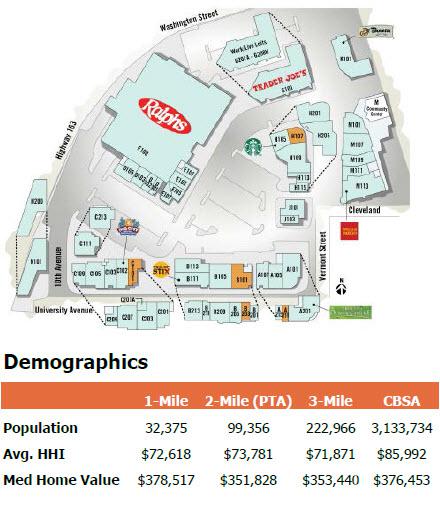 Much of Regency's success has been in increasing its quality while also increasing its occupancy metrics. Here is a snapshot of Regency's occupancy levels prior to and after the Great Recession.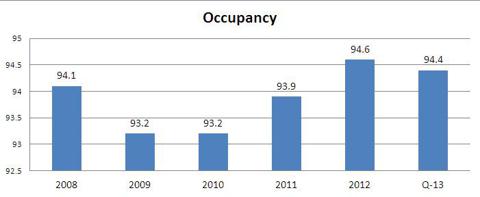 Brian Smith, Regency's president and COO, explained Regency's high quality platform on the latest (Q1-13) earnings call:
In the last 5 quarters, our portfolio has performed at a level consistent with Regency's high standards. I believe this is a testament to its inherent quality, robust tenant demand, coupled with a limited amount of new supply and the significant strides that our talented team is making, enhancing the quality of the portfolio at the property and tenant levels. We leased nearly 1 million square feet of space this quarter, roughly 1/4 of which were new leases. While the volumes were down compared to last year, remember that 2012 was a record year for leasing. It would be difficult to sustain those levels, especially as we approach 95% leased.
For the first quarter, Regency's same-store NOI growth was up 5.1% year-over-year. The same-store portfolio was 94.3% leased at quarter-end, up 40 basis points year-over-year though down 30 basis points sequentially. The company's new lease rental rates were up 14.8% while renewal spreads grew 3.6%, resulting in a combined leasing spread of +5.4%. Here is a snapshot of Regency's fundamental trends:
Regency posted strong same store NOI growth and that is a testimony to the resurgence in demand from tenants for high quality shopping center space. As a result, Regency's average rent per square foot for spaces below 10,000 square feet has surpassed pre-recession levels.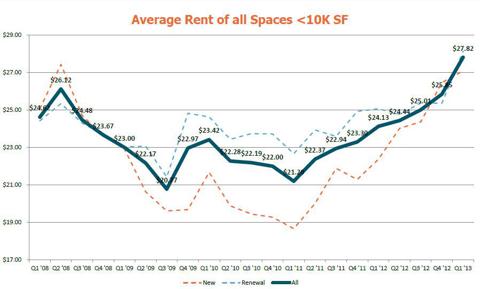 Regency Centers: Robust Development Makes Cents
Regency's development is a core competency and a competitive advantage that sets the company apart in a way to create value for shareholders. Regency's right-sized and more disciplined strategy is focused on creating dominant shopping centers intended to be held for the long term and located in target markets with instilled characteristics.
Regency is one of the few REITs that has found an unusually large number of development opportunities for this early point in the real estate cycle. Currently, Regency has four projects that are likely to yield north of 8% which, given the company's overall cost of capital, is substantial. Regency's in-process developments are 54.3% funded and 92.1% leased. Here is a snapshot of Regency's current in-process pipeline (4 development projects that total around $194 million):

Regency Centers: Sound Balance Sheet
Regency has a very conservative balance sheet with very little debt maturing over the next two years either in the consolidated or unconsolidated portfolios: primarily fixed rate, unsecured debt in the consolidated portfolio, and only $45 million outstanding on its $800 million credit facility (Q1-13). Regency's debt ratios have improved significantly as evidenced by the historical total debt to total capitalization metrics below: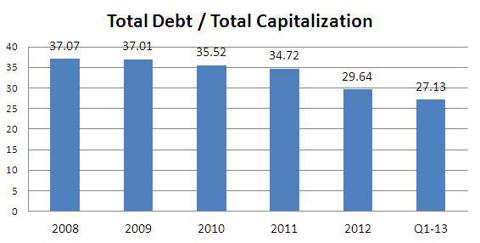 Given the Regency's ratings (S&P is BBB) and access to capital, as well as its credit lines, refinancing maturities should not be a problem. Regency also has two preferred issues outstanding (REG-F and REG-G). The preferred stock has value relative to recent new issues and its peer group (I like the REG-G 6% Preferred. See yield hunter site here for preferred issues). Regency's percentage of unsecured NOI is around 77% and the fixed charge coverage is 2.3x (as of Q-13).

It's also worth noting that Regency has a handful of co-investment partnerships that provide the REIT with more financial flexibility. In addition, by expanding its operating platform Regency is able to produce higher risk-adjusted returns and generate third party revenues.

Regency Centers: Steady Dividends Backed by Necessity-Based Income
As mentioned at the outset, Whole Foods has been a terrific growth stock. The business model is extraordinary as the price of the shares has climbed over 260% over the last five years. However, the health food grocer is not a dividend-centric investment model and it would seem to make sense that owning Whole Foods and Regency Centers would provide the best of both worlds: exceptional capital appreciation and reliable dividends.
So how reliable are Regency's dividends?
Regency reported Q1-13 FFO per share of $0.64. Also Regency increased its 2013 FFO per share guidance from $2.45-2.53 to $2.47-2.54 and its recurring 2013 FFO per share guidance from $2.48-2.56 to $2.50-2.57. Here is a snapshot of Regency's historic FFO/share results: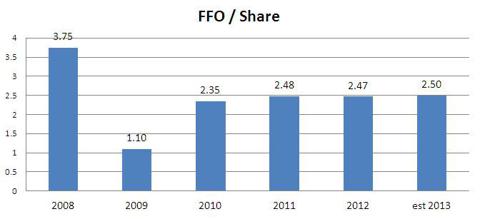 Regency's dividend yield is 3.40%, and like most REITs, Regency cut its dividend in 2009. Here is a snapshot (below) illustrating the historical dividends paid from 1994 through current. There was a 24% cut in 2009 and a 12% cut in 2010. Regency has paid out $1.8500 from 2010 through 2012. I would expect to see an increase from Regency as the company has demonstrated that it has the capacity (payout ratio is 72%) to start growing its dividend. In addition, several of Regency's peers have been increasing its dividend.

Here is a snapshot comparing Regency's dividend yield compared with the peer group: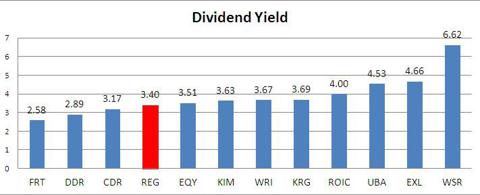 How Expensive Are Regency Shares?
In terms of 2-year total returns, Regency has performed at the lower end of the spectrum.

Regency's common shares are trading at $54.47 (fell almost 5% last week) with a P/FFO multiple of 21.3x. As much as I like the high-quality grocery-anchored model, I think I will wait until shares get closer to my target dividend yield of 4%. That means I'm looking for an entry price of $46.26. Compared with the peer group, Regency remains fairly valued, and I think there are better ways to gain exposure to high-quality grocery-backed REITs than acquiring shares in Regency today.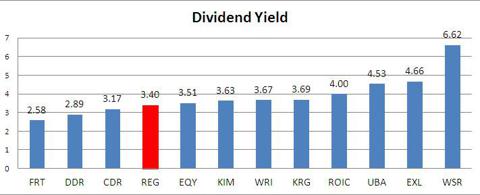 Several other shopping center REITs worth considering are Kimco Realty (KIM), Weingarten Realty Investors (WRI), and Retail Opportunity Investment Corp (ROIC). Also, Excel Trust (EXL) pays a 4.66% dividend yield and is trading at a P/FFO multiple of 17.3x. I have written recently on all of these REITs and you can read more by clicking these tickers: KIM, WRI, ROIC, and EXL.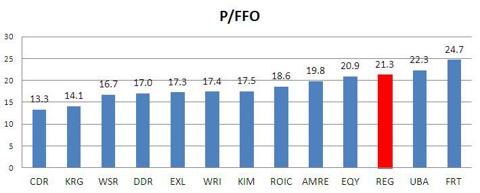 In closing, purchasing shares in Regency Centers could be a great way to hedge your position in Whole Foods. By combining the two grocery-backed securities, you are getting the benefit of owning a high-quality growth company and also the stability of a durable dividend paying stock. In a perfect world, I would recommend an entry position in Whole Foods under $100 and an entry point with Regency Centers at $46.26 (to yield 4% dividend). However, it's virtually impossible today to buy a "wonderful business at a moderate price" so I will have to either wait for a "sunnier and more plentiful time" or consider the Regency preferred issue (REG-G) yielding 6% with along with an equal position in Whole Foods (when shares dip below $100).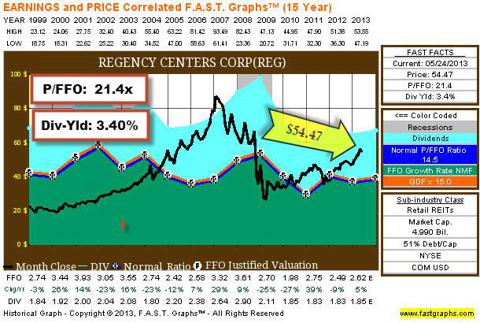 I'm always looking for ways to leverage a wide moat stock. It's kind of liking splitting 8's in blackjack. The chances look good that you will win both hands - growth and income. By investing in Whole Foods and Regency Centers, I like my odds and better yet, I think I can accomplish the goal that makes every investor happy - sleeping well at night!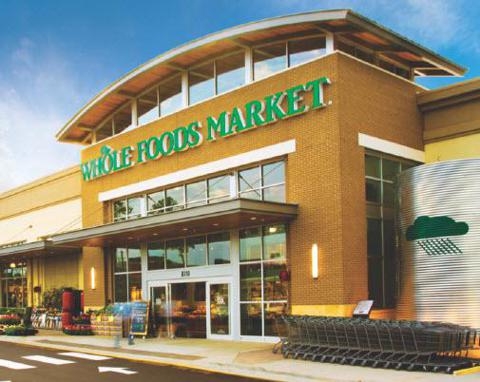 Source: Regency Investor Presentation, FAST Graphs, SNL Financial, Yahoo Finance
REITs mentioned: (FRT), (EQY), (KRG), (DDR), (CDR), (UBA), (WSR), and (AMRE).
Disclosure: I have no positions in any stocks mentioned, and no plans to initiate any positions within the next 72 hours. I wrote this article myself, and it expresses my own opinions. I am not receiving compensation for it (other than from Seeking Alpha). I have no business relationship with any company whose stock is mentioned in this article.