Wednesday May 22, Ben Bernanke "B²" reported to congress. Stocks were mostly green that morning as he testified his same old story, saying the Fed would adjust asset purchases based on economic data as warranted. At 2 PM on May 22nd, the FOMC minutes were released and many viewed them as hawkish (pro tightening) and the markets sold off:

We believe Wall Street loves volatility because that's what makes traders money. And we think that the volatility that results from the controversy created by the Fed and its policies creates a backstop for the Fed by keeping the markets guessing about the future.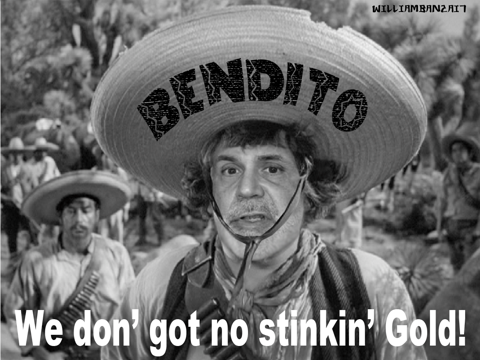 In fact, the political controversy between fiscal and monetary policy resembles a "Mexican Hat Dance" event involving B², the 12 Regional Fed Bank Presidents, the Fed's Board of Governors, Congress, Economists, Wall Street and the media.
After B2's testimony, an article in The Daily Beast summed up B²'s position as follows:
While noting the positive developments, Bernanke said the economy is still sort of meh. So what's the problem? In a word: government. I've noted that we are living in a Golden Age of Deficit Reduction™-the combination of higher taxes, the end of the payroll-tax holiday, the sequester, and growth are helping to bring down the deficit rapidly. The Congressional Budget Office now projects the fiscal 2013 deficit will be $642 billion, down $441 billion, or 41 percent from $1.089 trillion in fiscal 2012. That's huge. But it may be too much, too soon.
So the Mexican Hat Dance is in full force and effect and the political standoff causing sequestration resulting in less government spending and putting downward pressure on GDP continues. This pressure is what the Fed is offsetting with quantitative easing "QE". There was QE1, then there was QE2, and now we are in QE 3 which is based on the "flow rate" or the pace of asset purchases, currently set at $85 billion a month. This "flow rate" will be modified, up or down, in response to incoming economic data. And that's what all the fuss is about. The markets are screaming for the "flow rate" to stay the same. QE3 has high yield bonds at all time lows according to this WSJ article and graph below: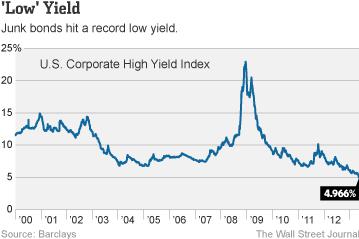 A ThomsonReuter's image shows the economic bias of the Regional Fed Presidents in this picture: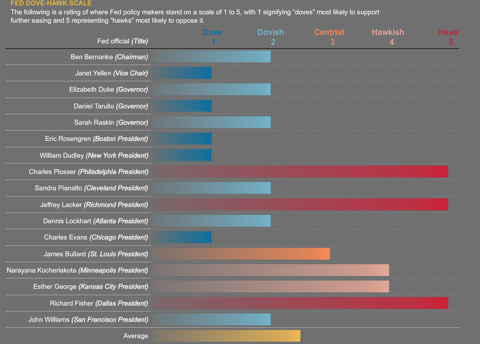 What we see above is the average of these policy makers are closer to the Chairman's dovish stance than they are hawks and therefore, as we see markets like Europe and Japan and Asia sell off, the Fed will be very accommodative to markets for a rebound. In fact we think that googling "markets to rebound this morning" is an exercise many should try. We came up with "About 6,500,000 results (0.32 seconds)". Lots of these are from the last 30 days. It seems that the only thing that events like Wednesday's B² visit to Congress accomplished was create a new lower entry point for traders to enter long positions in equities. Is the economy getting better? Who really knows for sure. But if the Fed has all the data and keeps QE alive and well, don't get over concerned about interest rates going up anytime soon because government spending is going down and B² is doing his best to counteract it.
Moreover, we think what B² and the Fed is really fighting is the transparency problem in Europe's banking system. Late May 17th in the evening, Seeking Alpha reported on a Financial Times story as follows:
17 May, 9:35 PM Of the €208.2B in non-performing loans Spanish banks have refinanced (in order to avoid recognizing them as NPLs), nearly half are treated as though they are not distressed, dubiously eliminating the need to take provisions against them, FT says. These banks have until September to reclassify restructured loans under tougher guidelines, a mandate that will likely necessitate fresh provisioning at some institutions. Between them, Santander (NYSE:SAN),BBVA, and Caixabank (OTCPK:CAIXY) had €76B in refinanced debt on their books at the end of last year.
Here is a 3 month chart for all three banks:
(click to enlarge)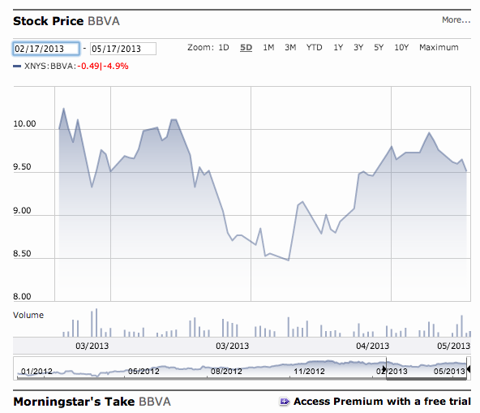 (click to enlarge)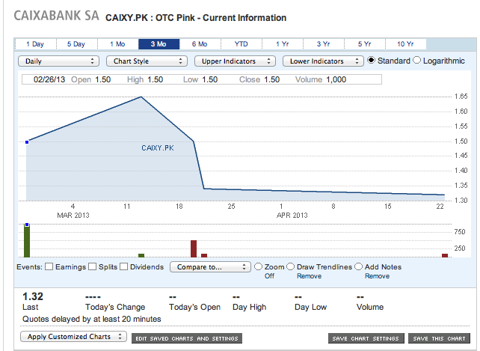 Thursday SA reported:
Thursday, May 23, 2:09 PM "We think the impact will be between €5B and €10B," the Bank of Spain tells FT, in the first official estimate of the additional provisions Spain's banks will need to take against bad loans as the government prepares to do away with "extend and pretend." Although the extra provisioning will no doubt weigh on results, expectations are that Banco Santander (SAN -0.2%) and BBVA +1.86% will have no trouble absorbing the hit, though it isn't clear that the same can be said of smaller banks. Comment! [Global & FX]
There is enough economic concern in the world right now that gives B² the right to keep the printer on with QE and keep the markets calm without having to worry about inflation. The money multiplier effect is not applicable with regards to QE as Singh and Stella have explained in this famous paper titled, "Central Bank reserve creation in the era of negative money multipliers."
And their conclusion is what B² is counting on:
Conclusion

Those schooled in the conventional money multiplier approach are understandably worried about the potential impact on inflation of expanding bank reserves. Nevertheless, there is good reason not to fear the money multiplier. Post-war US credit expansion - and, by inference, inflation-has not been dependent on an expansion of bank reserves and there is no reason to expect there will arise now a causal impact of the latter on the former. The liquidity fulcrum of a modern financial system is more complex than the monetary base and its size is determined by market conditions which continue to show signs of strain despite comparatively massive central bank injections of bank reserves.
So don't fret that QE is over. The circus featuring QE will be in town for quite a while. And while it's here, enjoy the Mexican Hat Dance.
Disclosure: I have no positions in any stocks mentioned, and no plans to initiate any positions within the next 72 hours. I wrote this article myself, and it expresses my own opinions. I am not receiving compensation for it. I have no business relationship with any company whose stock is mentioned in this article.