Encana Corporation (NYSE:ECA) is a Canadian based energy producer, with the vast majority of Encana's production being natural gas. Encana has been seeking partnerships to help fund its capital spending needs due to lower realized natural gas prices. Even with this year's 30% rebound in natural gas prices, Encana's share price has been flat YTD. Encana currently offers a $0.20 per share quarterly dividend and yields about 4.10%.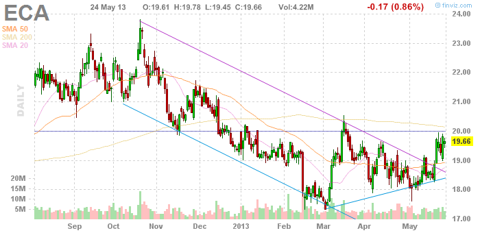 Encana has a large portfolio of assets throughout North America. Net acres total nearly 11M, of which 3.6M are fee and/or royalty structured. As of year-end 2012, proved reserves totaled 13.0 TCFE, while 2012 production volumes averaged 2,981 MMCF/D natural gas and 31 MBBLS/D of liquids.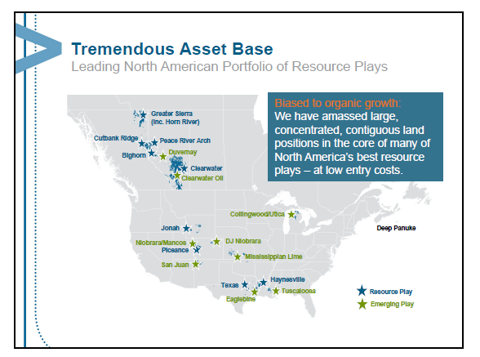 When including net divestitures of between $0.5B to $1.0B, Encana plans to spend $2.0B to $2.7B in capital spending for FY 2013. Using the midpoint for guidance, Encana's natural gas production is expected to decline 3% to 2.9 BCF/D when compared with 2012. However, total liquids production is expected to nearly double to 55 MBBLS/D. Cash flow is expected to decline to $2.4B while long-term debt is expected to decrease $500M to $7.2B.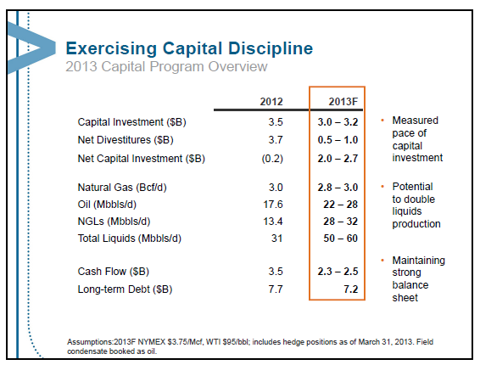 Over the years, Encana has been shifting more and more of its capital towards US based production and away from its core legacy areas in Western Canada. The FY 2013 capital budget is about evenly split between the US and Canada. About 54% of this capital is to be deployed in liquids rich natural gas areas, 25% towards oil, and only 21% in dry natural gas.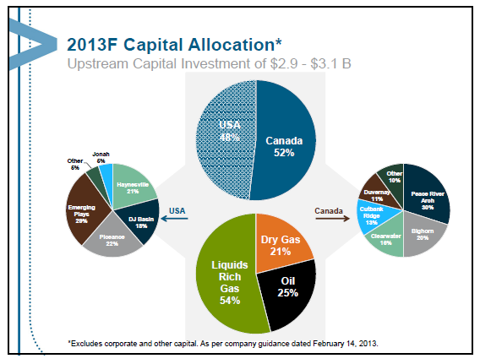 When looking back at previous capital budgets, we can see how Encana has been shifting towards liquids production. In 2011, only 1% of its capital was deployed towards oil, compared with 25% in 2013. Nearly 65%, or over $2.5B, of the 2011 capital budget was deployed in dry natural gas, compared with 21%, or about $0.5B, in 2013.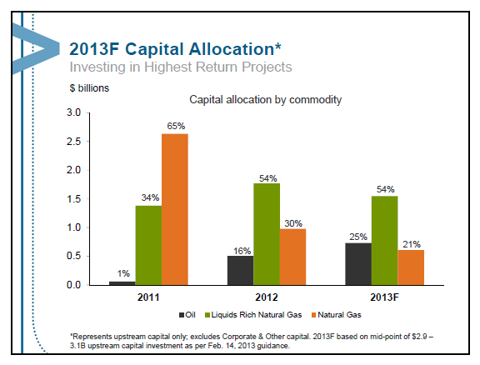 Do you notice that Encana's capital budget has become smaller over the years? This is due to its ever decreasing cash flow generation. In Q1 2013, Encana's cash flow totaled $580M, or $0.79 per share, down 44% from $1.02B, or $1.39 per share, in Q1 2012. This sharp decline is due to both falling production and lower realized prices for natural gas. Average natural gas production in the quarter was 2,877 MMCF/D, down 12% from the 3,272 MMCF/D in Q1 2012. Including hedges, the average realized price for natural gas per MCF was $3.86, down 16% from $4.58 in Q1 2012.
One area of improvement for Encana was in operating netbacks, which is a key figure for profitability. Excluding hedges, natural gas operating netbacks improved to $1.28 per MCF, up 12% from $1.10 per MCF last year. However, when including hedges, Encana's operating netbacks for natural gas declined 38% to $1.79 per MCF, from $2.88 per MCF last year.
Due to these capital restraints, Encana has been engaging in joint ventures with other parties. Encana has estimated that these joint ventures should increase its financial strength and flexibility. A typical joint venture has Encana maintaining operational and managing control while the partner agrees to funding 5 years' worth of capital. Using partnerships would allow for Encana to increase its returns when compared with using solely 100% of its capital on projects.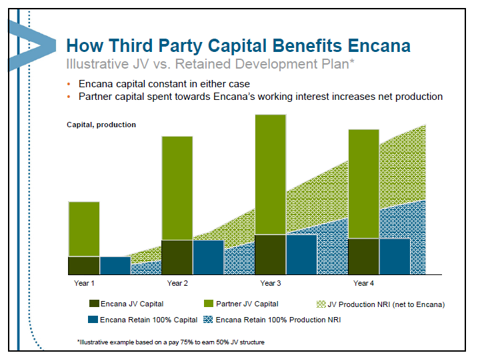 Conclusion
Encana's woes are an example of the historically low prices for natural gas at work. When excluding the $341M in net divestitures in the quarter, Encana's Q1 2013 cash flow did not cover its $715M in capital spending. Even when including these divestitures, Encana's cash flow barely covered its capital spending plus dividend payments, with a payout ratio of over 90%.
Do not be fooled by Encana's relatively low dividend yield -- using the midpoint for net capital spending of $2.35B and cash flow of $2.4B, this leaves only $50M left over for dividends, which is much less than the $600M in annual dividend payments. Needless to say, Encana is using asset sales to pay for its current dividend and capital spending.
For its current business model to work, Encana needs either a capital infusion from a joint venture or for natural gas prices to rebound. Encana should rebound if any of the two scenarios were to play out. I would, however, caution on owning Encana for income as its current dividend is not sustainable. Encana has also struggled with management turnover and is currently looking for a new CEO. In my opinion, Encana is not a stock I would own as there are better names in this sector.
Disclaimer: The opinions in this article are for informational purposes only and should not be construed as a recommendation to buy or sell the stocks mentioned. Please do your own due diligence before making any investment decision.
Disclosure: I have no positions in any stocks mentioned, and no plans to initiate any positions within the next 72 hours. I wrote this article myself, and it expresses my own opinions. I am not receiving compensation for it (other than from Seeking Alpha). I have no business relationship with any company whose stock is mentioned in this article.