Salesforce.com (NYSE:CRM), also known as the world's largest customer relations management software company, announced its latest earnings results on May 23th. In this article, I provide an overview of the latest results, a momentum analysis and a note on fundamentals.
Relative Performance
First, I compare the stock performance of Salesforce.com with other competitors. Although some competitors are not exactly in the same business, all of them have either a cloud computing or CRM component in their revenue: Citrix Systems (NASDAQ:CTXS), Rackspace (NYSE:RAX), SAP (NYSE:SAP), Oracle (NYSE:ORCL), Microsoft (NASDAQ:MSFT), IBM (NYSE:IBM), Amazon (NASDAQ:AMZN) and VMware (NYSE:VMW). Salesforce.com's one year stock performance, 13.51%, is far from the top (that is, SAS, with 31.19%) gainer. On one hand, things could have been worse, as a good number of competitors show negative returns. On the other hand, we should notice that the current stock price level has not changed that much since early 2011 ($39.2 per share). This stagnation is hard to ignore.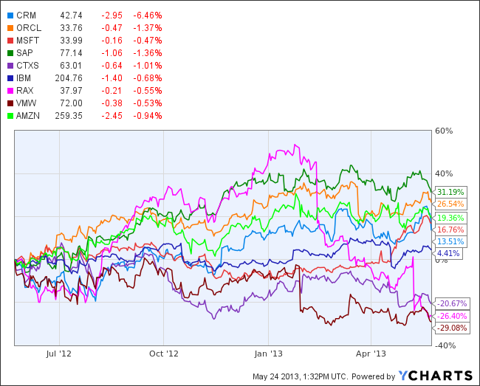 Current Momentum
It should be clear by now that the latest results disappointed investors. As it can be easily noticed, the stock price increased almost every day between May 1st and May 20th. The bullish momentum was probably caused by high expectations on the earnings call scheduled for May 23th. Perhaps most investors were thinking that the "stagnation" period of Salesforce.com was over, and were optimistic about the company's aggressive acquisition strategy. However, the graph shows that a strong bearish sentiment has completely replaced the bullish trend. With both the RSI and MACD indicator decreasing fast, I see no indicators of improvements in upward momentum for the next days. Finally, the stock was down 5.34% on Friday, indicating that a massive adjustment of expectations took place.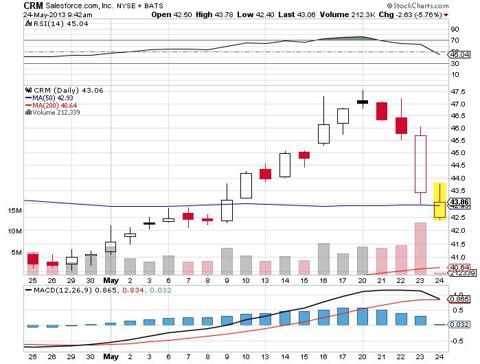 Earnings Overview: The Good
Revenue growth: Marc Benioff, President and CEO, started the earnings call by announcing that revenue for the first quarter rose 28% y/y, to more than $890 million. Operating cash flow exceeded $280 million for the quarter, showing an increase of more than 30% y/y. Deferred revenue grew to more than $1.7 billion, also up 30%.
A raise in revenue guidance for 2014: from $3.835B to $3.875B.
Salesforce is optimistic about the result of its Japanese operations. According to Benioff:
We have new partnership with Japan's government, Salesforce platform and Chatter will touch nearly aspect of the agencies engagement with millions of SMEs. Companies are going to tap in the online marketplaces with service professionals, like attorneys and tax advisors and by connecting Japan to SMEs to each other and information real-time, Salesforce is helping us critical Japanese agency, bolster competition, innovation, and growth in this phenomenal time into the Japanese economy. This continues our commitment to partner with the Japanese government as our most important and largest customer.
Benioff notes that (refer to page 1 in the earnings call published by Seeking Alpha):
I'm thrilled that after a decade of growth and market share gains, Gartner announced this quarter that Salesforce is now the largest CRM platform in the world. We've displaced SAP to become the number one CRM market share leader regardless of On Premise or Cloud, Salesforce is number one. I'd like to congratulate all of our employees, our customers; our shareholders on this important achievement of become the number one CRM company.
Earnings Overview: The Bad
(This is subjective) I had the impression that management should put more emphasis on explaining profitability. You will find keywords associated with revenue growth many times in the earnings call transcript. But what about margins? Marc Benioff did not talk about earnings and profitability in the beginning of the earnings call. He mainly referred to growth revenue and some milestones that the company recently achieved. However, what most investors were, and continue being worried about, are profitability margins.
Abenomics will continue playing against Salesforce.com's profitability in Japan:
Q1 revenue was $893 million, that's up 28% over last year, excluding an approximately $10 million FX headwind, first quarter revenue was up 30% year-over-year.
Earnings Overview: The Ugly
Finally, in page 4 of the earnings call transcript, you can find that Graham Smith, CFO, mentioned:
Our first quarter non-GAAP gross margin was 80.2%, that's about a 160 basis points lower than Q1 last year. Our first quarter non-GAAP operating margin was 10.5% or about 100 basis points lower than last year, leading to the first quarter non-GAAP operating income of $94 million, that's up 18% over the last year.
Basically, this demonstrates that subscription and support costs are rising faster than revenue. After looking at these poor profit figures, revenue figures do not seem that amazing as they seemed in the beginning. In the words of Mark Moerdler, analyst at Bernstein: "They're moving from organic to inorganic growth. And inorganic (growth) is very expensive".
Net loss is actually increasing: It is hard to notice from the earnings call, but Salesforce actually had a net loss of $67.7 million, or 12 cents a share; compared to a net loss of $19.5 million (4 cents a share) in the same quarter last year.
Fundamentals
I believe that even at $40 per share, Salesforce.com could be overvalued. But first, let me walk you through some key ratios. According to Morningstar, Salesforce.com's inability to generate profit is no recent history. Operating margin figures for 2012-01 and 2013-01 (margin of % sales) are -1.55 and -3.63 respectively. Next, we move to the free cash flow. Using Old School Value spreadsheet for financial analysis, I plot the free cash flow trend (the latest earnings call data is not included):

This kind of trend shows me that Salesforce could be a one-hit wonder. Notice the massive increase in FCF that occurred in 2011. After that, there is only stagnation. Just like the stock price!
Matt Mandel from ClearBridge Investments suspected that Salesforce.com could be overvalued as early as one year ago. In a note published in Sumzero Elite, he notices:
Salesforce.com ("the Company" or "CRM") trades at 105.0x FCF-to-EV, 8.9x Sales-to-EV, and is grossly overvalued. I believe that investors are overlooking a confluence of negative factors including: aggressive accounting assumptions, highly promotional statements by Company management, reduced transparency, poor capital allocation decisions, low quality of reported earnings, and a weak corporate governance model by over emphasizing the primacy of revenue growth.
To confirm this, I run a DCF valuation using Old School Value software, which always gives me very accurate fair value estimates. My assumptions are optimistic. First, we assume an average growth rate of 12% for the next 10 years, a terminal growth rate of 9% and a discount rate of 9%. I obtain a fair value estimate of $24.70 per share. Therefore, according to my DCF model, Salesforce.com is also overvalued, even at $40 per share. I attach a screenshot of my model, which includes a sensitivity matrix: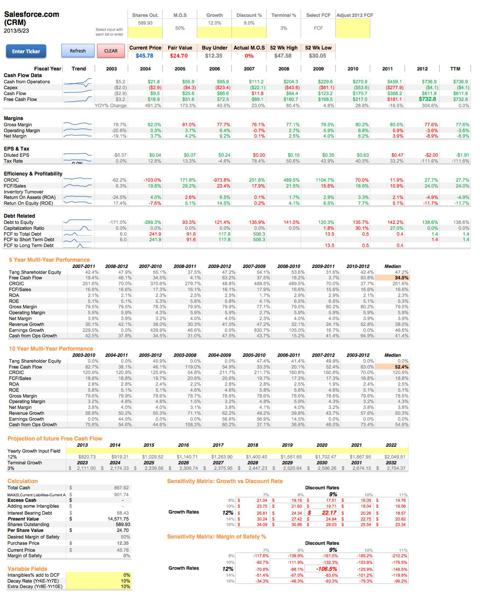 In conclusion, Salesforce.com has too many risks to be a long-term, sound investment. Revenue is growing, but not as fast as operating costs. As a result, it is hard for the firm to break the buck. More yen devaluation could further damage the profitability of the firm for the next quarter. Finally, due to low barriers to entry, we can be sure that competitors will continue increasing in number (both in the cloud computing and CRM fields).
References
Oldschoolvalue software was used for the DCF valuation. Data comes from Morningstar. The earnings call document was obtained from Seeking Alpha.
Final Remarks
Price target: $24.00 / from N.A.
Rating: Sell / from N.A.
Investment Strategy: Value
Investment Horizon: 1 year
Uncertainty: Medium
Disclosure: I have no positions in any stocks mentioned, and no plans to initiate any positions within the next 72 hours. I wrote this article myself, and it expresses my own opinions. I am not receiving compensation for it (other than from Seeking Alpha). I have no business relationship with any company whose stock is mentioned in this article.