The long term investor is always looking for sustainable stocks that have business models that change very little. We look for a company that sells a product that people have bought in the past, that people buy today and that people will continue to buy in the future. General Mills (NYSE:GIS) is a food company that makes some of the most well known breakfast cereals on the market. General Mills also makes other foods under brands such as Pillsbury, Green Giant and Betty Crocker.
This past quarter General Mills reported $22,793,400,000 in assets and $14,792,500,000 in liabilities. General Mills is sitting on only $751,200,000 in cash.
General Mills has paid an uninterrupted dividend for 114 years. The dividend stands at $1.52 at a 3.00% yield. The current payout ratio is 47%.
Earnings are $2.73 for the past twelve months. General Mills has a P/E of 17.94. The Graham Number is 25.86. Earnings for the past seven years are.
| | | | | | | | | | | |
| --- | --- | --- | --- | --- | --- | --- | --- | --- | --- | --- |
| Year | 2012 | 2011 | 2010 | 2009 | 2008 | 2007 | 2006 | | AVG | 25 P/E |
| EPS | $2.35 | $2.71 | $2.24 | $1.90 | $1.88 | $1.59 | $1.45 | | $2.02 | $50.50 |
General Mills has a solid share buyback program in effect. Unfortunately, after the purchase of Pillsbury in 2001 the outstanding shares jumped from around 590 Million to 730 Million shares.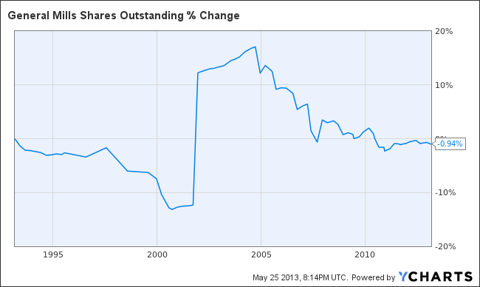 GIS Shares Outstanding data by YCharts
Twelve years later the shares sit at 645 Million. Over a twenty year period General Mills has only retired 1% of it's shares. This is an example of a share repurchase program not working properly. General Mills plans to continue repurchasing shares in the future.
"Chief Financial Officer Don Mulligan said that General Mills will also return more cash to shareholders in 2014 through both increased share repurchases and dividend growth. The company expects buybacks will reduce the average number of shares outstanding by 2 percent in fiscal 2014."
Conclusions
General Mills is a stable company; there is no doubt about that. Right now the price seems to be tethered to the dividend yield and trades within a range based on the dividend. At this point there is not much growth in the company. There is nothing wrong with a lack of growth especially if the company returns value to shareholders.
I look at a company like this: I want to own the company, not just be a shareholder. I am looking at the company from a long term perspective. Will I be able to leave my ownership to my children? If the company is not growing but a stable company I want to see something returned to me. Due to the low cash reserve compared to liabilities I am concerned if General Mills will be able to do so. Dividends are great but if my business partner is willing to sell their stake in the company. I want to be able to use that cash flow and buy those shares so I want more of the company.
Let's say I have four brothers that I am in business with. We have a company that cannot grow simply because of the way the business environment is for said business. I own 20% of the company as do my brothers. One brother wants out to explore his dream of becoming a crash test dummy; mom dropped him a couple times when he was young. The rest of us have enough cash flow so we buy out our brother. Now we each own 25% of the company. Because our company can't grow any larger I wanted more value from it. I was able to buy out a business partner. Now I am entitled to 25% of the profit, not just 20%.
I see General Mills in the same position. I'd want to see some of the liabilities reduced. This should free up cash flow. I do not see enough of a return to increase my stake fast enough, even over the long term.
Disclosure: I am long IBM, KO, MPC, WMT. I wrote this article myself, and it expresses my own opinions. I am not receiving compensation for it (other than from Seeking Alpha). I have no business relationship with any company whose stock is mentioned in this article.