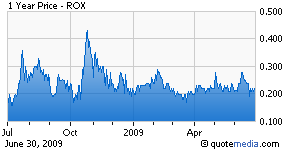 Castle Brands (AMEX:ROX), which bills itself as an emerging developer and international marketer of premium branded spirits, recently reported Q4 and year end financial results ending March 31, 2009. There were a few mixed messages as well as red ink. The press release says
"the Company continued to focus on its more profitable brands and markets and its pricing strategy."

"Selling expense decreased 25%....due to cost containment efforts, including a decrease in advertising and promotional expense."
Richard J. Lampen, President and Chief Executive Officer said "....We recognize that ongoing expense discipline is an essential part of achieving our goals."

John Glover, Chief Operating Officer, commented "...We continue to concentrate on controlling costs...."

But the fact remains that G&A costs for 2009 vs 2008 are up. Q4 G&A costs are down only marginally. This management team needs to show that it can perform.