Investment Thesis
Supreme Industries (STS) has cut its debt in half ($14.1m in FY12 vs. $27.3m FY09), and invested heavily in manufacturing processes ($13.2m spent on capex in FY12 vs. $6.6m spent cumulatively from FY09-FY11). As a result, STS has reaped the rewards in terms of higher gross margins and improving earnings which have the stock on pace to produce a 15% ROE this year and compound book value by ~17% from FY12's BVPS of $4.35. In addition to this, STS just announced a 5% stock dividend payable June 3rd to shareholders of record by May 20th.
Overview
Supreme manufactures specialized vehicles including truck bodies (~75% of sales), buses (~15-20%), and armored vehicles (~7%). Most of Supreme's business is related to light/medium commercial vehicles. Auto OEMs, primarily Ford and Chevy/GMC supply truck chassis (engine, drivetrain, frame) to STS who then builds and attaches the box portion to the chassis. STS also offers upfittings for commercial buses and builds armored vehicles which are sold to state and local governments as well as overseas to foreign embassies, although these are smaller and less profitable pieces of business which have been steadily declining in the face of tightening government budgets.
Supreme builds to order and is a national builder with manufacturing facilities in Indiana, Georgia, Texas, California, and Pennsylvania. Supreme is the only major manufacturer that produces both truck and bus bodies. Management prides itself on high-quality manufacturing and quick reaction times to impending orders.
Financials
There have been immense improvements in STS's financials over the past few years despite some cyclical weakness in the truck segment as of late. Management has paid down a significant chunk of debt and plowed more cash into their manufacturing facilities to improve overhead/labor utilization. Below is a table of the relevant metrics and their perceived impacts on gross margin, interest expense, and EPS.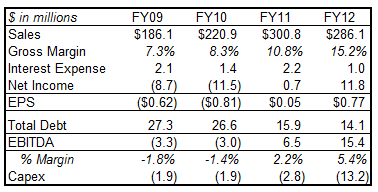 The 1Q13 release (April 25th) was more of the same story. Supreme reported $65.9m sales, down 9% yoy but gross margin was up 230 bps (highest quarterly gross margin since 1999) and operating expenses were relatively flat. STS earned 15 cents a share, down slightly from the 17 cents per share in 1Q12 however this was a result of paying a normalized tax rate. STS utilized its NOLs in FY11 and FY12 after taking big losses in the 2 prior years and exhausted its deferred tax assets as of FY12 end. Adjusting for a normalized tax rate in 1Q12, EPS was up 36%... very impressive on the smaller revenue base. From a cash flow perspective, operating cash flow was a use of just $0.3m, down from a use of $2.6m in 1Q12 (1Q is typically a large use of cash as the company finalizes its inventory needs and makes the purchases during the quarter). Capex will not be anywhere near the $13.2m spent in FY12 going forward which bodes well for free cash flow.
Outlook / Valuation
The outlook for FY13 and beyond has plenty of upside with limited risk. Within the truck business, fleet orders were down in 1Q and have remained soft over the past year. Management believes it's possible that STS will see a higher amount of fleet business in the upcoming quarter compared to 2Q12, and has also cited an overall uptick in the general truck business. Furthermore, management believes the truck market itself has gone approximately 2-3 years beyond its normal replacement cycle and while there was an uptick over the last couple of years, it still does not appear to be at full strength so there is potential for continued reversal in STS's truck segment which would be extremely accretive to earnings at newfound gross margins.
Management believes the bus segment represents one of their greatest opportunities going forward. While sales have come down from $70m in FY10 to $55m in FY12, STS is undergoing a similar rebuild in their bus manufacturing processes to what they initiated in the truck segment in 2011 which should yield improved cost control and pricing. While management claims the bus segment drop-off has been consistent with the entire industry, they are intensely focused on improving pricing and stealing some market share which should benefit the company greatly once orders begin to pick back up.
Assuming slight improvement in fleet business later this year, I have STS producing $280m in sales on a 17% gross margin. Holding opex flat and assuming a 32% effective tax rate pegs them at $10.7m net income, or $0.69 per diluted share. This would be a 10% yoy decrease in EPS, but if you adjust for the tax rate it represents a 41% increase. If sales decline 6% to $270m and margin falls to the 15% range, EPS will likely be closer to $0.10 per share. Based on the former assumptions, shares trade at just 6.6x FY13E EPS and 4x EBITDA. If you use the bear case assumptions, shares are much pricier at over 40x EPS. I do not believe this is realistic as management has explicitly stated they will not chase low margin business and will expressly decline orders which do not meet target margin requirements.
Balance Sheet
$14.8m debt, $2.9m cash, $42.6m net working capital. Current ratio is 2.3x and book per share is $4.48 as of 1Q13.
Summary
Supreme runs a tight ship and provides a specialized value-added service for a relatively stable industry. There is little risk at this point of seeing recession-level sales, and even if sales continue to decline modestly, the improved margin case will help STS to sustain its earnings and 10%+ returns on equity which should push the share price up over time along with book value. There is still significant reversal potential in the truck and bus segments, as well as room to push margins higher and execute a similar turnaround in the bus segment although it will not be as accretive as what management has done with the truck business.
The book value per share and incoming dividend both serve as significant margins of safety in case the worst-case scenario does unfold. Regardless, I see STS as a safe play with around 15-20% upside.
Disclosure: I am long STS. I wrote this article myself, and it expresses my own opinions. I am not receiving compensation for it (other than from Seeking Alpha). I have no business relationship with any company whose stock is mentioned in this article.