Investments in developing biopharmaceutical drug companies carry heavy risk yet can often lead to promising rewards for investors and society alike. One such company investors may soon wish to add to their watch lists is Cyclacel Pharmaceuticals, Inc. (CYCC). The company most recently raised $20.5 million in an underwritten offering of 6.83 million shares priced at $3/sh. Yet it also appears that several insiders in the company found this to be an opportunistic time to increase their holdings as seen in the table below.

Interestingly enough, the most recent transactions by CEO Spiro Rombotis and CFO Paul McBarron represent significant increases to their prior holdings in the company. Rombotis had previously purchased a total of 67,834 shares in 2011 over multiple purchases. These purchases priced between $0.49/sh. to $0.73/sh., which would be $3.43/sh. to $5.11/sh. after consideration of the 1-for-7 reverse split conducted in 2012. McBarron's prior transaction in 2011 was for a mere 12,000 shares priced at $0.50/sh., or $3.50/sh. in today's prices.
Cyclacel Pharmaceuticals was founded in 1996 and has since introduced three product candidates which are now in clinical development. These are Sapacitabine [CYC682], Seliciclib [CYC202], and the unnamed CYC116. Sapacitabine remains the company's frontline product in the present and the most advanced in its pipeline portfolio.
Sapacitabine is a cell cycle modulating nucleoside analogue currently in Phase 3 development for the treatment of acute myeloid leukemia [AML] in the elderly along with a Phase 2 study for myelodysplastic syndromes [MDS], lung cancer, and chronic lymphocytic leukemia. Seliciclib, a cyclin dependent kinase inhibitor, is in Phase 2 studies for the treatment of lung cancer and nasopharyngeal cancer. CYC116 remains in a Phase 1 trial for patients with solid tumors. The company's goal is to build a diverse portfolio of commercial products focused in the hematology and oncology space.
Cyclacel Pharmaceuticals has begun to demonstrate its ability to compete in multiple markets and may soon prove to be an effective competitor against some larger players in the industry. For instance, the company is heavily targeting frontline treatments in the hematology/oncology space such as Azacitidine and Dacogen, which are marketed by Celgene (CELG) and Astex Pharmaceuticals (ASTX), respectively. Yet the company has also been exploring work in both liquid and solid tumors. In a liver metastatic mouse model, Sapacitabine was shown to perform better than Gemcitabine, which is marketed by Eli Lilly (LLY).
The company recently reported its Q1 2013 results on May 13, 2013. The ensuing earnings call transcript can be found here at Seeking Alpha. The following points are some highlights from that call worthy of consideration:
Progress was reported in the "SEAMLESS" Phase III study of Sapacitabine treatment in elderly patients. Management stated that the study with AML has met 1/3 of the required enrollment needed to be fulfilled.
Survival data for the SEAMLESS study during the pilot and lead-in stage shows that median overall survival was about 8.5 months with the median overall survival being 9.4 months for those aged 75 years or older. In comparison, studies of Decitabine vs. low-dose chemotheraphy practices show that patients aged 75 years or older maintain a median overall survival of 6.3 months. For patients age 70 or more who were left untreated, median overall survival was approximately 3.6 months.
Phase II median survival data for patients with MDS showed that those treated with Sapacitabine achieved nearly double the expected survival compared to patients with MDS who are refractory to hypomethylating agents such as Azacitidine or Decitabine.
Early work on the use of Sapacitabine in patients with solid tumors remains positive.
With at least one product now underway in a Phase III study, Cyclacel Pharmaceuticals begins to enter the zone in which investor interest is able to rapidly pick up speed. This is especially so with the right news catalyst which could come in the form of progressive study data. As recently expressed by fellow Seeking Alpha contributor Brian Thompson in his article found here, Cyclacel's Sapacitabine may be misunderstood by the market in light of its prior results. The latest information provided by management in the earnings call above appears to support this idea that Sapacitabine can significantly help the elderly population.
The company's most recent cash raise of $20.5 million helps to build up a respectable balance sheet that can support the company for some time. For means of comparison, the company's cash flows from operations was only a loss of $12.04 million in 2012 and has averaged a loss of $14.02 million over the last 3 years. As of March 31, 2013, Cyclacel's cash and cash equivalents were $14.1 million. However, this did not include the $5.5 million from the sale of patents to Celgene or the $20.5 million from the recent offering. Altogether, the company reasonably carries roughly $40 million in cash to date.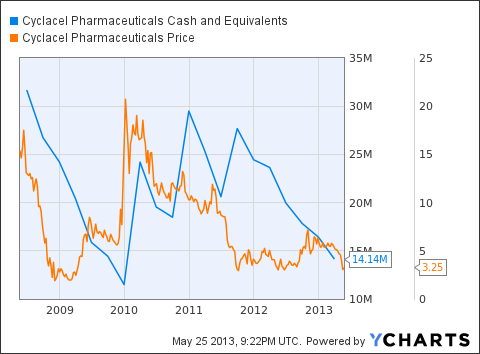 CYCC Cash and Equivalents data by YCharts
Cyclacel's resolved issues with Celgene allows the company to refocus its attention back onto its primary products free from litigation risk. The company's latest results continue to progress as the data suggests that Sapacitabine and SEAMLESS continue to hold a promising future for the elderly population. Above all, the company continues to believe that its pipeline is able to address multiple markets in both the liquid and solid tumor space allowing for further development outside of its current target market. With insider purchases, a fresh round of financing, progressive developments in the data, and the de-risking of litigation, Cyclacel appears to be a promising company for investors to now consider.
Disclosure: I have no positions in any stocks mentioned, but may initiate a long position in CYCC over the next 72 hours. I wrote this article myself, and it expresses my own opinions. I am not receiving compensation for it (other than from Seeking Alpha). I have no business relationship with any company whose stock is mentioned in this article.