The premise of this article is to focus on stocks with lofty valuations, which can be used as initial entries for short positions, or sell triggers for long exits.
The first offender stepping up to the plate is LinkedIn (NYSE:LNKD). Although I'm a user of the 'Facebook (NASDAQ:FB) of the corporate world', it has pie-in-the-sky Price-to-Sales, and Price-to-Cash-Flows, ratios of 17.9, and 64.5 respectively. From a technical analyst standpoint, the daily chart shows a classic head-and-shoulders pattern, presenting that a potential short-term top is in at the all-time high of 202.81.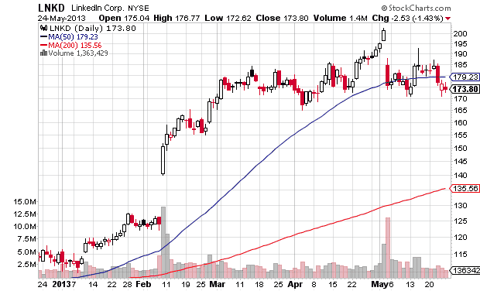 For anyone LONG LNKD, I strongly recommend locking in profits here. And I think a bear credit spread (selling a $200 call, purchasing a $220 call), January 2014 Strike, presents a good low-risk opportunity to generate income if LNKD stays where it is (or declines). These insiders are locking in serious profits here as well.
That list is pretty extensive, so I'll save you the trouble and get to the point. For 2013 there's been no insider buying at all! The only insider activity is full-scale systematic selling by over 13 different insiders, starting at just over $100, up to $190. And the largest selling took place recently, by Chairman Reid Hoffman on May 20th, selling over 80,000 shares in the low $180s.
Netflix (NASDAQ:NFLX). Unlike LNKD, I'm more committed in a distinct bias. I think being short anywhere at these levels presents a good risk/reward setup, given how much the stock has rallied in the past year. Long-term it's staggering to suggest NFLX can maintain these price levels given its deteriorating margins, increasing content costs, and risk of new competitors. And that's not saying anything about a current forward P/E hovering around 75.
Although there's nothing technically to suggest a top is in, it has sold off recently and there are lots of good trading rolls available from the short side.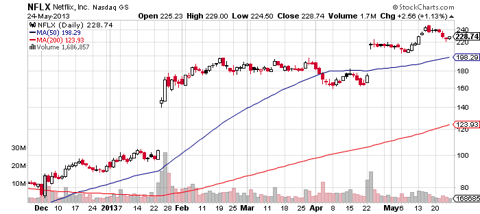 In terms of insider activity, there's been strong selling from both Jay Hoag, and Ted Sarandos recently (liquidating their holdings). Of course, everyone wants to know what the big whale, Carl Icahn, is planning. Although in May, Icahn stated he had no plans to lock in profits on his position, according to this CNBC interview, it's hard not to suggest he won't take some profits soon. In March, NFLX dropped 6% on rumours Icahn was selling, and that was when the stock was trading around $180.
What kind of correction could we see in Netflix once the real selling begins?
Disclosure: I am short NFLX. I wrote this article myself, and it expresses my own opinions. I am not receiving compensation for it (other than from Seeking Alpha). I have no business relationship with any company whose stock is mentioned in this article.