By Chris.McKhann:
Exelon (NYSE:EXC) has attracted a large call spread as the utility company fights a negative tape Tuesday.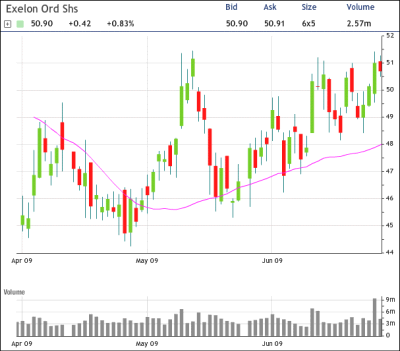 EXC is up $0.34 percent to $50.64, which is impressive with the wider markets down more than 1 percent. The stock is right up against its overhead resistance of the 200-day moving average, which it hasn't been above since last July when the stock was above $80.

The options action involves one trade of 49,850 each of the August 55 and July 55 calls. The former were bought for $0.90 and the latter were sold for $0.20 at the same time.
This appears to be a "roll" that takes the position to a later month for more time. The open interest is near 54,000 at the July strike and just 493 for the August.
The trade is very large but provides no directional tell, as it just continues a previous bullish call or is a hedge of some sort, including possible protection on a large short position in EXC.