Hi-Crush Partners LP (NYSE:HCLP) is producer of monocrystalline sand. Monocrystalline sand is a mineral that is used to boost the recovery rates of hydrocarbons from oil and natural gas wells. HCLP's assets include sand reserves and related processing and transportation facilities in Wyeville, Wisconsin, plus a 561-acre facility with integrated rail infrastructure. The company was founded in 2010 and is based in Houston, Texas. The company went public on August last year.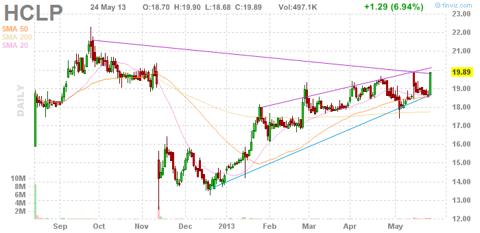 HCLP is a high yield, cheap stock that is gaining attention from investors focused on dividends. HCLP is a Master Limited Partnership [MLP]. MLPs are publicly traded limited partnerships that must derive their cash flows from real estate, natural resources and commodities. MLPs offer income and growth to a portfolio through superior returns and capital appreciation. HCLP is one of the most valuable MLPs in the market. It strikes a perfect balance between high yields, low price, and ideal economic conditions for growth. Let us see why you should start loading up in HCLP today.
Balance Sheet

HCLP has a market capitalization of $542.80 million and $27.29 million shares outstanding. HCLP has a very strong balance sheet. Notably, its current ratio and quick ratio are 5.19 and 4.54 respectively. Meanwhile, it has no debt. These financial ratios reflect that HCLP has voluminous assets and no debt, which is a good indicator of management and robust capital acquisitions. Recently, HCLP announced its acquisition agreement of a leading frac sand distributor, D&I Silica LLC.
The stock recently closed at $19.89. At this level, HCLP has a price to earnings ratio of 6.98x and a price to earnings growth (NYSE:PEG) of 0.15.
Earnings
On May 14, HCLP released its Q1 2013 results. It reported net income of $10.8 million or $0.40 per limited partner unit. The EBITDA is $11.4 million while revenues for the quarter were $19.6 million for a total of 312,730 tons of frac sand sold. The average selling price of the frac sand is $62.76 per ton.
Additionally, HCLP accumulated $14.5 million in distributable cash flow. This will be allocated at $0.475 per unit as the first quarter cash distribution.
HCLP's returns are very impressive. ROA, ROE and ROI are 49.91%, 82.54%, and 56.54% respectively.
| | |
| --- | --- |
| Returns (trailing twelve months) | In Percent |
| Return on Assets | 49.91% |
| Return on Equity | 82.54% |
| Return on Investment | 56.54% |
As such, the gross margin, operating margin, and profit margin are 72.92%, 62.17%, and 57.55% respectively.
| | |
| --- | --- |
| Margins (trailing twelve months) | |
| Gross Margin | 72.92% |
| Operating Margin | 62.17% |
| Profit Margin | 57.55% |
Currently, HCLP has a dividend yield of 9.55%. This high yield can be justified by very low-cost operations and great margins by the company. It has an annualized dividend of 1.90. The closest competitors of HCLP in terms of dividend are Great Northern Iron Ore Properties (NYSE:GNI) at 13.22%, but it is currently trading at $68.08 per share; and Natural Resource Partners LP (NYSE:NRP) at 9.52% at $23.12 per share. Among the three, HCLP balances the cheap price of the stock and admirable yield.
The EPS in the trailing 12 months is 2.85. EPS grew by 134.53% this year together with the sales growth of 27.90%. HCLP recently acquired a frac sand distributor D&I Silica LLC for about $125 million. This will be a tremendous boon for the growth of the company in the upcoming years, and investors can expect increases in sales and dividends through expanded distribution pipelines.
Investors should hold on to HCLP for a few more years. The company went public in August of 2012 at $17 per share. RBC Capital Markets reiterated an Outperform rating on HCLP from $20 to $23 on May 15.
Valuation
HCLP is currently trading at 7.01% from its 20-day simple moving average; 11.90% from 50-day simple moving average; and 11.90% its 200-day simple moving average. This means that the stock is continually on an uptrend and shows no signs of slowing down. The stock performance is 17.41% for the quarter.
Analysts are targeting a stock price of $21.86 before the fiscal year ends.
In Summary

HCLP is a profitable company with strong growth potentials backed by a healthy balance sheet and increasing sales. The recent acquisition of D&I as a distribution arm is a solid deal which will lead to more growth and increased payout in the future. The company already yields 9.55% at a fairly inexpensive price, which should be enough reason to start accumulating this investment today. In the future, expect an expansion from the company through more acquisitions or a double-digit distribution growth.
Disclosure: I am long HCLP. I wrote this article myself, and it expresses my own opinions. I am not receiving compensation for it (other than from Seeking Alpha). I have no business relationship with any company whose stock is mentioned in this article.