The euro/USD (NYSEARCA:FXE) was up slightly last week despite weakness in the European sovereign bond market. However, the big news in global markets came from outside Europe. Investors were focused on comments from Federal Reserve Chairman Ben Bernanke about the possibility of tapering QE as well as the jump in Japanese bond yields and weakness in the Nikkei (NYSEARCA:NKY). The move in European sovereign bonds seemed to follow similar moves in Japan and the US and does not seem to reflect European specific issues. Going forward, I expect the euro and European assets to be mainly driven by the increasing likelihood of further action by the ECB, which may coincide with the Fed's tapering. This could result in a weaker euro and stronger European equities (and possibly bonds).
ECB Watch
Pimco recently came out with an interesting analysis of the dynamics in Europe: How to Turn the ECB Straggler into a Central Bank Pacemaker.
For a while I have been talking about the fact that the ECB is losing the race at the printing press relative to the Fed and Bank of Japan. Pimco's analysis gives some interesting statistics about this dynamic:
"The U.S. Federal Reserve (Fed), Bank of Japan (BoJ) and Bank of England (NYSE:BOE) have all been heavily engaged in asset purchases. The European Central Bank (ECB), in comparison, looks like a shrinking violet. As of 13 May 2013, the Fed's and BoJ's balance sheets have grown year-to-date by 14% and 10% respectively; the ECB's balance sheet actually fell by 14%.

How central banks use their balance sheet is also important: Asset purchases are 10% of the ECB's balance sheet, but 97% of the Fed's. The ECB has provided funding support but, in contrast to the Fed, has transferred much less risk from investors' balance sheets. The result is that it has done less to help banks deleverage, improve their capital ratios and hence increase their willingness to lend.

Investors should be wary of extrapolating this status quo - Europe's weak economic outlook means that we should expect the ECB to become more, not less, engaged."
The dynamic of the ECB becoming more active at the same time as the Fed potentially tapers QE could weaken the euro.
Euro Price Action
The euro closed above the key $1.29 level that I have been watching for a while.
The fact that the euro was slightly up while European bonds sold off suggests that the move in the European bond market was driven by factors outside of Europe.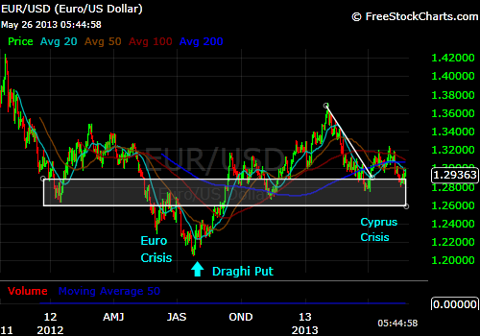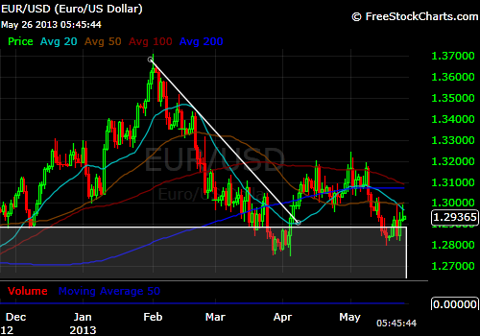 (Source: FreeStockCharts.com)
European Sovereign Bonds
European sovereign bonds were down across the board as yields rose and spreads widened. I suspect that the European sovereign bond market was reacting to the action in the US and Japanese bond markets.
From a big picture perspective, yields on peripheral bonds have come way down since the extreme levels of last summer. It is important to watch for a reversal of this trend, but the action last week is not enough to suggest a major reversal just yet.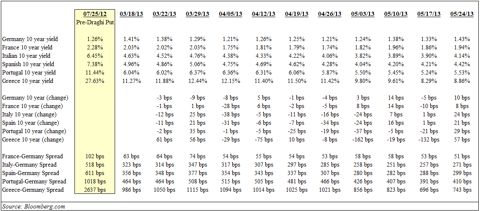 European Equity Markets
I noted previously the divergence between the performance of European equities and the euro, but both were rather steady last week.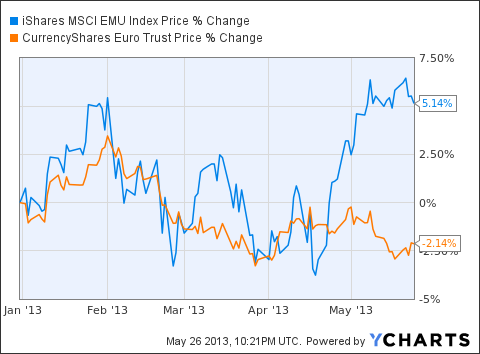 The major European indices were down slightly last week with Spain lagging its peers again.
The following chart shows the five-day price action for the iShares MSCI Germany Index Fund (NYSEARCA:EWG), iShares MSCI France ETF (NYSEARCA:EWQ), iShares MSCI Italy Index Fund (NYSEARCA:EWI), and iShares MSCI Spain Capped Index Fund (NYSEARCA:EWP), and the SPDR EURO STOXX 50 ETF (NYSEARCA:FEZ).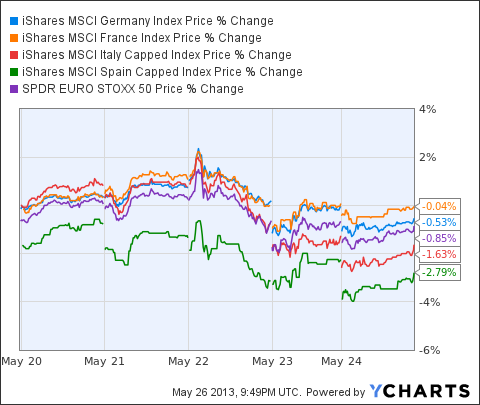 On a year-to-date basis, Germany and France are outperforming while Spain and Italy are hovering around breakeven.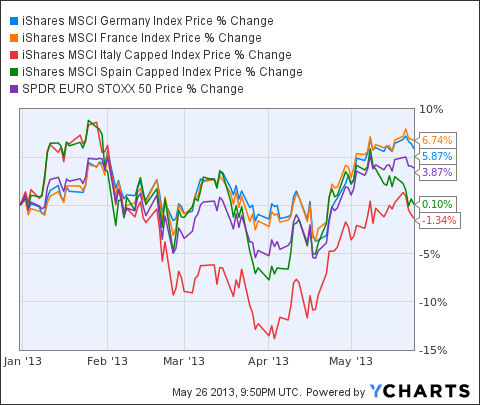 European financials lagged the broader index last week.
The following compares the iShares MSCI Europe Financials ETF (NASDAQ:EUFN) with the iShares MSCI EMU ETF (BATS:EZU).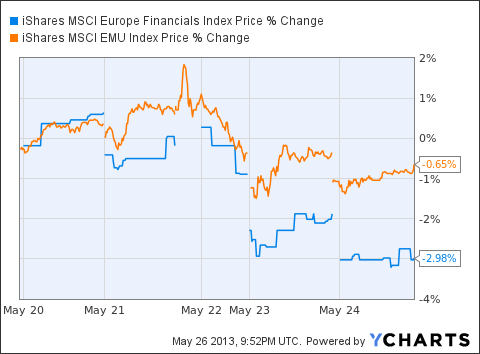 I have a position in Banco Santander (NYSE:SAN) as a play on European banks. Banco Santander traded in-line with the European financials last week.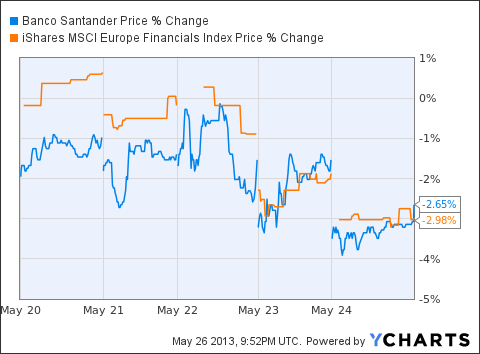 Recently, Spanish officials announced new loan provision requirements for Spanish banks.
However, it seems that Banco Santander will not be impacted:
""We think the impact will be between €5B and €10B," the Bank of Spain tells FT, in the first official estimate of the additional provisions Spain's banks will need to take against bad loans as the government prepares to do away with "extend and pretend." Although the extra provisioning will no doubt weigh on results, expectations are that Banco Santander and BBVA will have no trouble absorbing the hit, though it isn't clear that the same can be said of smaller banks." (Source: Seeking Alpha)
Here is a closer look at Banco Santander.
Impact of European Equity Markets on U.S. Equity Markets
Earlier this year, European equities lagged their US peers. However, they are catching up and basically traded in-line with US equities over the last three months.
The following compares the S&P 500 (NYSEARCA:SPY) and the Financial Select Sector SPDR ETF (NYSEARCA:XLF) with their European counterparts, the EZU ETF and the EUFN ETF.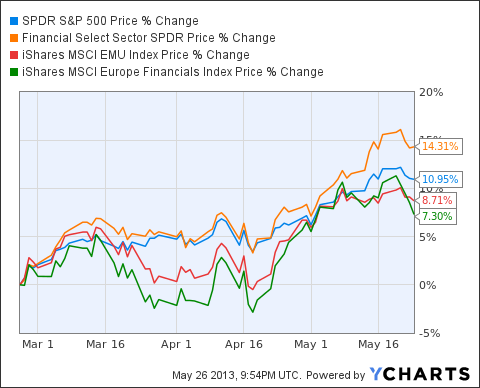 Conclusions
European assets seemed to be reacting to external news last week. European sovereign bonds declined, but this seemed to be a reaction to movements in the US and Japanese bond markets.
The euro was slightly up on the week. Going forward, I expect the main driver for the euro to be the increasing likelihood of ECB action as well as tapering by the Fed. This dynamic should lead to a weaker euro, but could be a positive catalyst for European equities.
Disclaimer: The opinions expressed above should not be construed as investment advice. This article is not tailored to specific investment objectives. Reliance on this information for the purpose of buying the securities to which this information relates may expose a person to significant risk. The information contained in this article is not intended to make any offer, inducement, invitation or commitment to purchase, subscribe to, provide or sell any securities, service or product or to provide any recommendations on which one should rely for financial, securities, investment or other advice or to take any decision. Readers are encouraged to seek individual advice from their personal, financial, legal and other advisers before making any investment or financial decisions or purchasing any financial, securities or investment related service or product.
Information provided, whether charts or any other statements regarding market, real estate or other financial information, is obtained from sources which we and our suppliers believe reliable, but we do not warrant or guarantee the timeliness or accuracy of this information. Nothing in this article should be interpreted to state or imply that past results are an indication of future performance.
THERE ARE NO WARRANTIES EXPRESSED OR IMPLIED AS TO ACCURACY, TIMELINESS, COMPLETENESS, OR RESULTS OBTAINED FROM ANY INFORMATION IN THIS ARTICLE OR ANY LINKED WEBSITE.
Disclosure: I am long SAN. I wrote this article myself, and it expresses my own opinions. I am not receiving compensation for it (other than from Seeking Alpha). I have no business relationship with any company whose stock is mentioned in this article.
Additional disclosure: I am long put options on the SPY that stand to rise in value if the SPY declines. I may trade any of the securities mentioned in this article at any time, including in the next 72 hours.