Chevron's (NYSE:CVX) generous 11% dividend increase has lately generated a lot of interest in the company. Chevron, a fully integrated oil and gas "supermajor," has both an upstream and downstream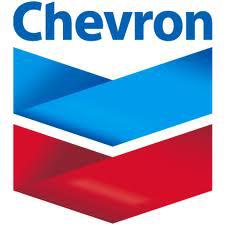 business. Their upstream operations include exploration, development and production of crude oil and natural gas. It also includes processing, transportation and storage. Downstream operations include refining and marketing. Their most recent quarter included some none-too-exciting results:
Stalled production in offshore Brazil
An asset sale in Alaska and finally
A decrease in Upstream earnings
Their most recent results showed lower quarter-over-quarter upstream and downstream earnings. Production decreased by 23,000 Barrels of Oil Equivalent Per Day (BOEPD) versus the previous quarter. This was led by turnaround activity, weather disruptions and normal field declines. Downstream reported lower profits, too: volume here was down due to maintenance in their important Florida refineries.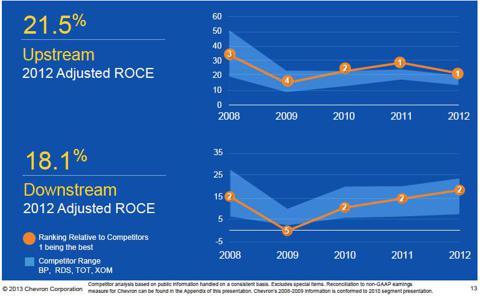 2013 1Q Earnings Conference Call Presentation
Profitability metrics, however, remained strong. Upstream reported a Return On Capital Employed at 21.5% for 2012, putting the company ahead of all their supermajor peers. Margins for Barrels of Oil Equivalent (BOE) were at $30, again placing Chevron atop their peer group.
Investors were forgiving of Chevron's less than stellar quarterly earnings and production. The company's profitability metrics have continued to be excellent and their exciting, transformative new projects are on schedule. I believe Chevron's major projects mark an important shift in focus for the company: They are not merely a means to maintain and grow production. My intention is to highlight what kind of company "new Chevron" will be as these projects near their completion.
What Will Change, And What Won't
Chevron is carrying out some major capital projects from a position of strength, not weakness. This is not a company in need of a turnaround. Here are some major changes that will happen before 2017 or have happened already:
The downstream division is already a smaller, but positive, part of their business.
Chevron will remain a global company, but will be much less of a Middle East oil producer and much more of an Asia Pacific Liquefied Natural Gas (LNG) producer. By 2017 at the latest, Chevron will likely produce more MBOE in Asia Pacific than anywhere else.
And finally, they will have greater focus on the Gulf Of Mexico.
Those are some significant changes. But here is what won't be changing:
Chevron should be able to continue a slow growth of reserves and production.
At the same time, they should also continue to be at or near the top of their supermajor peer group in profitability metrics such as ROCE and cash margin per barrel.
The balancing act between growth and return on capital is not an easy one for energy companies. After all, developing new energy sources takes a huge amount of money, which eats into a company's overall profitability metrics. Of all the supermajors: BP (NYSE:BP), Total (NYSE:TOT) and Exxon Mobil (NYSE:XOM), Chevron has been the best at this balancing act. This, perhaps more than anything else, is what makes Chevron an attractive investment. With all this in mind, let's go over some of these changes in detail.
Chevron Of The Future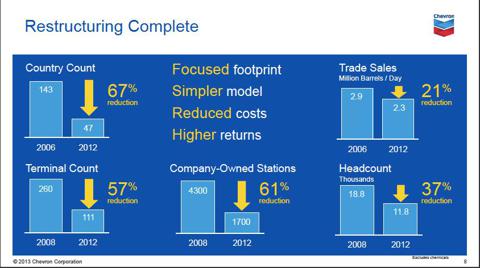 Chevron 2013 Security Analyst Meeting, Downstrem Presentation.
First is the Downstream business, which will be smaller but still important. The graphic above details the company's major restructuring of Downstream. They own less terminals, operate less stations and have a reduced headcount. All of these dispossessed were among the least profitable within their portfolio. Basically, management cleaned house. Their ROCE going forward should therefore be much higher.
Most importantly, they are focused on fewer regions. The old downstream Chevron had facilities all over the world. The new one is focused mostly on Asia-Pacific and North America: all their major downstream capital projects are in these two regions. Chevron's focus here is a microcosm for the entire company. Their decision to hone in on these two regions was probably due to superior growth, friendlier business environments and, in Asia Pacific, less organized competition.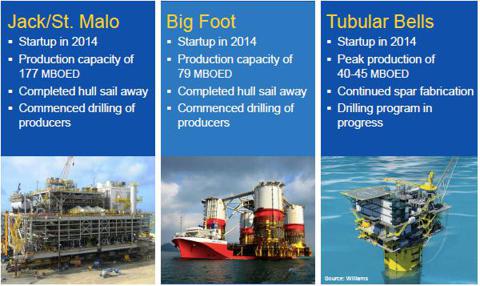 Chevron 2013 Analyst Meeting, Upstream Presentation
Second, Gulf of Mexico will be the centerpiece of their North American production complex and will therefore be increasingly important. In 2013, Chevron will spend $11 billion in capital expenditure in North America. This money will be divided between exploration, base resource maintenance and major capital projects, with the latter probably getting over half. While Chevron is spending on North American shale resources, their largest capital projects are all in the Gulf of Mexico. Of that $11 billion, nearly half should be poured into new Gulf of Mexico rig projects: Jack/St. Malo, Big Foot and Tubular Bells. These projects should be up and producing next year.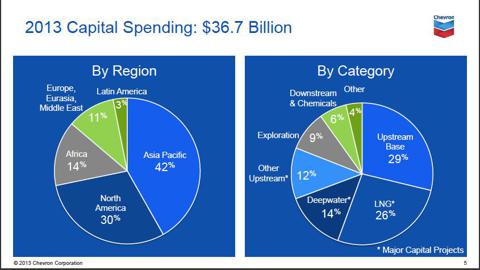 Chevron 2013 Analyst Meeting, Financial Performance and Priorities Presentation.
But the largest share of Chevron's $36.7 billion of capital expenditure (capex) is actually in the Asia Pacific region, and more than half of that will be allocated to LNG.
Where North America has huge surpluses of natural gas, Asia's supply is very tight. For example, natural gas in Asia sells for $14.30 per thousand cubic feet (mcf) compared to $4/mcf in the US. Asia Pacific is a much friendlier market for suppliers like Chevron.
Capex here is anchored by two giant gas projects in western Australia: Gorgon and Wheatstone. Gorgon, when finished in 2014, will produce 15.6 million tons of gas per year. Wheatstone will produce another 8.9 million tons per year and construction on that will be complete in 2016. Most of the LNG has already been committed to long-term contracts, including large Japanese power companies. There is one other major gas plant project, Gendalo-Gehem, in Indonesia, which Chevron will also use to supply the region's growing energy needs. In East Asia, LNG seems to be the new default power supply and Chevron will be a huge player in its production, possibly the biggest.
Offshore western Australia has been a source of encouraging natural gas discoveries since 2009, and discoveries have continued as exploration has moved further offshore. This has been an area of focus for Chevron as they work to secure more LNG and supply the region's industrial powerhouses with electricity and feedstock.
Chevron has identified offshore China drilling as well as shale exploration in southern China to be long-term opportunities for future production. While I am not quite as keen on these projects due to the unreliable nature of China's government, supply and demand is certainly in Chevron's favor there.
Long-Term Production Growth
Both this year and last are set to be lackluster years for production at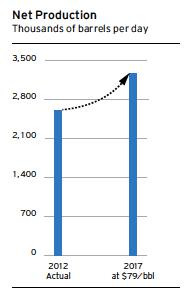 Chevron as their base decline has not yet been reversed by new project development. This will change starting in 2014 when major Australian and Gulf of Mexico projects come online. From 2014 on to 2017, Chevron expects production to grow between 4 and 5 percent thanks to Gorgon and Wheatstone in Australia and Big Foot, Jack/St. Malo and Tubular Bells in the Gulf of Mexico.
To give an idea of the competition, this growth would be superior to fellow US supermajor Exxon Mobil and about equal to the growth of ConocoPhillips (NYSE:COP), which is more concentrated on North American shale. Chevron's growth is also a notch below Occidental's (NYSE:OXY) 5-8% production growth.
Exciting Exploration Opportunities
Chevron will spend over $3.3 billion on exploration this year. Here are some areas which I am particularly excited by, in the order of greatest to least:
The Cooper Basin of Australia - The Akaringa Basin in Australia was home to a huge discovery at least 200+ billion barrels of shale oil. Could the nearby Cooper Basin yield similar results? Chevron is a very early mover in this play, and finds here could be just as staggering.
Offshore western Australia - This region continues to be a site for successful LNG exploration. Japan, Korea, Taiwan and China are all in need of LNG and Asian demand is continuing to grow.
Gulf of Mexico - ConocoPhillips' recent Shenandoah discovery has brought heightened interest into this region. Chevron is putting a renewed effort into further exploration in an area where they are already one of the largest producers.
North American shale - Further shale exploration in the Duverney of Canada and Wolfcamp in the Permian Basin are particularly interesting. Companies have been very quietly exploring the Duverney shale and we have yet to hear much results. The Wolfcamp, already producing conventional oil for over a hundred years, is now being explored for unconventional oil.
Offshore West Africa - Since the Tupi oil discovery in 2008, drilling in offshore Brazil has been a sought-after prize. Unfortunately, foreign capital has gotten few opportunities as the Brazilian government has leaned the way of state-owned Petrobras (NYSE:PBR) for production rights. Offshore West Africa might be international oil's response: their geology is a kind of analog to offshore Brazil's, and governments there should be friendlier to foreign investment.
Lithuania, Poland and Romania - Eastern Europe is something of a wild card. North America is not likely the only place in the world with substantial shale gas; it's merely the first to be systematically explored. And unlike Western European countries, which historically prefer to secure their energy needs in offshore locales, Eastern Europe is eager to explore and fracture its own shale rock. ConocoPhillips and Chevron are exploring here, to name just two.
Debt
A quick look at the company's Cash Flow Statement and Balance Sheet confirms that Chevron has been able to fund its capital expenditures and that debt levels have remained in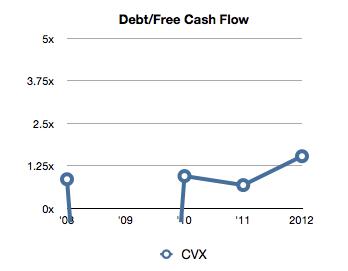 check. The recent uptick in Debt/Free Cash Flow is due more to last year's decline in Free Cash Flow (FCF) than to an increase in debt. Production has sunk slightly, putting downward pressure on Operating Income, while the ramp up in capital expenditure has taken yet more out of FCF. Momentum should change and this number should start going back down in 2014.
Dividend
Dividends are an area of focus for many invested in Chevron. This year, Chevron has raised its dividend by a generous 11%. Dividends are now nearing 100% of Free Cash Flow due to the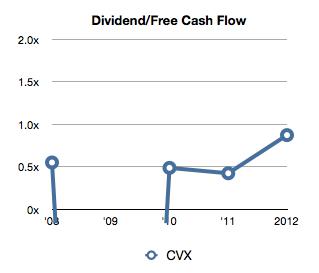 same forces described above: a decline in Operating Cash Flow and subsequent hike in capital expenditure. However, the company's focus on the megatrends of deepwater and Asia Pacific LNG should fuel profitable growth well into the future, allowing Chevron to continue raising its dividend and bringing this important ratio back down to earth. Completion of Gorgon, Jack/St. Malo, Big Foot and Tubular Bells, all in 2014, will give management great flexibility. The stock currently yields 3.19%.
Valuation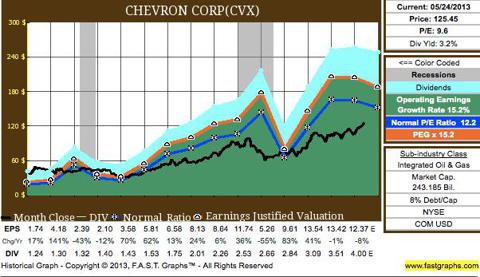 Chevron looks fairly valued here. If you like, you could pick some up here and profit from both the dividend yield and likely future earnings growth. The important aspect about investing in energy companies is that you understand that they are cyclical in nature. Our FAST Graph shows earnings (orange) and the stock price (the black line) plummeting during recessions. Only four years out of our last recession, Chevron still may have multiple years of gains ahead.
Conclusion
Chevron may be a global "supermajor," but their future will indeed be more focused on Asia Pacific and much less so the Middle East. Of all the supermajors, Chevron would be my selection as the best. It is a superbly well-managed company. So, while they may be shifting focus in the next few years, they are doing so from a position of strength. No turnaround is needed here.
Stay Tuned
Energy companies are often a focus of mine. Chevron is a company I intend to write frequently about and will provide update articles when relevant and material.
Additional Sources: "Net Production" chart from 2012 Supplement to Annual Report.
"Debt/Free Cash Flow," and "Dividend/Free Cash Flow" charts by author, data by Morningstar.
Disclosure: I am long COP, OXY. I wrote this article myself, and it expresses my own opinions. I am not receiving compensation for it (other than from Seeking Alpha). I have no business relationship with any company whose stock is mentioned in this article.